Maryland vs Alabama: Tide Get Tough 2nd Round Matchup
Crimson Tide Big Favorites Over Solid Maryland Team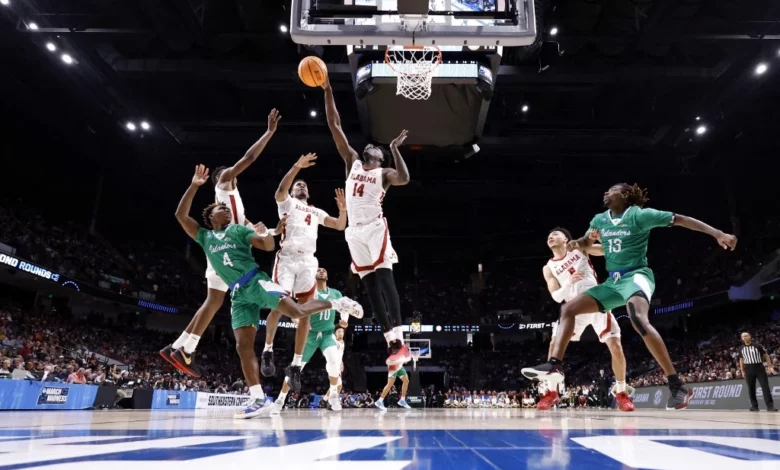 The Alabama Crimson Tide may be the overall No. 1 seed in the NCAA Tournament, but Maryland is a tough foe. The Maryland vs Alabama game is one of the better second-round games on Saturday. Alabama is favored by 8.5 and the total is 144.5. The Tide is -385 on the moneyline. The game will be played in Birmingham, Alabama, which definitely favors the Tide. Tip-off is slated for 9:40 p.m. ET and the game will be broadcast by TBS.
(Odds change frequently, be sure to check for the most up to date changes.)
No. 8 seed Maryland Terrapins outlasted West Virginia 67-65 in a hard-fought contest, while Alabama cruised to a 96-75 victory over Texas A&M-Corpus Christi. A last-second 3-pointer by Corpus Christi allowed the Islanders to cover the point spread.
Alabama: Tide Toy With Islanders in Opening Round
Those who used Alabama for one of their early March Madness picks are still stinging from Corpus Christi's late 3-pointer. Alabama opened -23 and was bet up to 24.5 by tip-off, but won by just 21. Alabama led by 20 at the half and didn't put forth a full effort in the second half. Still, Alabama showed why it was considered the top team in the tournament, at least offensively. It wasn't one of the Tide's better defensive efforts.
Alabama shot 15 for 33 (45.1%) from 3-point range and made just eight turnovers in the contest. On the flip side, the Tide were just 65.2% from the foul line and just 48.6% from 2-point range. The Crimson Tide had such a mismatch on the inside they should have shot better.
Defensively, Alabama forced just six turnovers and allowed Texas A&M-Corpus Christi to grab 17 offensive rebounds. Alabama was outworked, although part of it likely had to do with the score. Alabama also played 10 players for 10 minutes or more and nobody played more than 21 minutes. The Tide was more interested in getting players some rest than running up the score.
Maryland: Terrapins Hold On Against West Virginia
Many people expected the Maryland game against West Virginia to be a good one. They weren't disappointed. The Terrapins held off a determined West Virginia team 67-65 to get the win and the point spread cover as 2.5-point underdogs. Those using the Terrapins in their college basketball picks and parlays were happy with the outcome. Especially those who used Maryland on the moneyline.
Maryland was able to beat West Virginia for basically one reason. The Terrapins shot the 2-pointer extremely well. Maryland was 17 for 27 in 2-pointers and just 6 for 18 in 3-pointers in the contest. Maryland made more turnovers and allowed 16 offensive rebounds to the Mountaineers, so it can be a little fortunate to have won. But the Terrapins got the win, which is the only thing they care about.
Handicapping the Game
Alabama gets a slight edge on offense against Maryland, although a bit of that is due to styles played. Alabama is No. 5 in the nation in adjusted tempo. The Terrapins are No. 322. The Crimson Tide are a slightly better shooting team than Maryland, but no by a large margin. And the Terrapins make up for that by making fewer turnovers and grabbing more offensive rebounds.
When looking at Maryland vs Alabama defensively, the Crimson Tide force fewer turnovers but also hold teams to a lower shooting percentage. Alabama is better overall, but it's not as though Maryland is bad on defense. The Terrapins rank No. 34 in adjusted defensive efficiency but Alabama is No. 3.
Maryland is going to do what it can to take Alabama out of its rhythm. The Terrapins can't afford to let Alabama get out and run up-and-down the court. Expect Maryland to do what it can to slow the pace and make it a half-court game. The Terrapins scored 51.2% of its points on 2-point baskets, so Maryland can play a deliberate style. Alabama scored just 42.9% of its points from 2-point range.
If Alabama can build a lead, the Crimson Tide can force the Terrapins to play at a quicker pace, which isn't their preferred style of play. That should be the goal for the Crimson Tide, although it won't be all that easy.
The longer Maryland sticks around, the greater the chances that there are fewer points scored in this game. The under 144.5 is likely the best bet in Maryland vs Alabama. (Odds change frequently, be sure to check for the most up to date changes.)
(Odds change frequently, be sure to check for the most up to date changes.)
Follow us on Twitter
---
Can't get enough? Here's more!