Virginia vs Miami Preview: Can Virginia Earn Another Massive Road Upset?
Cavaliers Coming Off 31-27 Win Against North Carolina as 24-Point Dogs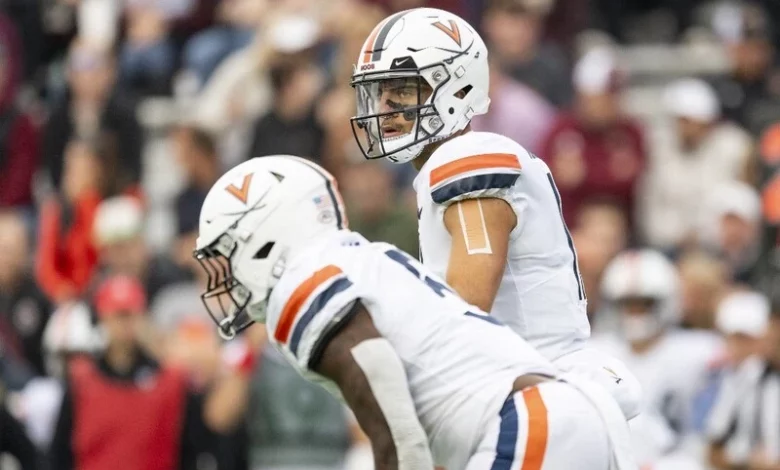 Fresh off a massive upset against the North Carolina Tar Heels, the Virginia Cavaliers will look to add to its two-game win streak with a road game against the Miami Hurricanes.
The Hurricanes are 5-2 on the season and just earned a 28-20 overtime win over Clemson. If you've been following the Hurricanes, you'd know that Miami should be 6-1 on the NCAAF season.
Miami's got a legitimate ACC contender. But so does North Carolina, and they lost a home game to Virginia last weekend.
Will Miami fall into the same trap this weekend?
Oddsmakers don't think so.
Miami is an 18.5-point favorite and sitting at -1100 on the money. Meanwhile, Virginia is at +18.5, with a +680 price tag.
The total for this game is currently at 46.5.
Take a look at the Virginia vs Miami preview below.
Day/Time: Saturday, October 28, 3:30 p.m. ET, 12:30 p.m. PT
Location: Hard Rock Stadium
Streaming: ACCN
Virginia vs Miami Preview
Although Virginia is just 2-5 this season, the Cavaliers have covered five of seven NCAAF games. They've earned four straight against-the-spread wins dating back to their home game against North Carolina State on September 22.
Virginia lost by three points to North Carolina State as a 7.5-point underdog and also lost by three points to Boston College as a six-point underdog.
Meanwhile, Virginia earned back-to-back wins over William & Mary and North Carolina and covered the spread in both.
The total for Virginia has hit the Over in four of seven games. However, Virginia is only 1-2 on the road.
On the other hand, Miami is 4-3 against the spread and earned a 6.5-point cover against Clemson last time out. If we're being technical, the Hurricanes didn't deserve the cover against the Tigers. The game was tied after regulation, but overtime helped Miami earn a cover.
In Hurricanes games this season, the Over has hit in four of seven games. Miami is also 4-1 at home this year.
Over the last four games, Miami has defeated Virginia in three of them. Virginia has been a small underdog in the previous two games and covered against the spread in both games. So, while Miami has won three of the previous four, Virginia has covered in three of the last four games.
The total has hit the Under in eight of the last ten games between these two college football teams.
Tony Muskett's Leadership
The Virginia Cavaliers needed someone to step up after an 0-5 start to the season. Muskett started the season at quarterback against Tennessee. However, he injured his shoulder and will require shoulder surgery after the season. While Muskett was on the sideline, freshman Anthony Colandrea was the starting quarterback, but he threw six interceptions in three starts.
That wasn't going to work.
However, Tony Muskett eventually took the quarterback job when he healed enough to start under center. He hasn't been perfect, but he's added six touchdowns and has thrown three interceptions on 107 attempts this season.
He won't make bigger plays down the field. He's also been sacked a whole lot more. But his leadership and his ability to keep the team on track has been sensational.
Muskett has added three straight games with 200 or more yards and has earned at least one passing touchdown in each game. The senior leader added 66 rushing yards against North Carolina on 12 attempts and showed that he's a capable runner, too.
Muskett made a bunch of key plays for Virginia against North Carolina. That allowed them to earn a major upset win as 24-point underdogs. It pays to have the senior transfer back.
An Update on Van Dyke
The Miami Hurricanes' starting quarterback, Tyler Van Dyke, missed last week's game against Clemson due to an undisclosed injury. Miami had lost two straight games with Van Dyke under center, but when his backup Emory Williams took the start against Clemson, Miami got back on track with a win.
Although Williams helped Miami earn the win, he averaged just 4.6 yards per catch, going 24-for-33 with 151 yards passing. He was good, but Van Dyke is still the guy for Miami.
On Monday, head coach Mario Cristobal announced that Van Dyke would be "good to go" against Virginia.
That's excellent news for the Hurricanes. Van Dyke already has 16 passing touchdowns and 1,721 passing yards in six games this ncaa football season.
He'll have another chance to improve his stats against a bad Virginia defense.
Miami's Offense Much Better With Van Dyke
You can get caught up in the hype around Emory Williams all you want. But Tyler Van Dyke is the guy Miami needs at quarterback. The Hurricanes wouldn't win many games without Van Dyke moving forward.
The offense has averaged 481.9 yards per game, including nearly 290 yards in the air. Van Dyke is the reason why. Williams couldn't even get to 200 yards passing against Clemson last weekend.
Meanwhile, the run game has also been electric behind Henry Parrish Jr. He's added 6.3 yards per carry with four touchdowns on 72 attempts.
With Virginia allowing 172.1 yards per game on the ground this season, Miami has much potential in the run game. The Cavaliers have a solid secondary. However, upfront, the defense has struggled to make plays. That's in the run game and the pass rush.
More Sacks For Muskett
Muskett has been a gem for the Cavaliers. They've won two straight games and look much better than they did earlier in the season.
However, Muskett's offensive line isn't holding up. The offensive line has allowed 24 sacks in seven games. That's an average of nearly four sacks a game.
Miami's big up front and will test the Virginia offensive line. Muskett has been pressured into multiple mistakes this season. He'll have more mistakes against this Miami defense.
In this Virginia vs Miami preview, we like the college football betting lines for the Miami Hurricanes. The Hurricanes aren't in the Top-25 NCAAF rankings, but they'll get back there eventually. The NCAAF schedule has Florida State and Louisville later in the season. They've got big games down the stretch. This game against Virginia is just as big.
Take Miami at -18.5.
For NCAAF news, betting analysis, and more, visit Point Spreads Sports Magazine.
---
Can't get enough? Here's more!