NHL Head to Head: Blues vs Kraken Betting Analysis
Blues Look to Continue Domination over Teams Under .500, Open as Road Favorite Against Kraken.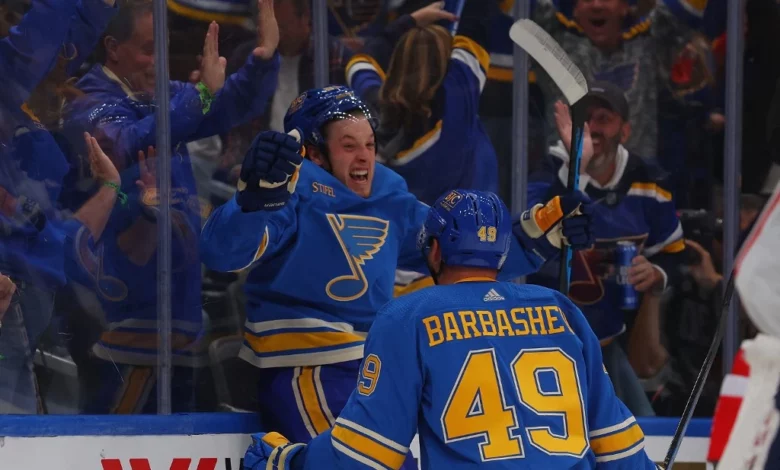 Let us start our Blues vs Kraken betting analysis by saying that no one is looking up the Kraken odds to win the Stanley Cup, but there are going to be times this season when there are some plus money opportunities with Seattle. A look at the NHL injury report will show that the Blues might provide one of these chances tonight with seven players either on the injured reserve or day-to-day.
Game Information
Game: St. Louis Blues (1-0-0) at Seattle Kraken (1-2-1)
Location: Climate Pledge Arena, Seattle, Washington
Day/Time: Wednesday, 10:00 pm ET, 7:00 pm PT
Television: TNT, TVA
Streaming: Live Stream Sports
Tarasenko, Blues Face First Road Game After Opening Win
Strangely enough, Vladimir Tarasenko is still a St. Louis Blue after publicly telling management that he wanted out of St. Louis. The 11-year pro started his season with a pair of goals to help the Blues grab an opening night 5-2 victory over the Columbus Blue Jackets. The win was exactly how head coach Brad Larsen would have wanted to start, but it's obvious that the Blues could have been better as they struggled to put the Jackets away until the middle of the third period.
St. Louis Blues is one of the most under-the-radar teams to wager on and it's been that way for years
Continuing our Blues vs Kraken Betting Analysis: The final score indicated that this was a high-paced hockey game with plenty of chances, but the reality is, these was two teams who wanted to start the new year off by establishing a defensive identity. Neither Jordan Binnington or Elvis Merzlikins were busy with a combined 50 shots. Expect the pace to be quicker against the Kraken.
For bettors, the St. Louis Blues is one of the most under-the-radar teams to wager on and it's been that way for years. Since 2011, no team in hockey has been more profitable than the St. Louis Blues overall (+4044 units). Their success comes from their performance on the road where they've produced 2711 units. Those type of numbers makes them a difficult team to go against Wednesday.
Kraken Hang Tough With Lightning, Fall Apart Late
For head coach Dave Hakstol, there are games on the NHL schedule that will tell a team exactly how far away they are from competing at the highest level in the NHL. For Hakstol, he knows that the Kraken is not close after getting thoroughly beaten at home by the Carolina Hurricanes, 5-1.
Seattle was within a goal at the 13:06 mark of the second period on a power play goal by Andre Burakovsky, but Carolina grabbed their two-goal lead back 18 seconds after the Kraken sent the Hurricanes on their own an advantage almost immediately after the Burakovsky goal. Andrei Svechnikov took advantage with his first of two goals to deflate the Kraken. Even factoring in the Blues' injuries, it's going to be difficult to back the Kraken in this one.
Don't Overlook 3-Way Wagers
To conclude our Blues vs Kraken betting analysis, we always want to remind the public about betting teams in regulation. The number on this match-up isn't the worst we'll see with Seattle this season with the Blues opening as a -155 road favorite, however, we can do better by looking at the 3-way line. This is a way to knock down a favorite to almost even money in some cases and all you have to do is win in regulation. In this case, we expect this type of wager will knock down the Blues number to -110, a more reasonable amount to lay.
This is the type of situation the Blues have consistently cashed tickets in. The 2008-09 season was the last time St. Louis failed to show a profit against teams under .500. In that span the blue notes are 158-138, good for 3947 units of profit. Our official recommendation is obviously the Blues in regulation.
Follow us on Twitter
---
Get the feel of sports & betting with these other articles: