NHL Trade Deadline Rankings: Top Teams to Make a Run as Buyers
Bet These Teams to Get Hot After Making Big Deals (or Not)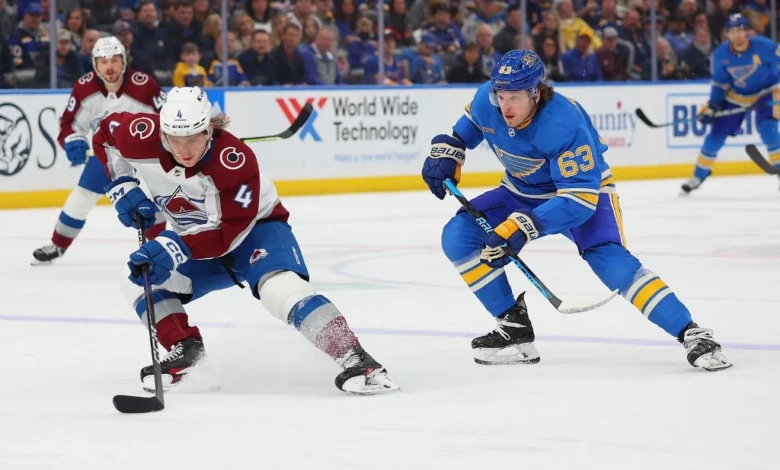 Watch These Teams During and After the NHL Trade Deadline
The NHL Trade Deadline is next Friday so fans can expect several contenders to make big deals in the upcoming days. The New York Islanders got things started by acquiring All-Star Bo Horvat while the Toronto Maple Leafs traded for St. Louis captain Ryan O'Reilly. These moves are already paying dividends as teams start to make a run for a playoff spot or a better playoff standing. With this in mind, keep an eye on this NHL Trade Deadline ranking of the five teams to go on a run.
Colorado Avalanche
The defending Stanley Cup Champions have been plagued by injuries. Now, star defenseman Cale Makar is expected to miss time thanks to a concussion. But this team has optimistic prospects as evidenced by their NHL playoffs odds. Colorado is +175 to win the division and a whopping -2500 to make the playoffs. The team should also expect the likes of goaltender Pavel Francouz and team captain Gabriel Landeskog back.
The Avalanche have also been on a tear recently. In their last 15 games, the team has the second-best point percentage in the NHL (80 percent) with an 11-2-2 record. They are +22 in this span and are top five in both special teams. Additionally, Colorado has the second-easiest strength of schedule remaining. At the deadline, look for this team to bolster its depth by targeting the likes of Adam Henrique from Anaheim or Travis Konecny from Philadelphia.
Pittsburgh Penguins
Speaking of contenders that have dealt with injuries, the Penguins are among them. But now with lead defenseman Kris Letang back along with starting goaltender Tristan Jarry, Pittsburgh should resemble its elite two-way form. General manager Ron Hextall will be busy for the Penguins during the NHL Trade Deadline.
Pittsburgh could make a move for Arizona's Nick Ritchie, a gritty forward who fits into how President Brian Burke likes to build his teams. Alternatively, Colton Sissons from Nashville is another enticing player for Pittsburgh. Either way, look for Pittsburgh to make a run for the remainder of the season and to climb the NHL Power Rankings. At -180, Pittsburgh should be a lock to make the playoffs.
Seattle Kraken
The Kraken were sellers at last year's trade deadline. But this season, they're top buyers on the NHL Trade Deadline rankings. Seattle has a legitimate shot at winning the Pacific (+300) and is all but guaranteed to make the playoffs (-1600). What makes this impressive is how the team is doing it despite goaltending which remains subpar at best.
Seattle could trade for a goaltender at the deadline. The Islanders' Semyon Varlamov is a potential target as a player with an expiring contract. Additionally, Seattle could also look for more forward depth. Several of Seattle's top scorers are having career seasons but lack playoff experience. But even if Seattle stays pat, it has the fourth-easiest remaining schedule and can win the division.
Dallas Stars
Another Central team that can get hot is Dallas. The Stars already lead the division and are on pace to finish with 103 points. Folks betting online have hammered the "over" (-130) on their regular-season point total for good reason: Dallas has the easiest strength of schedule. The Stars still have eight games against Chicago (three), Arizona (two), and Vancouver (three). Dallas is 20-6-1 against non-playoff teams.
But on the flip side, Dallas is also just 10-9-11 against playoff teams. This team has the third-shortest odds (+650) to come out of the West. To return to the Stanley Cup Final, Dallas will need to get better against elite teams. And maneuvering the trade market will be tough given Dallas's cap situation. They'd rank atop the list of the NHL Trade Deadline rankings if they can find a way to shed salary and acquire new players.
Toronto Maple Leafs
The Leafs gave fans a glimpse of how good they can be with new star O'Reilly. The former Conn Smyth Trophy winner had a hat trick against the Sabres as Toronto blew Buffalo out 6-3 in their own building. Right now, Toronto is unlikely to catch Boston for the division title (+2500) but betting on it to go past its 107.5 regular-season point total is a sharp move.
Toronto is on pace to finish with 110 points and may even equal or break last season's historic total of 115. This team is not done dealing just yet. Kyle Dubas will remain aggressive on the trade market and look to shore up the Leafs' defense. Going after relatively low-cost d-men like Dmitry Kulikov and Luke Schenn (a former Leaf) will be on his agenda. So expect the Leafs to continue trending.
Follow us on Twitter
---
Can't get enough? Here's more!