Serrano vs Ramos Odds Preview: Making History and Easy Money?
Champions Contest in 3-Minute, 12-Round Bout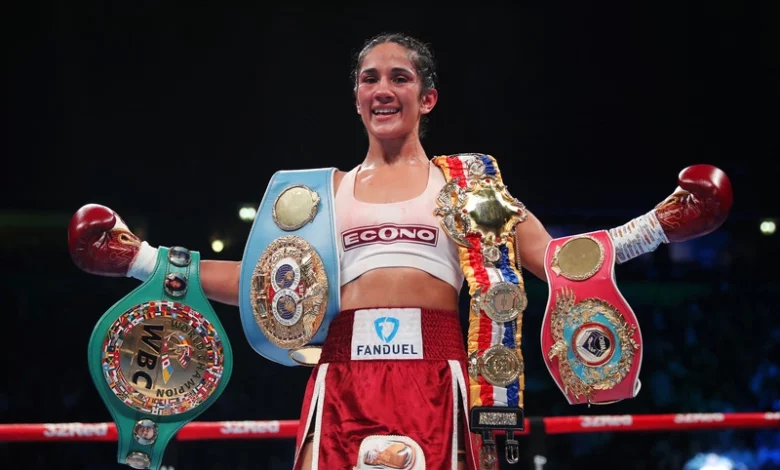 Serrano Widely Favored in Historic Matchup
You get what you deserve. Amanda Serrano is finally boxing in a 3-minute, 12-round bout just like how it is with her male peers. The seven-division champion has long clamored for this and she finally gets her wish as she defends all her featherweight belts against Danila Ramos. Of course, Serrano is a wide favorite at -2000 or shorter, on the Serrano vs Ramos odds.
(45-2-1, 30 KOs) | (12-2-0, 1 KOs)
Location: Caribe Royale Orlando, Orlando, FL
Day/Time: Saturday, 10:00 P.M. ET
Titles: Unified Featherweight Championship Bout (126 lbs.)
Serrano Has Pressure to Knock Ramos Out
Now that Serrano gets to fight in men's boxing rules, there should be no excuses why she can't knock her overmatched opponent out. The boxing betting odds have a total of 10.5 rounds to go over at -140 indicating that if Serrano does knock Ramos out, it will come in the championship rounds.
"Obviously, we have the WBO mandatory so we wanted to make a statement. We wanted to do something different," Serrano told BoxingScene.com. "So, we asked Danila and her team if they would be interested to fight 12 rounds and three minutes per round. It took her team like two seconds to agree to it."
Serrano has 30 knockouts to her resume. And while Serrano is not a power puncher, she has an incredible engine and work rate. Her punches come fast and in combos that she'll overwhelm her opponents until the referee or their corner stops the fight.
There is a solid chance that happen against Ramos. While the interim champion is durable and has never been finished, she's not fought a boxer of Serrano's caliber. She did edge Brenda Karen Carabajal who was a multiple-time title challenger with a 50% knockout-to-win ratio.
But Serrano, even at 35, is different. She has not shown signs of slowing down. And even if she does, she still has the punching power to hurt and make Ramos quit.
Or maybe she won't. While Serrano did come close to finishing opponents like Heather Hardy, boxing in a two-minute, 10-round match dictates a different pace than this. Serrano's endurance is noteworthy but she can still run the risk of slowing down if she goes too fast in the opening rounds. That's why the Serrano vs Ramos odds favor the total to go 'over'.
Starting a Trend? More Women's Bouts Could Follow
Sports is often a copycat endeavor. If Serrano-Ramos provides a thrilling bout with few to no repercussions, we can expect other boxing fighters to push to have their bouts in this same format. Several top boxers already joined together to file a statement calling for this option. A snippet from the statement reads:
"We stand together with the desire and dedication to have the CHOICE to perform on the same stage, with the same rules, as men in professional boxing. We have earned the CHOICE of three-minute rounds, with 12 rounds for championship fights to demonstrate our skill and greatness."
Among those who joined on this statement include champions Natasha Jonas, Mikaela Mayer, and the undisputed junior welterweight champion Chantelle Cameron. She's near the top of the boxing rankings and even challenged undisputed lightweight champion Katie Taylor to a 12-round bout. They will rematch later this year in the usual two-minute, 10-round format.
But what of the potential roadblocks to making this the norm? Some commissions have said before that the change could lead to more concussions and injuries for the boxers. Others have also wanted an increase in pay before doing this.
This option may also impact the different boxing weight classes differently. And Serrano and Ramos, 126-pound boxers, may be a good class to "test" this on. The division is deep and offers plenty of speed and skill. The Serrano vs Ramos odds may be lopsided, but fans should expect a war this Saturday.
For boxing betting news, odds analysis, and more, visit Point Spreads Sports Magazine.
---
Get the feel of sports & betting with these other articles: