Cup Series Star Heavily Favored in Xfinity Shriners Children's 200 Odds
Kyle Larson is making his first Xfinity appearance in 2023. Who could beat him?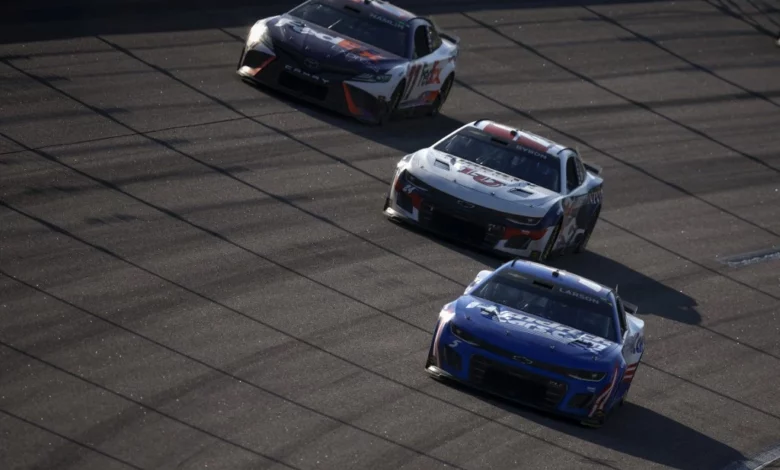 It was over a decade in the making, but Ryan Truex finally broke through for his first Xfinity Series win last week in Dover. The 31-year-old first raced in the series in 2010 for Diamond-Waltrip Racing. After nearly 100 NASCAR races, he finally broke through for his first win.
Austin Hill remains atop the Xfinity Series standings after his fourth-place finish. He leads John Hunter Nemechek by just four points. The duo has separated themselves with six combined wins from the 10 Xfinity races in 2023. There's still time for other drivers to mount a challenge, but these two are the best frontrunners.
This week, the series heads to Darlington for the first of two races there in 2023. Cup Series champion and contender Kyle Larson will join the Xfinity grid for the event, which has shaken up the usual odds.
Larson's the runaway favorite
Larson (+175) has the best NASCAR odds for the win on Saturday for Kaulig Racing. It isn't very close. The next-best odds for victory are for Nemechek at +650.
This is a bit odd, even for a Cup Series driver. Larson's never won at Darlington at any level. Darlington's been one of his best tracks over his career. He's podiumed multiple times but has yet to take a victory. That could change this weekend, starting on Saturday.
Xfinity championship leaders have the next-best odds
Nemechek's recovered from a bad finish in Talladega to take fifth last week in Dover. That makes three top-five finishes in the past four races, including his second win of the season in Martinsville.
He won in Darlington in the Craftsman Truck Series last year. He's had mixed results in the Xfinity Series. Last year saw him finish fourth and ninth in the two races. A win on Saturday would keep pace at the top of the Xfinity standings.
JR Motorsports has won the last four Xfinity events in Darlington. Justin Allgaier (+700) won two, specifically the first race in 2021 and 2022. Allgaier has yet to win in 2023 but sits fifth in the championship, thanks to five top-five finishes in 10 races. He has a recent track record for success and could easily make it three in a row with the team behind him.
His JR Motorsport teammate Josh Berry is also +700 for victory. Berry doesn't have the same record of success that Allgaier does. His best finish came in 2021 when he took second. He's ahead of Allgaier in the standings by just six points, thanks to one less lousy result. With JR Motorsports behind him, he's a threat for victory on Saturday.
Rounding out the top group are Sheldon Creed, Cole Custer (both at +800), and Sammy Smith (+900). Custer's been the most consistent driver over the last four races. He's finished at least seventh.
Darlington is one of his better tracks. He won an Xfinity race in 2021 and took second the year before. His track record and recent consistency give him a good chance at the win.
Creed has a good track record in Darlington as well. Two wins in his 2021 Camping World Truck Series season, plus second place in the last Xfinity race last September. He faces tough competition but knows how to win on this track.
This Saturday will be Smith's first official race at Darlington. He's a surprise with these odds, given that and his current standing in the Xfinity championship (ninth, 81 points back from leader Hill). But he surprised many when he took a win earlier this season in Phoenix.
Long shots to consider for a win in the Shriners Children's 200
Larson isn't the only Cup Series driver joining the Xfinity grid this weekend. Ross Chastain (+1200) will also be driving the no. 91 car for DGM Racing. The Cup Series championship leader's been a solid driver at Darlington with two podiums (one each in the Xfinity and Cup Series). He'll very likely be in the mix for a win on Saturday.
If you want to keep up with the run of JR Motorsports' success, Brandon Jones (+2800) offers a great payout. Jones won in 2020 for Joe Gibbs Racing and podiumed in Darlington in 2021. Last season he took the pole before finishing 14th. Between his history of good pace and JR Motorsports' dominance, he could be a high-reward choice for victory on Sunday.
Predictions for the Shriners Children's 200
Larson's too hard to ignore here. He's won five of his last nine Xfinity races from the start of the 2018 season. This will be his first Xfinity race since last season's second Darlington event. Given his recent success both there and in the Cup Series, it's hard to bet against him taking the win on Saturday.
But if you do, there are plenty of good options. Given their dominance over the last two years, a JR Motorsports driver is the safest choice. Of their drivers, Allgaier has the record to give you confidence, but Jones would be the best choice for a high payout.
Follow us on Twitter
---
Can't get enough? Here's more!