NASCAR Xfinity: Dead-On Tools 250 Betting Odds & Analysis
Season Nears End in Martinsville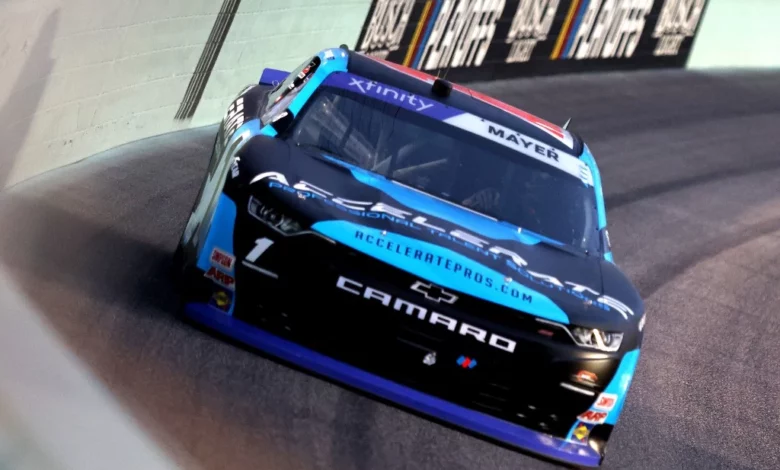 Things are starting to heat up as the NASCAR Xfinity Series nears its end. This is the last race of the round of eight before cutting the field down to four. Here, we'll give you everything you need to know about the Dead-On Tools 250 betting odds. We'll also give an analysis of the odds before you go and place any wagers.
Event Information
Race: Dead-On Tools 250
Date: Saturday, October 29
Track: Martinsville Speedway
Updated Playoff Standings
Noah Gragson continued his illustrious season by picking up a win and taking back the No. 1 spot atop the NASCAR Xfinity standings. He currently has a 74-point lead over Josh Berry. Berry also has an automatic qualifier into the final round after winning in Las Vegas.
Ty Gibbs is third despite having more points than Berry. Around the midway mark of this season, there were people out there who saw Gibbs as the driver likely to be in Gragson's position. Barring a meltdown in Martinsville, Gibbs should be able to hang on to compete for the championship next week.
AJ Allmendinger holds the final spot with 3,113 points, currently fending off Justin Allgaier, who is five points behind in fifth. Austin Hill still has a puncher's chance at just seven points out of the last playoff spot.
Sam Mayer is 28 points off while Brandon Jones is 38 points off. Keep in mind, an outright win from any driver remaining in the playoffs automatically qualifies them for the final round.
Who are the Favorites?
Atop the Dead-On Tools 250 betting odds board is Gragson at +180. He didn't have a typical Gragson performance last time out earlier this season ending with a 20th-place finish. He did dominate this race last year with a win and has second and third-place finishes under his belt. At +180, there might not be enough meat on the bone.
Gibbs comes in at +275 on the Dead On Tools betting odds board. A win would automatically qualify him for the next round. Win and you're in and Gibbs has plenty of motivation to win.
Gibbs hasn't won a race since the beginning of August, but this is where he could break that streak. He was the pole sitter when he raced at Martinsville back in April and led 197 laps that day.
You can't fake desperate, and at this point, Allgaier is desperate. He needs a great performance here to advance. He finished 29th earlier this season but had never finished lower than ninth before that, including a second and fifth-place finish. At +450, he'll be a driver to keep an eye on come Sunday.
He won at Martinsville back in 2021 but hasn't finished higher than 19th in the two races at Martinsville since.
While Berry has already qualified for the next round, that doesn't mean he'll be any less motivated to win this race. If it wasn't for his win, Berry would be on the outside looking in. A solid performance would go a long way in terms of collecting much-needed points. At +700, there's some value to be had. He won at Martinsville back in 2021 but hasn't finished higher than 19th in the two races at Martinsville since.
Where's the Value?
Allmendinger always seems to make his way into this section. It's likely due to the number of times he's getting double digits at the sportsbooks. He's been a top-four driver all season, yet almost always has multiple drivers ahead of him on the NASCAR odds board.
He's also gotten better after every Martinsville race. His first time, he placed 26th then 13th the following year. Later that season, he placed seventh. When he raced here earlier this season, he placed third. Stick with the trajectory and take Allmendinger at +1000. Don't forget, he's racing for his playoff life.
Also racing for his playoff life is Jones. At +1000, there's plenty of value. This would be the spot to get Jones, as Martinsville has proven to be one of his better tracks. In four races, he's never finished lower than ninth. He has a win, which came earlier this season, along with a fifth-place finish. Next on the NASCAR 2022 schedule will be the final race of the year in Phoenix.
Follow us on Twitter
---
Here's more!