Rookie of the Year Update: Wembanyama vs Holmgren
NBA Rookie of the Year 2023-24 Odds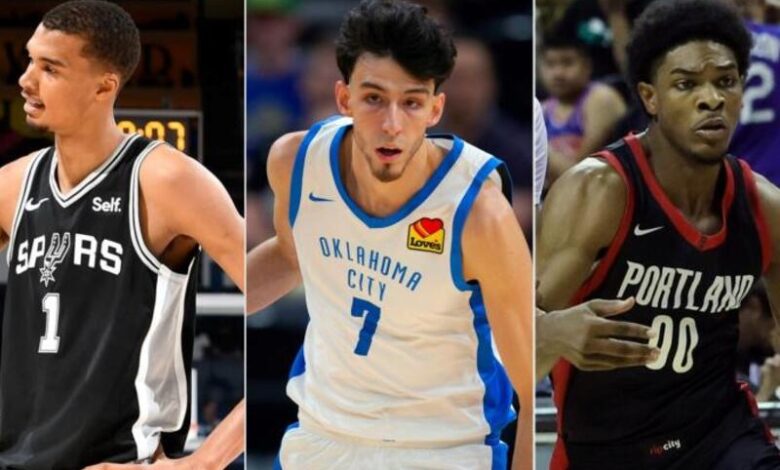 Things are heating up with NBA Rookie of the Year 2023-24 odds between Victor Wembanyama and Chet Holmgren.
The exceptional NBA players could be generational talents, and it's exciting to watch them in action.
We look at where the money is going and if any player can rival Wembanyama or Holmgren.
French Teen Leading the Way
There isn't much between Wembanyama and Holmgren, but the San Antonio Spurs sensation has the better stats so far.
The 19-year-old leads NBA team stats with 19.3 points per game, and he's also getting boards with 9.5 per game.
Although his efforts haven't translated to win on the court for the Spurs, there's no doubting his ability, especially as a rookie.
He has handled the pressure better than expected, and he's still learning the systems of the NBA, having only played in Europe, which features a much more physical style of play with fewer whistles.
NBA Rookie of the Year odds opened Wembanyama as the favorite, and nothing has changed. He's the current -225 favorite, but that's a much better value than his opening odds.
Holmgren's play forced the sportsbook to move Wembanyama's odds, but he's doing everything he can to justify his price.
He's averaging just over 30 minutes per game, which is good to see. There was a worry that he would be given limited minutes, but he has avoided being placed on the NBA injuries list.
One area of improvement is his three-point shooting. He averages just 28.4%, which needs to improve if he's going to be considered the best rookie in recent generations.
Holmgren Not Going Away
The official rookie season for Chet Holmgren ended with an injury, so although he was drafted out of Gonzaga in 2022, this is his rookie year.
He hasn't let his injury affect his performance. The 21-year-old averages 17.1 points, 7.9 rebounds, and 2.8 assists per game.
The statistics aren't as good as Wembanyama, but after scoring 36 points against the Golden State Warriors, he could have a higher ceiling. He also made the final shot to give the Thunder the win.
"Credit to Coach for still having the confidence in me," Holmgren said of his clutch 3. "There were a few different options to play, depending on what was open. I was kind of the end of it, and at that point, it's just 'go make a play.' … It was a good shot. It felt good coming out of my hands, and it went in."
We think the systems in place at Oklahoma City are better than in San Antonio, and it could favor his NBA Rookie of the Year 2023-24 odds.
We think he has more ability to score big totals than Wembanyama, and with his three-point shooting percentage at 43.8, he's showing his overall prowess on the court.
If Holmgren continues to shoot it that well from outside, he could test Wembanyama with NBA Rookie of the Year odds.
He's currently at +200 to win, which is a fair price.
Thompson Best of the Rest
Ausar Thompson is the best of the rest with NBA Rookie of the Year 2023-24 odds.
Not to be confused with his brother Amen, who is a +10,000 chance, Ausar is on the third line of betting at +2500.
The 2023 NBA draft fifth pick is doing good things for the Detroit Pistons, who have a very young squad.
He averages 11.8 points, 10.3 rebounds, and 3.5 assists. He was never going to be an elite scorer, but he's a fantastic all-round player.
There are some worries that his playing minutes have been dropping recently. He played just 17 minutes against the Cleveland Cavaliers.
He's still averaging 31 minutes per game, but there could be some injury concerns around Thompson, which would affect his odds.
We can't see him winning Rookie of the Year, but he's a fine young player in his own right, and he could lift the Pistons to a playoff position.
---
Can't get enough? Here's more!