2024 NCAA Women's Tournament Odds: LSU & UConn Favorites
Defending National Champion LSU Added A Pair of All-Americans Via The Transfer Portal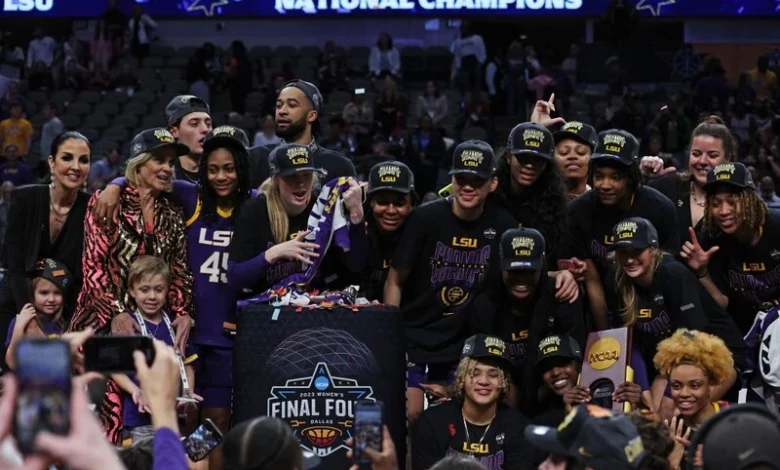 Bueckers' Return Could Help the UConn Huskies Start Another Final Four Streak
New faces emerged in the national title chase, with LSU winning its first national title over Iowa. With many of the nation's best players back, the best could be yet to come. LSU, buoyed by a pair of prominent transfers, leads the way in the 2024 NCAA women's tournament odds.
UConn and Iowa, led by dynamic guards Paige Bueckers and Caitlin Clark, could pose threats to LSU's hopes of going back-to-back, while South Carolina and Stanford could be in the unfamiliar situation of heading into the season as underdogs in their conferences.
It was another busy offseason with some high-profile players using the transfer portal to change teams, and that could make for an intriguing 2023-24 season.
When looking at the NCAA women's basketball odds, LSU is priced at +250 to win the national title, followed by UConn at +700 and Iowa at +800.
Big Three To Lead LSU
LSU made a surprising run to the national title in Kim Mulkey's second year as the head coach and is now the clear favorite in the 2024 NCAA women's tournament odds.
Angel Reese put up career-high totals of 23 points and 15.4 rebounds per game in her first season at LSU after spending her first two seasons at Maryland. The numbers were 21.3 points and 13.5 rebounds during the NCAA tournament.
No. 2 scorer Alexis Morris is gone but Flau'Jae Johnson, Sa'Myah Smith and Kateri Poole all return.
Dipping into the transfer portal helped LSU turn things around in a hurry last season, and Mulkey picked it up a notch with the addition of two of the best players in the country.
Guard Hailey Van Lith, who averaged 19.7 points per game, comes in from Louisville and Aneesah Morrow, who averaged 25.7 points and 12.2 rebounds, transferred from DePaul. LSU added Mikaylah Williams and Aalyah Del Rosario, the No. 2 and 7 rated players in the Class of 2023, so LSU has plenty of talent to make a run to another title.
When the NCAA women's basketball rankings come out, expect to see LSU leading the way.
Bueckers, Huskies Ready to Challenge
One of the most astonishing streaks in sports history came to an end when UConn's run of consecutive Final Four appearances ended at 14 with a loss to Ohio State in the Sweet 16 of the 2023 NCAA tournament.
Even with Lou Lopez Senechal and Dorka Juhasz off to the WNBA, UConn has everything in place to make a run at the program's 12th national title.
Paige Bueckers is set to return after the former national player of the year missed all of last season with a knee injury. Azzi Fudd, like Bueckers, the top-rated player in her recruiting class, is back along with center Aaliyah Edwards, guard Nika Muhl, wing Aubrey Griffin and guard Caroline Ducharme.
The Huskies added top 15 recruits KK Arnold and Ashlynn Shade, while Ice Brady, one of the top recruits a year ago, will make her debut after suffering a season-ending injury before playing her first game.
Before LSU added Van Lith and Morrow, UConn was showing up as the favorite in the 2024 NCAA women's tournament odds.
Clark Ready For An Encore
Caitlin Clark opted to stay home and passed up a chance to head to established national powers. It looked like a smart decision after she led Iowa to the national title game as a junior. She led the nation with an average of 8.6 assists per game and was second in scoring at 27.8 points.
The other two double-digit scorers (Monika Czinano and McKenna Warnock) are gone. Kate Martin, Gabbie Marshall, Hannah Stuelke, Molly Davis and Sydney Affolter all return after averaging more than 10 minutes per game.
The two tallest players on the roster for Iowa averaged 5.6 and 3.3 minutes per game a season ago so the lack of height in the post could be a concern.
The Best of the Rest
There are three contenders coming in at +900, with Indiana, Virginia Tech, and Utah all getting key players back to help them remain championship contenders.
It was Indiana and not Iowa that had the best record in the Big Ten during the NCAAB regular season, and getting leading scorer and rebounder Mackenzie Holmes back for her fifth season is huge for the Hoosiers.
Grace Berger will be missed, but most of the team returns for a veteran Indiana team.
Virginia Tech gets star post player Elizabeth Kitley and point guard Georgia Amoore back for a run at another ACC title and perhaps even more.
Utah brings back its top six scorers, led by the trio of Alissa Pili, Gianna Kneepkens and Jenna Johnson. Add in 6-foot-8 junior college transfer Nene Sow and this is a team that could be a tough out when March Madness rolls around.
Former Champs In Different Roles
South Carolina and Stanford find themselves in the rare situation of being the pursuers instead of the teams being pursued.
South Carolina had five players, including top pick Aliyah Boston, chosen in the first 25 selections of the 2023 WNBA Draft leaving some holes to fill.
Kamilla Cardoso, a 6-foot-7 forward, was named the MVP of the 2023 FIBA Women's AmeriCup as she led Brazil to a pair of wins over the United States. She had 20 points and 11 rebounds in the gold medal game.
Stanford not only lost Haley Jones, who ranked in the top two on last year's team in scoring, rebounding and assists, but 6-foot-7 Lauren Betts transferred to UCLA.
South Carolina and Stanford both come in at +1400 in the title odds followed by Notre Dame, Ohio State and UCLA at +1600.
Maryland, Texas and Tennessee are all priced at +2800 in the title odds.
Follow us on Twitter
---
Can't get enough? Here's more!