Central Florida vs Kansas State Preview: Knights Getting Bet Hard
Kansas State Begins Big 12 Conference Title Defense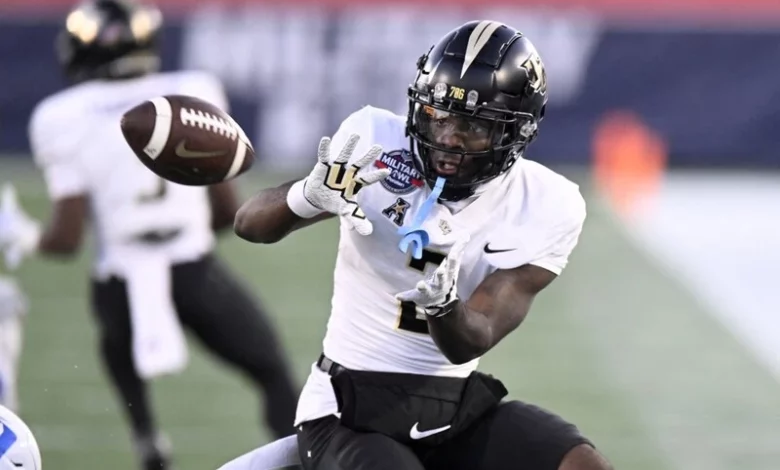 One of the better college football games this week is looking to be the UCF Knights visiting Kansas State. It's the first Big 12 Conference game for Central Florida and the first game of K-State's conference title defense. Central Florida has looked good in its three non-conference games.
But the quality of the opposition hasn't been that impressive. Kansas State lost last week on the last-second 61-yard field goal to Missouri. The loss dropped the Wildcats to 2-1 and knocked them out of the NCAA football rankings. The Central Florida vs Kansas State preview notes the Wildcats are down to 3.5-point favorites with a total of 52.
Day/Time: Saturday, Sept. 23, 8 p.m. ET
Line: Kansas State -3.5
Total: 52
Streaming: FS1
UCF Moving the Ball on the Ground
One big reason for UCF's 3-0 straight-up and 2-1 ATS start has been its ground game, which is averaging 299.3 yards per game and 6.4 yards per carry. The Knights have two running backs who have gained more than 200 yards on the season and quarterback John Rhys Plumlee has added 163 rushing yards.
Plumlee hasn't played up to his standards, but has thrown for 553 yards and three touchdowns. But he was intercepted four times before being injured and he'll miss this game. Backup quarterback Timmy McClain has played quite a bit and looked good, helping the Knights to their 40.7 points per game average. He's shown some running ability, but Bill Snyder Family Stadium isn't an easy venue for road teams.
Defensively, UCF has some impressive stats. But that's to be expected when Kent State and Villanova are on your schedule. But even the one tough game the Knights have had, against Boise State, saw the defense play well in an 18-16 win. Central Florida was favored by 3, making it the lone game UCF hasn't covered the college football odds this season.
Kansas State Looks to Bounce Back
The Central Florida vs Kansas State preview shows the Wildcats need to bounce back from last week's tough loss. That shouldn't be a problem considering it's the start of Big 12 Conference play. Not to mention Kansas State is 9-4 against the spread after a loss the last three years. The Wildcats also haven't had the most difficult non-conference slate, although it's been tougher than UCF's.
Kansas State is averaging 38 points per game, with quarterback Will Howard doing most of the damage. He's thrown for 817 yards and eight touchdowns and rushed for three more scores. The Wildcats aren't bad running the football and could have some success against an untested Central Florida defensive line. Kansas State has shown a good mixture of running and passing so far this season.
The Wildcats have played tough defense, but again, part of that is due to weaker competition. Kansas State is allowing 51.3 rushing yards per game, but teams aren't going to run a lot when the college football scores show they're trailing 45-0. The Wildcats are allowing 264.3 passing yards per game, which is something you have to believe Central Florida will look to take advantage of.
What to Expect
It shouldn't take long before Central Florida realizes Kansas State is a cut above anybody its played so far this season. The Wildcats will be bigger and faster and it will be a quick introduction to the Big 12. But the Knights can't get away from what's made them successful so far this season.
UCF has to try and run the ball some against Kansas State. The Knights are unlikely to run 47 times and throw 30, which is their season average. With McClain getting the start at quarterback, UCF may try to rely on the run a bit more than usual.
Kansas State is in a similar situation, where the team shouldn't do anything different. The Wildcats can move the ball on the ground or through the air and they have to continue to mix things up. Howard is playing well and the Wildcats have a couple of talented running backs to help move the football.
Who to Bet On?
The Central Florida vs Kansas State preview shows the Wildcats opened as 7-point favorites. Now, the line is all the way down to KSU -3.5. Whether that's a reaction to Kansas State losing last week or the play of UCF, it's a significant move. The Knights moved the ball against Boise State, gaining over 500 total yards, but had a tough time converting that into points. UCF should find scoring a little difficult in this game as well.
Kansas State's defense should bounce back a little bit after allowing 30 points last week. The Wildcats are 10-2 against the spread the week after allowing at least 30 points since 2020, so will go against the grain and take Kansas State -3.5.
For NCAAF betting news, odds analysis, and more, visit Point Spreads Sports Magazine.
---
Want more articles like this? Check these out: