NHL Grand Salami Betting: Welcome to the 2022-23 NHL Season!
Scoring Has Been Extra Spicy So Far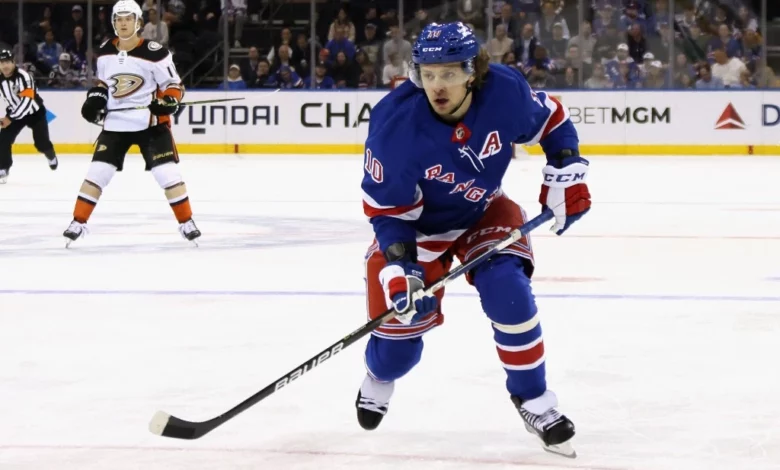 What is Grand Salami Betting for NHL?
The "Grand Salami" is the total of all totals: It is when you add up all the goals that will be scored for the evening and bet whether to go 'over' or 'under' the oddsmaker's totals. As the 2022-23 NHL Grand Salami betting is this season, 54 percent of games have gone over the totals. But that number does not identify just how hot many NHL teams have started. 22 of the 32 teams are averaging three or more goals per game and 19 are allowing three or more goals. In comparison, last season had 18 and 17 teams, respectively.
With a dozen NHL games this Thursday evening, the average total is set at 6.5. Multiplied by 12, we're looking at 78 total goals for our Grand Salami. Which teams will add meat to the sandwich and which will fall out? Let's look at the four major sides of our potential NHL Grand Salami betting card.
Part 1: Which Teams Can Score?
We can cap NHL over under predictions in a variety of ways. Mainly, the key factors to look at when you're betting the 'over' ties not just to the offense but the defense – namely the goaltending.
You estimate how potent a team is at producing goals using basic stats like goals per game and power-play efficiency. Add in advanced stats like the scoring chances generated and expected goals and you have a rough idea of how good (or bad) a team is.
For Thursday, Boston (5.25), Pittsburgh (4.67), Dallas (4.33), and the New York teams: Islanders (4.33) and Rangers (4.25) are the most robust from a goal-scoring average. Of these five, New York Rangers have produced the most scoring chances and are the highest-rated in the expected goals metric. This means they are the most aggressive at scoring whilst Boston and Dallas are "lucking out" a little with unsustainable shooting: 16.2 percent and 14.9, respectively.
Part 2: Which Teams Get Scored On?
Now, another side of the NHL Grand Salami betting is how easy is it for opponents to score on a team? Boston has a seemingly perfect opponent in Anaheim. This team is allowing plenty of shots (42.5) and scoring chances (41.2) per game. Add the fact that the Anaheim Ducks' goaltending only has an 87.65 save percentage and it's clear why they are allowing the second-most goals per game: 5.25.
But on the flip side, the Boston Bruins have been leaking goals themselves. Boston is typically a defense-first kind of team. Yet this season, Boston is allowing 3.75 goals against per game. It is allowing 32.8 shots from opponents, which is up from 28.7 from the previous season. On top of that, the Bruins' netminding is averaging 88.5 save percent, which only ranks 21st.
Knowing all this, the total for Boston-Anaheim is set at 6.5 with the 'over' being juiced. Boston has been on fire and is shooting lights out but also taking goals in return. Its 7-5 loss to Ottawa Senator is an example. And Anaheim has consistently allowed teams to score on them though it is not inept at scoring itself. All four of Boston's games have gone over while three of Anaheim's four games have.
Part 3: Goaltending – Great or Terrible?
Of the factors we're considering, goaltending is the toughest to predict. While we have typically reliable netminders like the Rangers' Igor Shesterkin or Dallas's Jake Oettinger, they are not immune to having a bad game. But thus far, the teams that have had the best save percentages this Thursday are Dallas (96.5 percent), Carolina (95.9), Buffalo (94.2), Vegas (93.8), and Pittsburgh (93.2).
Now, let's extrapolate these stats relative to how well their team is playing defensively. Of the top five teams here, Carolina Hurricanes have allowed the fewest scoring chances on average (21) followed by Dallas (27), then Pittsburgh (29.3). So these three teams have elite defense on top of solid netminding. Scoring against them may prove to be more challenging than a team like Minnesota and New Jersey.
These teams have the worst save percentages in the NHL at 81.3 percent and 82.1, respectively. Minnesota Wild is giving up the eighth-fewest scoring chances (27.7) but has allowed the most goals in the NHL (6.67). New Jersey is also allowing just 23.7 scoring chances a game, the fourth-fewest, but its four goals allowed per game is tied for the seventh-most.
As a result, despite strong two-way play, these teams are struggling on the NHL league standings. All three of Minnesota's games have gone over the total while two of New Jersey's three games have.
Part 4: Pair Them Up
So of all the teams, which face each other, could likely yield more or fewer goals? Boston and Anaheim are good contenders to produce over 6.5 goals. New Jersey Devils' porous goaltending is also matched up with the Islanders' hot shooting. And Minnesota has the worst netminding and is paired with another team with issues here: Vancouver. The prolific Penguins also take on the Kings, a team that has given up the most scoring chances. All these games could go over.
Look through Thursday's slate to find out if there are enough matchups of the 12 games to make our NHL Grand Salami go over.
Follow us on Twitter
---
Here's more!