Rangers vs Diamondbacks Game 4 odds: More Reliable Bullpen?
The Rangers Are Two Games Away From Being World Series Champions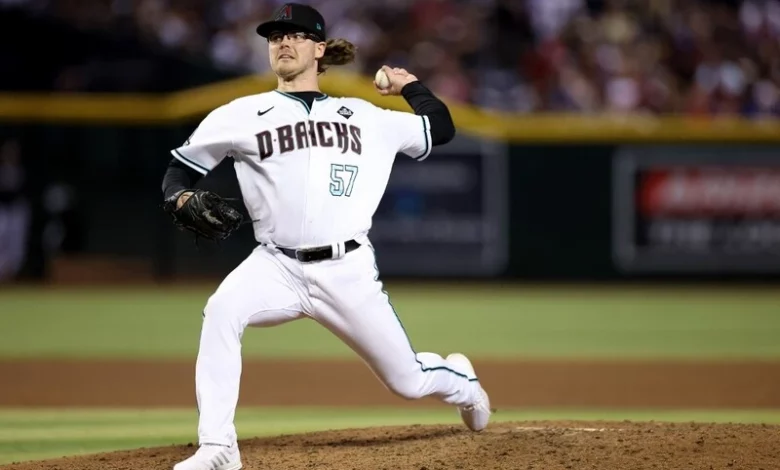 The Texas Rangers earned a huge Game 3 win over the Arizona Diamondbacks, 3-1, to take a 2-1 World Series lead. With that, the Rangers can't lose the World Series on the road anymore.
With only two more games on the road and just one loss in the World Series, the Rangers can't lose the World Series at home. However, with two more wins on the road, the Rangers can earn the World Series in Arizona.
After the win, the Rangers are back to being a pickem in Game 4 of the World Series. They're sitting at -110, while the Diamondbacks are currently at -106. Meanwhile, the total is currently at 9.5, with the Under juiced to -115.
The Rangers are also -300 when looking at the World Series odds, with a one-game lead heading into Game 4 today.
Let's take a look at the Rangers vs Diamondbacks Game 4 odds in the World Series.
Day/Time:
Location: Chase Field, Phoenix, Arizona
Line: Rangers -110 / Diamondbacks -110
Total: 9.5
Streaming: FOX
Jon Gray Came Up Clutch
Before Game 3, the Rangers announced that Jon Gray would start Game 4. That's a massive honor and something any pitcher would be excited about.
However, with a 3-0 lead, Game 3 starter Max Scherzer got injured, and the Rangers turned to Jon Gray to preserve the lead.
He did just that.
Gray threw three innings and allowed one hit with three strikeouts, knowing that he would no longer get the honor of pitching in Game 4 as the starter. Gray has always been a notable pitcher in the MLB. He's 31 and finished the regular season with a 4.12 ERA. He wasn't bad this season. .
Before making his third appearance on the mound, Gray threw 2.2 innings and allowed one run on three hits. He also struck out four.
Gray most recently faced the Diamondbacks on Friday, in the first game of the World Series, where he struck out four and allowed one hit. That outing was likely one of the main reasons why he was going to get the start. But he proved his worth and now would be ready for a potential Game 7 if Scherzer is unavailable to pitch.
Tommy Pham's a Good Teammate!
No baseball player has ever had five hits in a World Series game. Tommy Pham had four hits in Game 2 of the World Series and was in line for another at-bat for the Diamondbacks in their rout.
With Arizona leading by a massive margin, Pham turned to his manager and suggested he let Jace Peterson get a turn at-bat in the World Series.
After all, you don't always get opportunities to get at-bats on the world's biggest stage. So, instead of trying to earn history with five hits, Pham gave his at-bat to Peterson.
It's selfless acts like that that help a team's chemistry and morale. That's the stuff that gets MLB teams deep into the postseason.
Pham has hit nearly .300 throughout the postseason, with three home runs. He's been everything since coming over from the Mets at the MLB Trade Deadline.
Below, we'll review the Rangers vs Diamondbacks Game 4 odds.
⚾ Game 4 ⚾

Andrew Heaney vs Joe Mantiply
Jon Gray No Longer Starting Game 4 For Texas
The Texas Rangers had Jon Gray penciled in as the Game 4 starter for the World Series. However, Max Scherzer went down with an baseball injury after three innings, where he allowed two hits and no runs.
When Scherzer left the game unexpectedly, up 3-0, the Rangers chose to ride out the next few innings with Gray. Therefore, Gray is no longer in consideration to pitch in Game 4 of the World Series.
Instead, the Rangers will go to a bullpen game.
Dane Dunning and Andrew Heaney have each thrown six innings in the bullpen this MLB season. Both will likely pitch a couple of innings in this game, as they have starter experience from earlier this year.
The Diamondbacks have much more potential against righties, with five batters hitting an above-average rate against righties over the last 30 days. However, the Diamondbacks have also struck out at a high rate against righties in the previous 30 days.
Against lefties, Arizona's got just Ketel Marte, Gabriel Moreno, and Tommy Pham hitting at a consistent rate.
Arizona's Also Using A Bullpen Game
The Diamondbacks already used a bullpen game earlier in the postseason. They'll roll with another one in Game 4 of the World Series.
This was always the plan for Arizona. Joe Mantiply got the start in Game 4 of the NLCS. He threw one inning, allowing one hit while striking out one. He was followed by seven different delivers, who eventually helped Arizona earn a come-from-behind win against the Phillies.
The Diamondbacks will choose to go the same route in this game, with Mantiply starting tonight.
The Rangers have had Corey Seager and Evan Carter hitting next to each other as two lefties. However, Texas broke those lefties up and pushed Adolis into the third spot. That could force Arizona's hand with Mantiply. If the Rangers had two lefties up in the first inning, they'd likely go with Mantiply. They can still ride with him in the opener and have him pitch an extra at-bat against Carter.
Against righties, the Rangers have hit very well. Corey Seager, Evan Carter, Adolis Garcia, Mitch Garver, Nathaniel Lowe, and Josh Jung have all hit an above-average rate against righties. However, against lefties, only Marcus Semien, Mitch Garver, and Jonah Heim have had success over the last month.
Remember, Garcia left last night's game with an apparent injury. His status is questionable at this time.
No matter who starts in this game for both teams, we'll have many pitching changes and different MLB matchups.
Both teams have hit righties at a better rate than lefties. These teams also have more right-handed pitchers than lefties in their bullpens. When looking at the Rangers vs Diamondbacks Game 4 odds and MLB betting lines, the Over 9.5 (-105) is appealing. That's one of our many MLB picks of the day.
For MLB betting news, MLB scores and predictions, and more, visit Point Spreads Sports Magazine.
---
Can't get enough? Here's more!