2023 World Series Odds Preview
Rangers Are Big Favorites In Fall Classic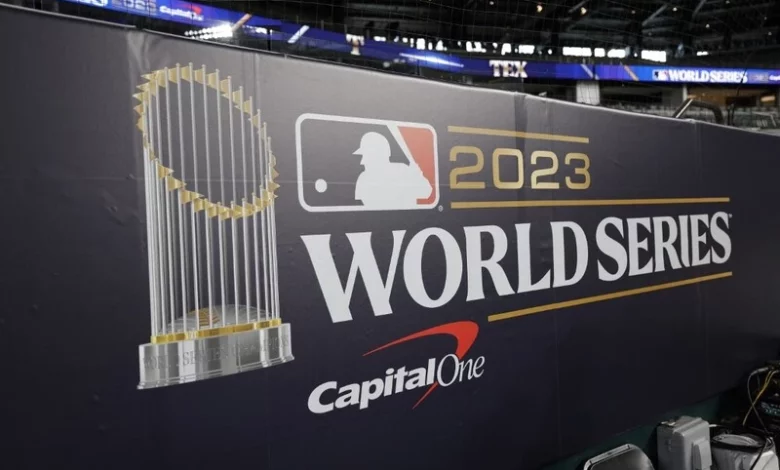 The 2023 World Series matchup is officially set and it's a pretty unlikely one, all things considered. The Texas Rangers — who blew a late-season lead in the AL West and snuck into the postseason as a Wild Card team — will be representing the American League while the Arizona Diamondbacks, and their 84-78 regular season record with a -15 run differential, won the National League pennant. The World Series odds really like the Rangers' chances to win the Commissioner's Trophy, making them -180 favorites while the Diamondbacks — gunning for their first title since 2001 — are at +150.
Rangers' Playoff Surge: Overcoming Challenges on the Road to the World Series
Texas got here by cruising through the first round of the playoffs, easily beating the Tampa Bay Rays and Baltimore Orioles. In fact, the Rangers won their first seven playoff games overall before finding themselves in a 3-2 series hole to the in-state division rival Houston Astros. Then, thanks in large part to an offensive explosion by ALCS MVP Adolis García, Texas was able to take Games 6 and 7 in Houston to stun the defending champions and win the pennant.
Diamondbacks' Journey and Upcoming Challenge
In terms of per-series performance, the Diamondbacks had a similar route to the World Series. After dispatching the Milwaukee Brewers in the Wild Card Round and shocking the Los Angeles Dodgers, who were heavily favored on the MLB lines, with a three-game NLDS sweep, Arizona lost the first two games of the NLCS in Philadelphia and was down 5-2 in the 8th inning of Game 4. Facing a potential 3-1 series deficit, the Diamondbacks stormed back with three runs against Craig Kimbrel to stay in the mix. Then, after going down 3-2 in the series when it went back to Philly, Arizona's pitching staff held the Phillies to three total runs in Games 6 and 7 to give Torey Lovullo's squad the pennant.
Now, Arizona will face an enormously difficult task as the Diamondbacks try to slow down a Texas team that laid waste to a strong Astros team at the end of the ALCS. It does help that Diamondbacks' ace Zac Gallen is lined up for Friday's Game 1 start against Nathan Eovaldi in Arlington in which Arizona is a +145 underdog but the rest of the starting rotation is less settled than that of Texas.
Pitching Prospects and Challenges
The MLB schedule will allow for Gallen and Merrill Kelly — who shut down Philadelphia in his last start — to each get two starts if the series goes seven games but that's only if neither is used as a reliever otherwise (which seems unlikely). Arizona also has rookie Brandon Pfaadt as a useful multi-inning weapon who can start if need be or can provide length out of the bullpen.
On the other hand, Texas has no shortage of starting pitcher options from Eovaldi and Jordan Montgomery (the top two guys) to Max Scherzer and Andrew Heaney, who hasn't been particularly effective nor relied upon in the playoffs but who each have postseason experience. The rest of Texas' pitchers — other than Jose LeClerc and Josh Sborz — don't inspire much confidence so the Rangers will need their starters to pick up the slack.
Assessing the World Series Odds
The MLB stats and predictions point toward a 4-2 Rangers series win (+375) as the most common series outcome, likely in large part due to Texas' depth on the mound. It can be a fool's errand to try to predict such narrow series outcomes but this would be a fair hedge. Arizona has needed to use its bullpen early and often in a lot of games and while guys like Paul Sewald, Andrew Saalfrank, Kevin Ginkel, Ryan Thompson, and Joe Mantiply have all been really good, the Rangers' lineup is of a different caliber of lineup than even that of the Phillies. Fatigue certainly won't help matters either.
Offensively, Arizona will need Corbin Carroll and Ketel Marte to lead the way not only at the plate but also on the bases. If the Diamondbacks are going to buck the World Series odds, those guys have to do what they did in Game 7 in Philadelphia…and maybe even more.
Look for Arizona to return to what they did often in the regular season and not as much in the playoffs: Steal bases. Carroll (+150) is a huge favorite to lead the Series in steals and that seems like a no-brainer pick.
While Arizona would rather he have extra-base hits that make stealing harder, if Carroll is on 1st base at any point he should be expected to try to steal and create more scoring opportunities. The Diamondbacks have a big edge in the team speed department and they'll need to capitalize on that. They probably won't be able to out-homer Texas but they can definitely out-run the Rangers.
World Series MVP and Pitcher Picks
Carroll is also a very good value on the World Series odds MVP board at +900, behind Garcia (+500) and Corey Seager (+550), which is the same price as that of Marte (+900). Marte is on a ridiculous hot streak — he has at least a hit in all 12 Arizona playoff games thus far — but Carroll is what makes this team run and he was clicking on all cylinders in Game 7. Position player-wise, he is the guy to take. Evan Carter (+1800) is also a good take on the Texas side of things.
As far as pitchers go, Gallen (+1800) is the Diamondbacks' unquestioned ace which makes him a slightly better pick than Eovaldi (+1600). If Arizona wins, there's a good chance it'll be heavily due to how Gallen pitches in two (or three) games so that's a nice bet. Eovaldi's playoff heroism is well-documented yet Texas just has more cooks in the kitchen from a pitching perspective so he could get lost in the shuffle.
Overall, it's difficult to pick against Texas here. There is a strong "scrappy upstart that just runs out of juice" feeling with Arizona which is clearly a far better team than its regular-season record indicated but may be hard-pressed to win a second-consecutive best-of-seven series. There's no shame in that; it just makes the Ranger's picks — be it on the alternative game totals or even just straight series score — a bit more desirable.

For MLB betting news, scores and odds analysis, and more, visit Point Spreads Sports Magazine.
---
Can't get enough? Here's more!