Mets Need Max Scherzer Stats Must Be Cy Young Worthy
With the Mets Floundering Around .500, Scherzer Must Carry High-Priced Franchise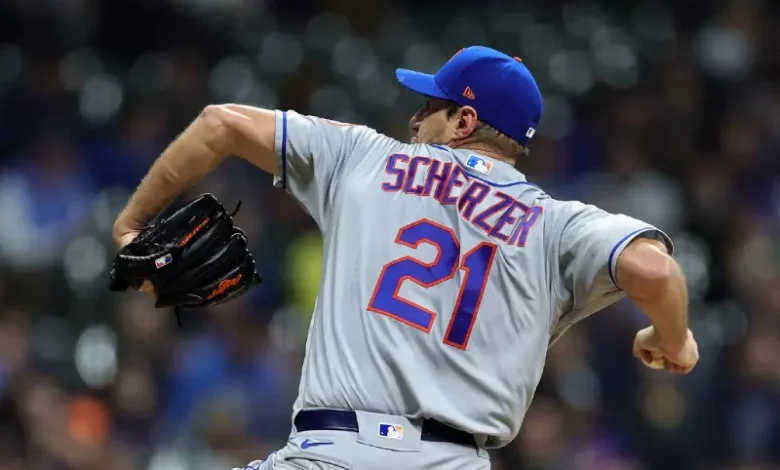 Don't get us wrong, Max Scherzer stats are on pace to get the right-hander around 15 wins if he keeps his glove clean, but with New York scuffling the 43.3 million dollar man has to reach down and find another Cy Young award-like season until his team can put a tourniquet on their season. MLB player stats show the 8-time all-star 15th in wins (5) but just 97th with 47.2 innings pitched. Granted there was a 10-game suspension in there but averaging just over five innings per start isn't what the New York Mets were hoping for.
The Hall Of Fame Pitcher Needs One More Infinity Stone
After looking at Max Scherzer's career statistics, no one would ever question that the St. Louis native is on a one-way slip-and-slide ride to the MLB Hall of Fame, but does he have one more part of his career that needs to be fulfilled even though he won a World Series with the Houston Astros in 2019.
With career stops in markets like Detroit and Washington, where media scrutiny isn't in the same ballpark as New York, this will be the first time Scherzer will spend a full season in a massive market with this much cash in his wallet. Yes, we're aware he was in a Dodgers uniform for seven regular season games before making three starts in the postseason. That's not the same as a full season under a microscope. A great season in New York would be the final piece of credibility in an incredible career.
Scherzer Not Happy With MLB Rules
We're usually focused on Max Scherzer being among the MLB stats leaders, but this season Scherzer has already dealt with a suspension and now is criticizing MLB for some of their new rule changes that everyone else seems to love. Scherzer is focused on the pitch clock because it interferes with his normal routine of eight pitches warm-up pitches to begin an inning.
Home plate umpire Tim Britton told Scherzer that he couldn't and if he allowed a pitch after the clock had expired that baseball would come breathing down his neck. Scherzer wasn't happy but then went on to have his best game of the season, Thursday, against the Phillies after striking out nine, while allowing just two earned runs. Perhaps the 8-time all-star will change his routine but he didn't stop from making his feelings known after the game after wondering what a difference a few more seconds would make.
Looking at Max Scherzer stats this season it seems as if it was business as usual but his arrival has been anything but smooth after battling a neck injury and a very un-Scherzer-like 5.56 era after giving up six earned runs to the Detroit Tigers in an 8-1 Mets loss in early May. We're sure Scherzer isn't happy with Major League Baseball for various reasons, but he needs to settle in fast because this is a Mets team that needs a former Cy Young Award winner to push them far over the .500 mark.
Follow us on Twitter
---
Can't get enough? Here's more!