Nemechek favored for another win in 2023 Dead on Tools 250
Xfinity championship leader looking for second win of the postseason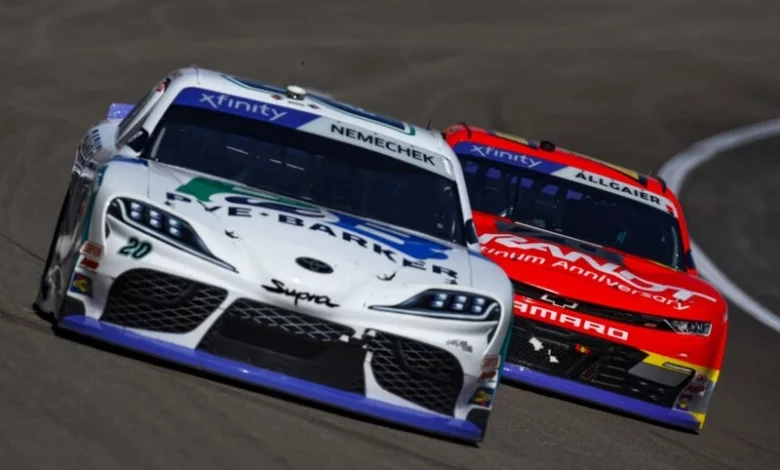 The NASCAR Xfinity Series heads to Martinsville for the second time in 2023 this weekend for the final race of the playoffs Round of 8. Despite not getting the win, championship leader John Hunter Nemechek widened his lead once again in Homestead last week. He comes into this week with a 41-point lead over Cole Custer and Austin Hill and can easily make the next round by continuing his current form. Here's a preview of the 2023 Dead On Tools 250 this weekend in Martinsville.
2023 Dead On Tools 250:favorites for the win Saturday
John Hunter Nemechek (+225)
Nemechek's been the best driver in the Xfinity Series during the playoffs. He won in Texas and finished no lower than eighth in the other four NASCAR races. His third-place in Homestead last week continued his run of form when it counts the most.
In the Martinsville spring race, Nemechek earned a dominant win. He led 198 of 250 laps to earn his second victory of the season. He hasn't dropped off from that pace and can become the first Xfinity driver to sweep both Martinsville races since Sam Ard in 1983. It'd be more of a surprise not to see him fighting at the front.
Cole Custer (+400)
Custer's enjoying a strong playoff run this season. Pole position in Bristol and last week in Homestead helped power him to a stage 1 win in both races. He led the most laps last week but managed just 13th after blowing a right-front tire. It ruined what could've been a massive result for the Stewart-Haas driver.
He hasn't won at Martinsville before at any level but has a solid track record at the circuit. Custer took pole position and raced to third in the spring race this year. He's got a great chance for his first win since Chicago on Saturday.
Justin Allgaier (+400)
Allgaier struggled in Homestead with a loose wheel, damaging his JR Motorsports Camaro. He fell down the field but battled back to finish 15th and stay in the hunt for a spot in the championship 4. Allgaier's been one of the most consistent NASCAR drivers in this event since it joined the calendar in 2020. He's finished no lower than fifth in the three fall races here. He needs a win to clinch a spot in the finale in Phoenix, and this track is a great spot for him.
Josh Berry (+500)
Berry's clash with teammate and team co-owner Dale Earnhardt Jr. dropped him to 32nd on the day in Homestead. His short NASCAR odds reflect how he was running prior to that, as well as a good track record in Martinsville. In the spring race this year, Berry finished fourth despite a flat tire early on. He won the spring race in 2021 as well. He could bounce back in a big way this week and spoil the playoff runners with a win.
2023 Dead On Tools 250: sleeper picks this weekend
Riley Herbst (+1200)
Herbst is one of the best Xfinity drivers in this postseason. His win in Las Vegas came after fourth at the Roval and second in Homestead. Outside of Sam Mayer, who's won twice in the last three races, no one can match his results in the previous three events. He finished 30th in the spring race, but that was because Ryan Truex ran into Sam Mayer on lap 221 and subsequently pitched Herbst into the wall. He's racing at a very high level lately and could improve on his third-place finish in this race last season.
Sammy Smith (+1600)
The rookie's fallen off a bit after starting strong in the playoffs. Ninth last week, 17th in Las Vegas puts him 90 points behind teammate Nemechek in the Xfinity standings but 47 points behind the top four spots. Smith finished second in the spring race in Martinsville and challenged Nemechek but couldn't get through. The NASCAR race this weekend is just his third career race at Martinsville. He finished 18th there last year in one of his first races at the Xfinity level. He could surprise and return to form from earlier in the season here.
Brandon Jones (+2000)
Jones is winless in 2023, but could be a surprise this weekend. The JR Motorsports driver has finished outside the top 10 just once in six career Xfinity races at Martinsville. He won the spring race last season and finished fifth in that event this season. He's been solid in the playoffs so far, with eighth in both Homestead and Las Vegas. He has exactly what you want in a low-risk, high-reward pick for victory.
Dead On Tools 250 predictions
Like in the Cup Series, there are just two races left in 2023. This week brings the Xfinity grid to a unique challenge in Martinsville when multiple drivers are fighting for a spot in the title decider next week in Phoenix. But there are a few who look in better shape than others this weekend.
Since its return to the calendar in 2020, JR Motorsports or Joe Gibbs Racing drivers have won all six events. Despite that, we like Custer of the favorites this weekend. He could break that run and secure a spot in the championship 4.
Of the sleepers, Jones is the best choice. He's a proven winner in Martinsville and is racing well recently. Herbst is a good option as well, given his recent form and solid track record here.
For NASCAR betting news, odds analysis, and more, visit Point Spreads Sports Magazine.
---
Can't get enough? Here's more!