Suns Set to Shine Against Jazz
Suns Set to Shine Against Jazz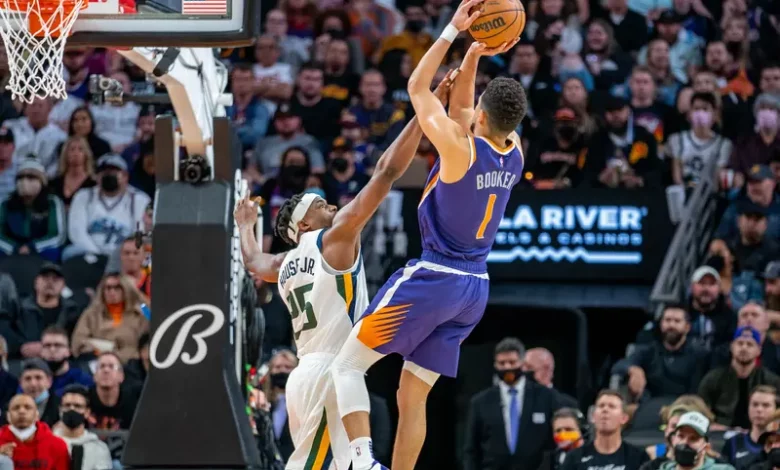 The Phoenix Suns visit the Utah Jazz on Friday, and Suns vs Jazz odds have the visitors at -5.
Packed with a quality roster, the Suns have disappointed at 5-6. However, that could mean a winning run is on the horizon.
Our NBA scores predictions expect a competitive game at Delta Center.
Floodgates Open?
The Suns come off a 133-115 win over the Minnesota Timberwolves, which could see the floodgates open.
It has been a frustrating time for loyal followers. The Suns are 4-5-1 against the spread, and having a losing overall record isn't good enough for a team of this quality.
Having the likes of Kevin Durant, Devin Booker, and Bradley Beal should result in a positive record, but staying healthy has been problematic.
NBA Western Conference standings don't look good for one of the preseason favorites, so they're hoping the win over the Timberwolves sparks them into action.
Durant and Booker had 31 points, which was a great return for Booker.
"It's always nice just playing," Booker said. "I try to give my input from the bench, but it gets old after a while. I just want to get out there and compete with the team."
We're not surprised to see Suns vs Jazz odds favor the visitors. They have much more upside than the Jazz, and natural talent could get them over the line.
Jazz Finding Form
After going on a losing run and not featuring in anyone's NBA picks today, the Jazz have rebounded well with consecutive wins.
They suffered three consecutive losses to the Timberwolves, Bulls, and Pacers, before bouncing back and beating Memphis and Portland.
Memphis and Portland aren't exactly top NBA teams, but it should give the Jazz plenty of confidence.
Getting five points at home is generous, and they are 5-5 ATS, so they haven't been the worst team for bettors to follow.
However, their recent opposition hasn't been against a team packed with sharpshooters, and that's where they could struggle.
Lauri Markkanen is a quality shooter, but there is only one of him. The Suns have three shooters better than his level, so that's why there is some trepidation with betting markets.
Backing Suns with Confidence
What we saw from the Suns against Minnesota is all we need to back them with confidence against the Jazz.
It was great to see Booker back on the floor, and although Durant is the unofficial leader of the team, Booker is vital to their success.
Having all three, including Beal, on the floor should be a dream. They compliment each other well, and the Jazz should struggle to keep up offensively.
With the game expected to be a track meet, that plays right into the hands of the Suns. The Suns vs Jazz odds could firm for Phoenix to cover the spread, so take the current line.
Suns vs Jazz Odds
---
Can't get enough? Here's more!