Tyler Herro Stats: Cleared to Start Road Back
Heat Control Series, No Rush for Herro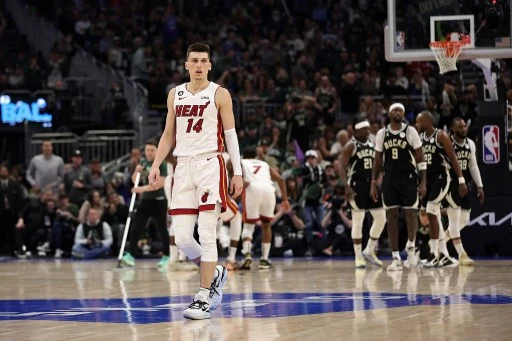 Tyler Herro stats (20.1 PPG, 5.4 reb, 4.2 ast) clearly show that the Miami Heat would rather have the 23-year-old in the line-up, but they have the luxury of leaning on Jimmy Butler who has averaged 25.3 PPG over his last 10 games.
The NBA injury report shows that the sixth man of the year had surgery on his shooting hand on April 21st and will be out for at least six weeks. Let's see how having Tyler Herro stats out of the line-up will affect the Heat moving forward.
Report: Herro Not Coming Back for Finals
Even though we can do the math, it's being reported that Herro will not be back for the NBA Finals despite a seven-game series that would eclipse the six weeks Herro would need to recover. We think it will have to do with his ability to heal in addition to how the series is progressing.
If Butler and Bam Adebayo can handle another win against the Celtics and get ahead of the Nuggets in the finals, there is very little reason to see Herro again this NBA season. The 6-5 shooting guard has been cleared to return to basketball activities according to head coach Erik Spoelstra.
He can take part in ball handling drills and shooting which means he's in in the final stages of recovery. Tyler Herro's statistical breakdown shows his consistency and value to the Heat, averaging 20.9 points per game on the road (19.3 pp at home) but as of now the Heat are doing just fine without their star.
No Matter Who Wins Heat/Celtics Series, Nuggets Favored
There are three teams remaining, but most NBA Future odds suggest that the Denver Nuggets are the NBA team to beat. Denver is -225 to win their first NBA championship followed by the Heat (+375) and Celtics (+450). Game five is set for Thursday at the TD Garden in Boston.
The Celtics are 8-point favorites with the total settling in at 215.5. The betting public is on Boston after the number opened at 7.5. There are still some 7.5's out there but it doesn't look like bettors are flocking to bet on the Heat after the Celtics 17-point win in game four.
Marcus Smart had a message for Miami saying "Don't let us get one". Well, they let them get one and bettors think that will be the catalyst for the Celtics who are looking to play in their second straight NBA Finals.
Oddsmakers Giving Generous Amount of Points Again
The Celtics started this series as -8.5 point home favorites in game one resulting in an outright 123-116 loss. In game two the oddsmakers installed Boston as a 10-point favorite, also another outright loss, 111-105. These unexpected results have had a significant impact on the Celtics' position in the NBA standings, raising questions about their playoffs performance.
We have no problem taking the 8-points with a team that has covered five of their last six overall meetings against the Celtics and four of five in Boston. Taking Tyler Herro stats out of the line-up isn't ideal but as Spoelstra says, depth will likely work in the Heat's favor.
Follow us on Twitter
---
Can't get enough? Here's more!