Harrison Mevis Stats: Missouri Kicker Talk of the Town
Connects on 61-Yard Field Goal to Beat Kansas State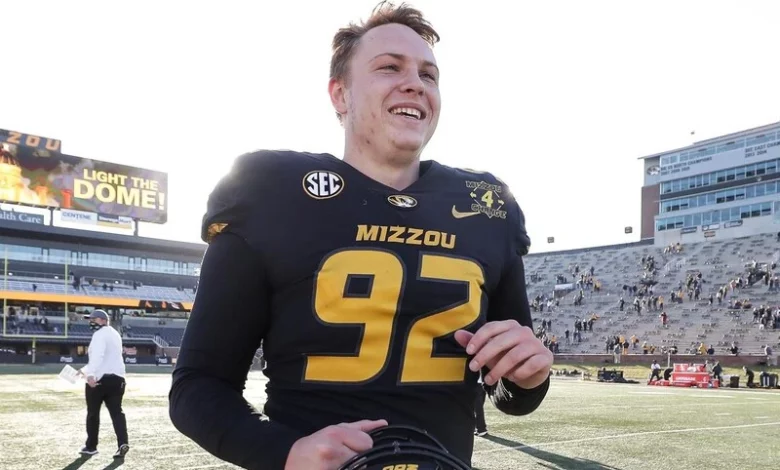 Missouri's Harrison Mevis doesn't look like much of an athlete. At 5-foot-11, 243 pounds he isn't your classic chiseled football player. But Mevis does one thing pretty well. He can kick the football. And kick it he did on Saturday, as his 61-yard field goal as time expired against Kansas State was the longest field goal in SEC history. It also sent Missouri past Kansas State, which was No. 15 in the NCAA football rankings entering the game. The 30-27 Missouri win also moved the team to 3-0 and made an instant celebrity of Mevis. Ironically, the season he's getting the most attention is the season the Harrison Mevis stats are the worst of his career.
The Harrison Mevis stats show he's already missed more field goals than he did for all of 2021. He also missed the first extra-point of his college career this season. But for Missouri fans, he'll always be remembered for his game-winning kick against the Wildcats.
As a freshman in 2020, Mevis was 17-of-20 in field goals and connected on all 28 extra-point attempts. He did even better in 2021, going 23-of-25 in field goals and made all 41 extra-point tries.
Mevis came down to earth a little bit in 2022, going 22 for 28 in field goals in the NCAAF player stats. He made all 33 extra-point attempts.
Slow Start in 2023
The Harrison Mevis stats show he missed two field goals in Missouri's 35-10 win over South Dakota to open the season. He did make all five extra-point attempts, although his kicks didn't make any difference in the college football scores that game.
The following week, Mevis made a 38-yard field goal and was 2 for 3 in extra-point attempts in a 23-19 win over Middle Tennessee.
Against Kansas State, he connected from 25 and 30 yards, but missed a 53-yard attempt earlier in the game. He was 3 for 3 in extra-point attempts.
At the time of his game-winning kick, Mevis' longest field goal of the season had been 38 yards. But he had kicked 56-yard field goals the two previous seasons, so he had the leg to get it close. Initially, it was going to be another 56-yard attempt. But Missouri inexplicably took a delay of game penalty before the kick to push the ball back another five yards and send Mevis into the SEC record books.
For the season, Mevis is just 4-of-7 in field goal attempts and 10-of-11 in extra points.
For NCAAF betting news, odds analysis, and more, visit Point Spreads Sports Magazine.
---
Can't get enough? Here's more!