MWC: San Diego State Aztecs vs San Jose State Spartans
SDSU has lost three straight games, while the Spartans are on a 5-game cover streak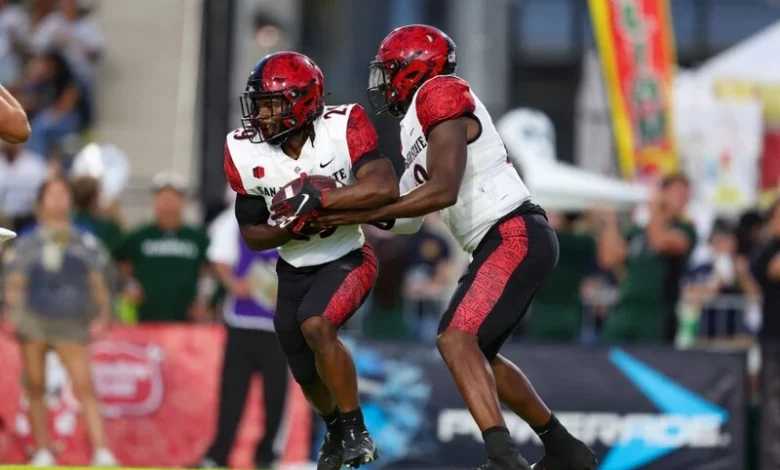 The San Diego State Aztecs (3-7 / 1-5) head upstate to take on the San Jose State Spartans (5-5 / 4-2) who still have an outside shot at playing in the Mountain West title game. The Aztecs started the season 2-0, but since have won just one game against Hawaii, 41-34. The Spartans have won four straight overall and five straight against the spread after handling Fresno State, 42-18, as a 2.5-point favorite. Current NCAA football odds have the Spartans as a 15.5-point favorite with a total of 49. We start our San Diego St vs San Jose State Preview by looking at the Aztecs from a betting perspective.
Hoke Is Done At Seasons End
It was announced Monday, that head coach Brady Hoke will retire at the end of what has been a disappointing college football season. This season will be the first time SDSU will finish with a losing record since 2009 when Hoke took the program over. The program is two years removed from a 12-2 season in 2021.
This was the first year that Hoke couldn't lean on his defense which is 113th in the country, allowing 417.6 total yards per game and 122nd in yards per completion allowed (13.6).They've had trouble getting pressure on opposing quarterbacks all season which has led to big plays with below-average secondary. With a 5-4 ATS record, San Diego State still has a chance to turn a profit for bettors for the first time since 2019 in a non-shorted season.
Over the last three years, SDSU is 15-16-1 ATS, but 10-7 ATS when they're an underdog. The Aztecs won't be part of anybody's College Football bowl projections this year but the program has enjoyed 11 bowl trips in their last 12 seasons, including three under Hoke. We continue our San Diego St vs San Jose State Preview by turning our attention to the Spartans.
Brennan Starting His Own Legacy
Head Coach Brett Brennan is one win away from going to the program's third bowl game in four years, the first team in Spartan history to accomplish that feat. Brennan is likely to become the first coach at the school to lead them to three bowl games. In their four-game win streak, SJSU has outscored their opponents 171-63. Part of their success is because they rarely lose the turnover battle after just seven giveaways this entire season, sixth in the nation.
San Jose State has already guaranteed bettors a winning season with a 7-2 ATS record (+432 units). It will be the first time since 2020, That the Spartans have turned a profit. Over the last three years, SJSU is 15-15 ATS, but just 6-8 ATS at home. We conclude our San Diego St vs San Jose State Preview with our official selection.
Win One For Hoke?
We see it all the time. The Head Coach announces he is moving on and the betting world reacts thinking it's a bad thing. For one night only, it usually turns into a positive because change sparks a reaction. In the case of sports, that change is usually for the better. This number has gone up a point and a half to -15.5 and we're more than willing to take the points with the Aztecs.
This is a NCAA Football game where we can't afford to let the Spartan get a big lead because if the Aztecs can hold within the number for three quarters, Hoke usually gets the best out of his team in the fourth where they average 8.1 points per game, 36th in the nation. San Jose State allows 8.5 fourth-quarter points, 102nd in College Football.
With this being the last game on the College Football schedule in 2023, we're one week away from saying goodbye to another terrific season. All the best to your wagers this week.
For NCAAF news, San Diego St vs San Jose State analysis, and more, visit Point Spreads Sports Magazine.
---
Can't get enough? Here's more!