Breakout Watch: Najee Harris Stats Could Explode in 2023
Third-Year Back Could Be in For a Career Season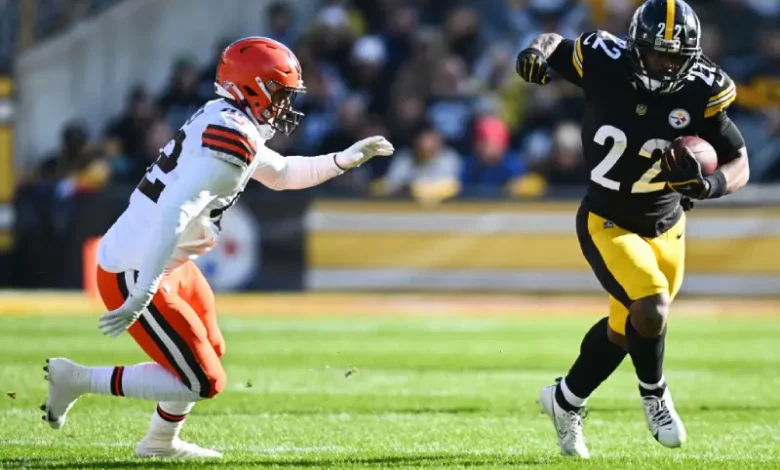 Year 3 is usually a "breakout" year for young NFL players. Pittsburgh hopes that is true for their star running back: Najee Harris. The 25-year-old enters his third season after posting over 1,200 yards from scrimmage and 10 total touchdowns in his sophomore campaign. The Steelers enter 2023 with plenty of improvements so Najee Harris's stats could be in for a big improvement.
Najee Harris in 2023
Running Back Could Be a Focal Point in Team's Offense
This may seem like a bold statement given Harris's usage taking a dip in 2022. But Harris remains far and away the team's top option at running back. Pittsburgh also drafted Broderick Jones to further bolster the offensive line to help second-year quarterback Kenny Pickett.
The 24-year-old showed flashes in 2022. He missed a few games but still led Pittsburgh to a strong finish at year's end. The franchise is squarely behind him and expects him to make a leap for Year 2. The Steelers, who have the 19th-ranked upcoming strength of schedule, could be a hot NFL pick for 2023.
Harris will be the main weapon for Pittsburgh as an option on both passing and running plays. An improvement from Pickett and the passing game can only be beneficial to Najee Harris's stats.
Najee Harris's Player Profile & Stats
Harris was drafted by the Steelers 24th overall in the 2021 NFL Draft. He played in Alabama where he was a two-time CFP national champion and a unanimous All-American selection in 2020. He was named to the NFL's Pro Bowl in his rookie year.
Last Year's Stats
Najee Harris's stats took a bit of a tumble last year. This was expected as he played with a rookie quarterback and a mediocre offensive line. Still, Harris played all 17 games and was a factor on both ends of the turf.
RUSHING:
Stats
ATT: 272
YDS: 1,034
TD: 7
Y/A: 3.8
Y/G: 60.8
LNG: 36
RECEIVING:
Stats
TGT: 53
REC: 41
YDS: 229
Y/R: 5.6
TD: 3
Y/G: 13.5
CTCH%: 77.4%
These stats were a decline from Harris's 2021 where he compiled 1,667 yards from scrimmage (1,200 from rushing and 467 from receiving). However, he still had 10 total touchdowns and both his yards-per-attempt and catch percentage remained almost similar indicating his performance did not decline as much as his workload did.
There are Not Many All-Down RB's Like Harris
The Steelers did not invest a first-round pick on Harris for nothing. He should continue to be the bell cow for the Steelers' backfield. There aren't many running backs in Harris's position among other NFL teams. Jaylen Warren is Harris's main competitor but he had just 77 rushing attempts and 28 receptions in 2022.

Follow us on Twitter
---
Can't get enough? Here's more!