Kenny Moore's Two Pick-6's Spur Colts' Victory
Kenny Moore Career Stats: Veteran CB Remains Ballhawking Threat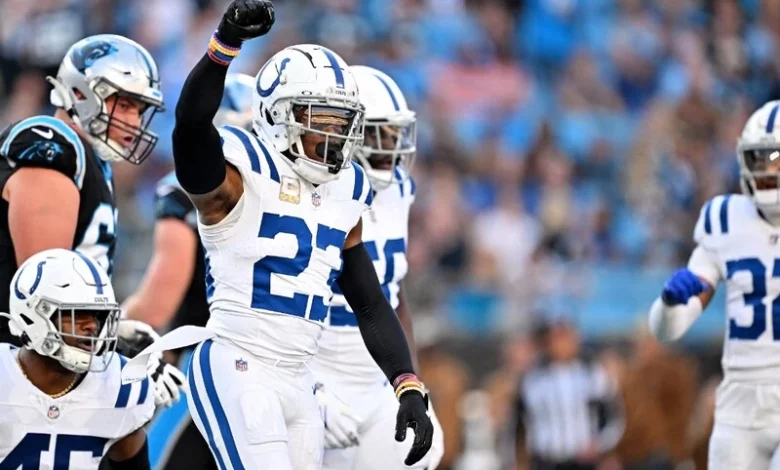 Kenny Moore II
Full Name:
Kenny Moore II
Age:
28 years old (08-23-1995)
Nationality:
Valdosta, Ga., USA
---
The Indianapolis Colts' three-game skid is over thanks in large part to Kenny Moore, who returned two interceptions for touchdowns in Sunday's 27-13 victory over the Carolina Panthers. The veteran cornerback had a 49-yard Pick 6 of Bryce Young in the final minute of the first half then had a 66-yard scoring return early in the fourth quarter.
A 1.5-point favorite, Indianapolis covered the spread for the second time in three games and moved to 5-4 ATS on the NFL season.
What made his performance so unique? To better answer that, let's take a closer look at Kenny Moore's career stats.
Steady Contributor
Kenny Moore's career stats — 484 tackles and 17 sacks over 96 pro football games — are modest. Yet he's still just 28, and his numbers should only continue to improve as he enters the homestretch of his seventh NFL season. Moore has had at least two interceptions in five seasons with the exception of 2017 and 2022. Prior to last week, he'd scored just one touchdown, an interception return in 2020.
Moore also has 9.5 career sacks, including 1.5 this season, and four forced fumbles.
Based on that, the 5-foot-9 Moore clearly remains a fundamental part of Indianapolis' defense. He leads the Colts with five passes defended and is third in tackles with 61, trailing linebacker Zaire Franklin (NFL-leading 102) and safety Julian Blackmon (62), according to NFL player stats. Despite that, the Colts, who have allowed an average of 360.6 yards, are just 26th in total defense.
They'll look to improve on that Sunday (9:30 a.m. ET) when they face the 2-7 New England Patriots in Germany. The Colts are 1.5-point favorites (-110) and -122 on the moneyline.
Odds Outlook
Despite his career day, Moore isn't gaining any traction on the NFL betting market. He's not in consideration for NFL Defensive Player of the Year, nor is he listed on any other odds boards.
Will that change? A Pro Bowler in 2021, Moore does have a body of work. But he'll likely need to do much, much more to start generating more consideration for some notable awards. Cornerbacks, in particular, tend to be overlooked in that regard compared to pass rushers.
As for the Colts, oddsmakers are skeptical of their chances of success. At 4-5, the Colts share the longest AFC South odds at +2000. They're also +125000 to win the conference.
That's unlikely to improve, especially with rookie first-rounder Anthony Richardson sidelined for the season following shoulder surgery. Gardner Minshew (1,527 passing yards, 8 TD, 5 INT) has played well in his absence, helping keep the Colts afloat. While they're by no means among the NFL favorites, the Colts are a top 10 scoring offense (25.8 PPG). Still, there seemingly remains a ceiling to what they can accomplish.
At the very least, the Colts seem like a decent bet to beat their projected win total of 6.5. A 3-5 record down the stretch would be enough to cash in. Keep that in mind when configuring your NFL prop bets.
For Kenny Moore career stats, NFL betting news, NFL spreads this week, visit Point Spreads Sports Magazine.
---
Can't get enough? Here's more!