Alex Ovechkin Stats: Heading Into 19th Season, Ovechkin 72 Goals Shy Of History
At the Age of 37, Ovi gets his 13th 40-Goal Season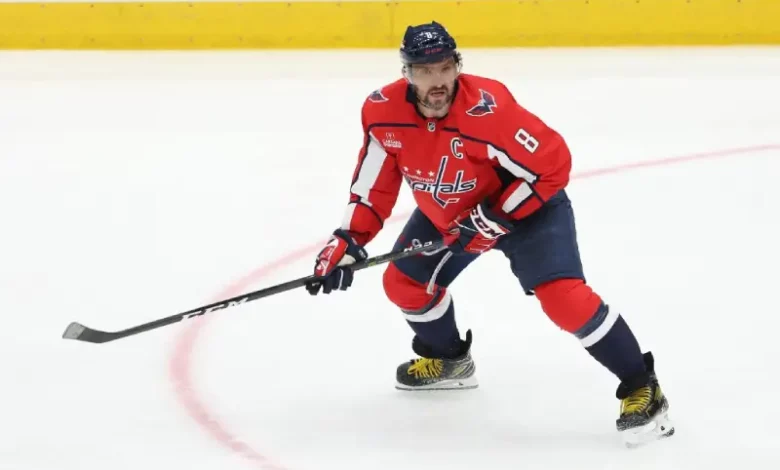 The Washington Capitals missed the postseason by 12 points this season, but their team failure had nothing to do with a lack of contribution from one of the all-time greats. The Russian has averaged just under 46 goals per season and over 43 after the age of 30. Let's take Alex Ovechkin's stats and look ahead to when he might have a chance to break the all-time record of 894 goals by Wayne Gretzky.
Let's Do The Math
You can bet if we're checking NHL scores today, that number eight will be on the scoresheet or at least make an impact in some way. If we take Ovi's average daily NHL results we can get an idea of when Ovechkin will get within the all-time goal record. Let's take 40 goals as our guideline. After the 2023-24 season, Ovechkin's stats should get him around the 860-goal mark, late in the 2024-25 season the target for the record to be broken. Our best guess is around February which will add some spice to the trade deadline.
The only question now is can we count on Ovechkin's health? In the last 10 years, only once did Ovi fail to play in at least 68 (45) games and that was the bubble season (2020-21) where the season was reduced to 56 games. However, this isn't a done deal. When the NHL season kicks off a new season, Ovechkin will be 38 years old, the age that Gretzky was in what would be his last season in 1998-99.
Although there are no signs of the 3-time NHL MVPs demise, to ask Ovi to be a 40-goal scorer over the next two seasons is a lot to ask. If number eight does come across an injury that keeps him out of the lineup for some time, then we're asking a 40-year to come back for a 21st season. One thing is for sure, we'll be keeping a close eye on Alex Ovechkin Stats come October.
Who's Next?
We're always conditioned to ask ourselves what's next, so it's fair to think about who in the game today could challenge for to all-time goal title. To give you an idea of Ovechkin's dominance, Sidney Crosby is second on the active goal list with 550 goals or 272 behind despite the fact that they both started their careers in 2005. We need to go all the way down to 28th on the all-time list to find the name of Connor McDavid who has 303 goals in his career. Or just under 38 a season.
In his last three seasons, McDavid has averaged 47 goals after his incredible 64-goal season this year. If we use 45 goals as the average mark for McDavid, he would be 38 when he would get in range of the record. The problem is, we don't know where that final mark will land, but using 900 as a barometer, we could easily be talking about when McDavid will break Ovi's record in the distant future.
Follow us on Twitter
---
Can't get enough? Here's more!