Scheffler Dominates PGA Tour Championship Odds
Season-Ending FedEx Cup at East Lake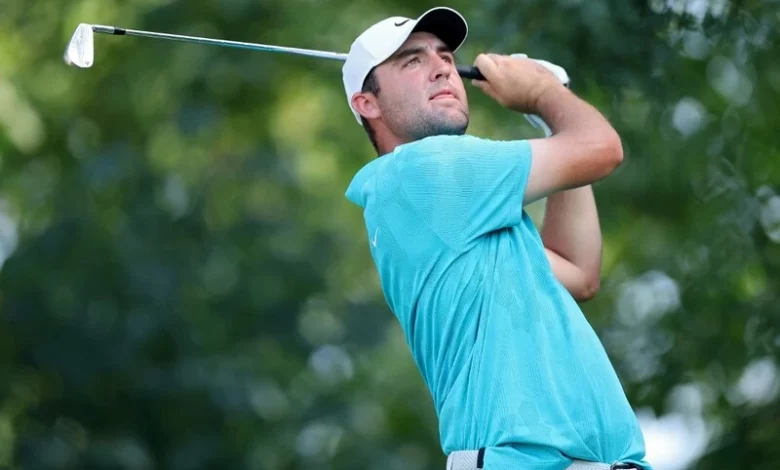 PGA Tour Championship odds are out and it's Scottie Scheffler holding sway with his two shot lead.
The American has dominated the PGA Tour schedule, which has earned him a -10 start on Thursday at East Lake.
However, we could see a familiar name at the top of the PGA Leaderboard Tour Championship on Sunday, as Rory McIlroy makes his claim.
McIlroy Eyes Fourth Win
PGA Tour Championship odds have McIlroy listed at +330 to win, which seems reasonable considering his track record in this tournament.
With three previous FedEx Cup victories under his belt, including a dramatic win over Scheffler last year, it's highly likely he'll be tough to beat again in 2023.
Despite not performing at his absolute best this year, the Northern Irishman still holds a strong position in the FedEx Cup rankings, currently ranking third. This places him just three strokes behind Scheffler and a single stroke behind Viktor Hovland, the victor of the BMW Championship last week.
"Played good tee to green," McIlroy said. "Missed a lot of chances. Sort of a similar story to last week in Memphis.
"Yeah, we'll see. I'm going to go home for a couple of nights and come back up to Atlanta Tuesday, work on my game a little bit for a day and a half, and go try to win another FedEx Cup."
McIlroy's ability to play his best golf when it counts is better than most in the tournament. Despite not having a majors win since 2014, he has won numerous big tournaments around the world, including the 2022 Tour Championship.
His PGA golf odds this week reflect his ability to turn it on at any given moment.
Hovland Seeking Consecutive Wins
Following his impressive course-record-breaking performance of 61 to secure victory at the BMW Championship, Hovland can't be overlooked.
While he had previously scored wins on the PGA Tour, they had all come in tournaments where the best players in the world were elsewhere.
Now armed with a BMW Championship under his belt, as well as his favorable starting score of -8, he should be tough to beat at East Lake.
It's never easy to win consecutive tournaments, but that feat is made easier by his FedEx Cup advantage and the limited field.
Given the situation, his odds of +400 for Hovland to win the Tour Championship is worth taking as a saver bet behind McIlroy.
We don't think he would have celebrated too much last week, knowing how much money is on the line, and he has always had a good head on his shoulders.
There has been steady money come for him with PGA Tour Championship odds and it's well-placed.
The Forgotten Spaniard
We picked Jon Rahm to win the BMW Championship, and although his performance hurt his chances of winning the Tour Championship, write him off at your peril.
He slipped down the FedEx Cup list, so he's starting at -6, four strokes behind Scheffler, but that's not much in the grand scheme of things.
Rahm is one of the best big tournament players in the world, and although we have seen him in better form, the same can be said for Scheffler and McIlroy.
Only Hovland has won a tournament recently, so the Tour Championship is up for grabs.
Bookmakers have Rahm at +750, which is an excellent price. He could make up the four-shot deficit in the opening round, and if he's within a couple of strokes of the lead, his odds will firm.
We expect his odds to firm throughout the tournament, so at his current price, we can't leave him out.
Schauffele Specked at Odds
Xander Schauffele, starting at -3 and trailing Scheffler by seven shots, has firmed throughout the week.
The American has the potential to score a memorable comeback win, and given his Olympic success, he knows what it takes to win big tournament.
His +3000 odds shortened after opening much higher, and he's a player who could steadily make ground and sit inside the top three without making the headlines.
If Schauffele can play his best golf, he could land a big payday for bettors.
For golf betting news, odds, analysis, and more, visit Point Spreads Sports Magazine.
---
Want more articles like this? Check these out: