Jaxson Dart Stats: Ole Miss QB Separating Himself Among FBS Best
As Goes Dart, So Go Rebels in SEC play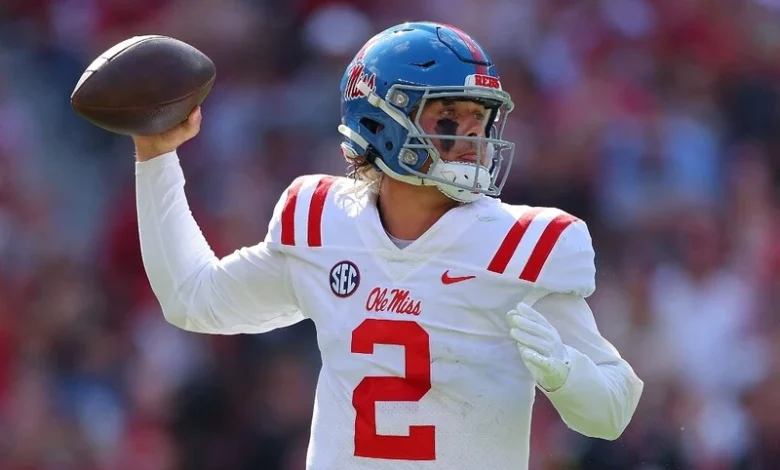 In his second year starting at quarterback for the Ole Miss Rebels, Jaxson Dart has separated himself as one of college football's top quarterbacks. Look no further than his effort Saturday against Southeastern Conference rival LSU.
That said, Dart remains overlooked for most major national awards, including the Heisman Trophy. To see if that will change, let's break down Dart's impressive start. Here are Jaxson Dart's stats.
Throwing Darts
Jaxson Dart's stats are impossible to ignore. Through five games, Dart is completing 64.1% of his passes for 1,485 yards, 11 touchdowns, and only two interceptions. The junior has also rushed for four scores, displaying impressive mobility in and outside the pocket. He currently ranks third in the SEC and ninth in the country in passing yards. According to NCAAF stats, only one SEC quarterback — LSU's Jayden Daniels — has thrown for more touchdowns.
As it should, Ole Miss is reaping the benefits of Dart's strong start. The Rebels are 4-1 and ranked 16th in the AP Top 25 poll following their 55-49 victory over No. 13 LSU. Ultimately, it was Dart's 13-yard pass to Tre Harris with 39 seconds remaining that made the difference. Dart finished 26 of 39 for 389 yards and four touchdowns. He also ran for 50 yards and a score.
The Rebels, a 2.5-point underdog, overcame a nine-point deficit in the final 8:34 to even their record in SEC play at 1-1. They'll be back in action Saturday (7:30 p.m. ET) at home against Arkansas.
Based on what he's done thus far, Dart will be tough for Arkansas to contain. Fittingly, the Rebels are an 11-point favorite (-110) and -400 to win outright, per football odds. The Rebels are already 4-1 against the spread this season, including 3-0 at home.
Odds Outlook
Despite his stellar start, Dart is still not listed on most Heisman Trophy odds boards. That, of course, could change. Dart is ranked top 10 in several statistical categories, and he'll get plenty of exposure in the SEC down the stretch. The Rebels have seven games remaining, none bigger than a showdown at No. 1 Georgia on Nov. 11. An upset would go a long way toward improving the former USC transfers candidacy.
The Rebels also have road tests with Auburn (Oct. 21) and rival Mississippi State (Nov. 23) in the Egg Bowl.
Dart certainly has the capabilities to move into contention. No stranger to big plays, Dart is averaging 10.46 yards per pass attempt, ninth-most in FBS. By comparison, USC's Caleb Williams leads the country with 11.37 yards per pass attempt. Dart is also averaging more than 5.0 yards per carry.
Again, Ole Miss stands the most to gain here. The Rebels, who were projected for 7.5 wins, look like a lock to make a fourth straight bowl game. While they're a +2000 longshot to win the SEC, that's more a reflection of the competition than anything else. The SEC is still arguably the strongest conference in the country. The Rebels are also +20000 to win the national title.
At this point when assessing college football scores, it seems as if the Rebels will go only as far as Dart can take them.
For Jaxson Dart stats, NCAAF betting odds, analysis, and more, visit Point Spreads Sports Magazine.
---
Can't get enough? Here's more!