Sione Vaki Player Stats: College Football's New Two-Way Star Fueling Utah
Vaki had over 200 yards of total offense in upset of No. 18 USC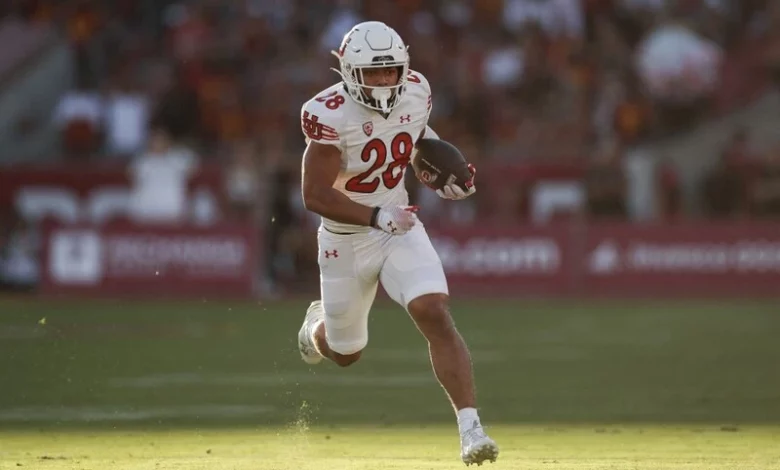 ---
Colorado's Travis Hunter has been the most talked about two-way star in college football, generating a Heisman buzz before his injury. But don't overlook Sione Vaki.
The sophomore from Utah was all over the field in Saturday's upset of No. 18 USC, helping the Utes remain in the thick of the Pac-12 Conference race. Just like Hunter, he was a significant factor on both sides of the ball.
Just how unique is Vaki? To help answer that, we dove deeper into his performance. Here's a breakdown of Sione Vaki's player stats.
True Swiss Army Knife
Sione Vaki's player stats are impossible to ignore. Against USC, the two-way standout caught two touchdown passes and totaled 217 yards of offense in a 34-32 upset win. A 7-point underdog, Utah got a 38-yard field goal from Cole Becker as time expired to outlast reigning Heisman Trophy winner Caleb Williams and the Trojans.
Most of Vaki's experience has come at safety, where he's accounted for 74 tackles (58 solo), one sack, and one interception over parts of two seasons. But he's also contributed on offense of late, establishing himself as a Swiss Army Knife for the 13th-ranked team in college football.
On top of rushing 25 times for 232 yards (9.3 yards per carry), the 6-foot, 208-pound Vaki has also caught six passes for 144 yards. Even more impressive is that he's done essentially all of that over the last two games.
Vaki is still very much an unknown on a national level. However, he'll get another prime opportunity to showcase himself when the Utes host No. 8 Oregon on Saturday (3:30 p.m. ET, Fox). Utah is a 6.5-point underdog (-105) and +208 on the moneyline.
Odds Outlook
You won't find Sione Vaki in the mix for most major awards, including the Heisman Trophy. That's because Vaki, a sophomore from Antioch, Calif., has been something of a nomad on the football field. After spending the first 19 games of his collegiate career at safety, Vaki has added running back to resume in the wake of injuries.
One week after rushing for 158 yards and three touchdowns against California, Vaki caught five passes for 149 yards and two touchdowns, including a 53-yarder from Bryson Barnes to open the scoring. It was the first 100-yard receiving day for a member of the Utes this season. On top of that, Vaki also ran nine times for 68 yards.
For the season, Vaki has accumulated nearly 400 yards (232 rushing, 144 receiving) of total offense to go with four touchdowns.
Thanks to Vaki's contributions, Utah is now 3-1 in Pac 12 play and 6-1 overall, with a 21-7 loss to then-No. 19 Oregon State the lone blemish on an otherwise fantastic start. The Utes are still just +1200 to win the Pac 12, leaving them well behind the likes of Washington (+140), Oregon (+250), Oregon State (+500), and even USC (+650) on the odds board. But they'll have plenty of opportunities down the stretch to state their case as a bona fide contender in the NCAAF rankings, starting Saturday. Four of the Utes' final five opponents on the NCAAF schedule currently have winning records.
The Utes are also just +10000 to win the national championship. Perhaps those NCAAF odds would be higher if not for season-ending knee injuries to quarterback Cam Rising and tight end Brant Kuithe. Both players have yet to appear in a game this season, opening the door for them to receive medical redshirts for the 2024-25 campaign.
For Sione Vaki player stats, betting news, analysis, and more, visit Point Spreads Sports Magazine.
---
Can't get enough? Here's more!