Wildcats vs Jayhawks Meet in Sunflower Showdown
Kansas State vs Kansas Game Odds See KSU Favored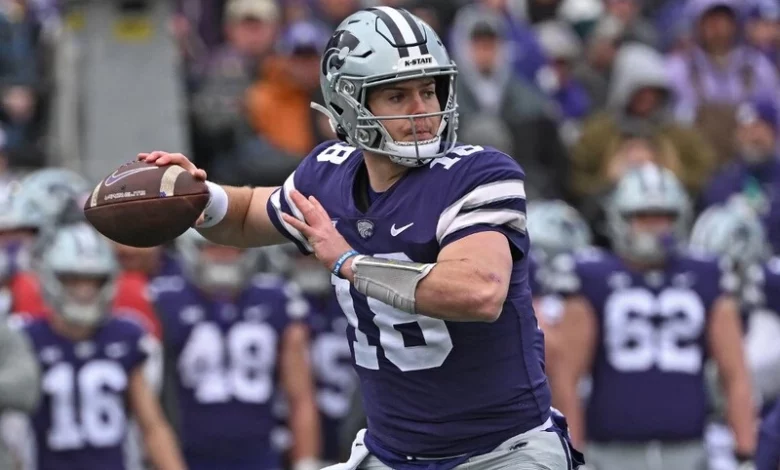 The Sunflower Showdown isn't the most masculine nickname for a football rivalry. But the action can get pretty intense on the gridiron when No. 25 Kansas State and No. 16 Kansas meet. The Wildcats have dominated the series recently, winning the last 14 games and going 11-3 in college football betting in the process. Of Kansas State's 11-point spread wins, most of them weren't close. But this year's game should be better than anything we've seen in the past few seasons. Both teams are 7-3 straight-up and the Kansas State vs Kansas game odds have the Wildcats favored by 8 and the total is 56.5.
Day/Time:
Location: David Booth Kansas Memorial Stadium, Lawrence, Kansas
Streaming: FS1
Line: Kansas State -8 | Total: 56.5

Wildcats Rolling Up the Scores
Kansas State is 7-3 straight-up and 7-2-1 against the point spread. The Wildcats have covered the spread every game they've won, which is impressive considering they're almost always favored. The sportsbook isn't too concerned with the college football rankings. Despite Kansas being ranked quite a bit higher, it's Kansas State who is a solid favorite. You can't blame the sportsbook for having KSU favored. The Wildcats are outscoring foes 38.8-18.5.
The offense is scoring 11.8 more points than their opponents allow. The Wildcats rush for 202.5 yards per game and 5.0 yards per carry against teams allowing 4.3 yards per rush. The passing game has been solid, gaining 250.4 yards per game. Kansas State is a strong dual-threat team and that's reflected in the NCAAF scores.
Kansas State's defense has come up big all season, allowing 18.5 points per game to teams averaging 26.2 points. The Wildcats defend the run fairly well, allowing 3.9 yards per rush to the team's averaging 4.2 yards per carry. Kansas State has been solid against the pass, holding teams to a 56.3% completion rate and 6.2 yards per pass.
The only knock against Kansas State is its inability to win the close game. All three losses were by eight points or less, with two of them coming by a field goal. The Wildcats have all seven games by at least 13 points, usually by quite a bit more. But you would like to see Kansas State win a close game just to show it can rise to the occasion when it matters.
Jason Bean Comes Up Big For Jayhawks
When Jalon Daniels went down early with an injury, many people expected that to be the end of Kansas' bowl hopes. But Jason Bean has stepped in and done a solid job. He's a big reason why the Jayhawks are 7-3. Kansas hasn't had any problem winning the close games. They've had a few too many if you ask Jayhawk backers, as Kanas is just 5-5 against the spread. The team's defense plays a role in that. There are a number of Big 12 football teams that play strong defense. Kansas isn't one of them, however.
The Jayhawks are allowing 26.2 points per game to teams scoring 27.3 points. So Kansas is just above average in that regard. The Jayhawks allow 4.4 yards per rush and 7.7 yards per passing attempt, both slightly higher than their opponent's average. All things considered, Kansas is pretty much an average defense across the board.
But the Jayhawks are solid offensively, scoring 32.7 points against teams allowing 27.5 points. Kansas is going to run the football and it does so pretty well. The Jayhawks average 5.2 yards per rush against teams allowing 4.6 yards. Bean and the passing game are efficient, with KU gaining 9.0 yards per pass attempt. The Jayhawks are going to run more than they pass, but Kansas State likes to do the same thing.
What to Expect
Kansas State needs to get off to a fast start. If the Wildcats can get up early, they can get Kansas out of their preferred style of running the ball often. Kansas State will likely try to take advantage of the Jayhawks' run defense first and then add in some pass plays. As long as the Wildcats can keep the Kansas defense guessing, they'll be in pretty good shape.
Kansas is going to run the ball as much as possible. It's what the team does best. While the Wildcats are decent at stopping the run, they're not great. There's no reason for the Jayhawks to do anything different than they traditionally do.
Who to Bet On?
The Kansas State vs Kansas game odds of KSU -8 make sense despite the rankings of both teams. The Wildcats have been more impressive in their victories and have a much better record against the spread. Kansas State has also dominated Kansas recently, although the Jayhawks have their best team in some time.
The Kansas State vs Kansas game odds on the total is a pretty solid number. Kansas State's defense could take over the game and keep scoring down. But both teams are capable of moving the ball and putting points on the scoreboard.
Kansas can be forgiven for losing to Texas Tech last week. That game had the makings of a look-ahead situation to this game. You know if there was one game on the schedule the Jayhawks wanted to win before the season started, it was this one. Kansas may not get the win, but the Jayhawks +8 is the way to go in this one.

For NCAAF news, NCAAF spreads analysis, and more visit Point Spreads Sports Magazine.
---
Can't get enough? Here's more!