Myles Garrett Stats: The Edge Rusher Is Now A Front-Runner To Win DPOY
Garrett Has Earned 7.5 Sacks Through Six Games This Season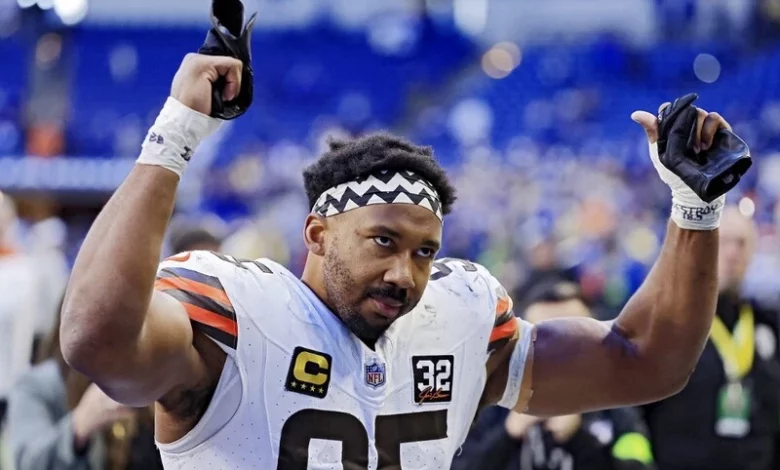 The Cleveland Browns are 4-2 to begin the season in the NFL standings. They've done this without a reliable quarterback, playing three different quarterbacks through the season's first six games. The Browns just earned
Deshaun Watson has an injured shoulder, Dorian Thompson-Robinson isn't ready for the bright lights, and P.J. Walker has given the Browns inconsistent play as Cleveland's starting quarterback heading into Week 8 of the NFL season.
But while the offense has remained inconsistent, the defense has played exceptionally well, especially on the defensive line.
The Browns have 19 sacks in six games played. They've also added 37 tackles for a loss this year to go along with six forced fumbles.
Defensive end Myles Garrett has been in the middle of all the chaos for the Browns' defense. He just helped the Browns earn a massive win over the Indianapolis Colts with nine total tackles, to go along with two sacks, three stuffs, and two forced fumbles. He also blocked a kick on special teams and deflected a pass.
The Browns won that game with one of the highest NFL scores on the slate, 39-38.
His odds have drastically changed in the Defensive Player of the Year race.
Let's talk about Myles Garrett stats below.
Garrett's Seventh Season
Myles Garrett was selected first overall in 2017 by the Cleveland Browns. Garrett had a tremendous college career with Texas A&M, leading him to being selected first in 2017.
Garrett was a total monster when he first arrived on the scene. However, the Browns were a losing team with no direction but down.
Gradually, Garrett tried to help shape the foundation, especially on the defensive end.
Since joining the team in 2017, he's had at least seven sacks in every season. Garrett added seven sacks in only 11 games played in his rookie season. But since then, he's reached double-digit sacks in every season since.
He's got 7.5 sacks this year, but we're only six games into the season. Garrett has earned 16 sacks in consecutive seasons. However, he's on pace for more than 16 this season.
Although the edge rusher has never earned a touchdown in his career, he's added 16 forced fumbles and has recovered four more fumbles in his career. He makes an impact even when he's not forcing the ball out. His 82 sacks are inching closer to that 100-sack milestone.
Myles Garrett Player Profile & Stats
It only took three seasons to realize Myles Garrett's potential.
The edge rusher earned 141 total tackles in 34 games for the Aggies in his college career. He also earned 31 sacks in 34 games. Look at those stats. He was literally three sacks away from averaging a sack per game, with half of those games being played in the SEC.
Garrett also added 47 tackles for a loss and forced seven fumbles, with five pass deflections.
Although Garrett doesn't have an interception in the NFL, he earned one in 2015 for the Aggies, where he returned the ball for another four yards.
Myles Garrett Career Stats
Although it feels like Garrett has played for a long time, he's only 27 years old and playing in his seventh season. He's added 82 sacks, which isn't close to the most ever.
However, if Garrett can play another dozen years, he might be near the top of sack leaders in NFL history.
Bruce Smith earned 200 sacks in 279 games played. Garrett has earned 82 sacks in 90 games played. So if Garrett can get to 275+ games throughout his career, he could eventually become the greatest edge rusher of all time.
Take a look at the Myles Garrett stats below.
| Myles Garrett | CAREER Stats |
| --- | --- |
| GP | 90 |
| TOT | 285 |
| SOLO | 193 |
| AST | 92 |
| SACK | 82 |
| FF | 16 |
| FR | 4 |
| PD | 14 |
| STF | 32.5 |
Although Garrett has earned a lot of big plays in his career. He's never earned a touchdown in the NFL. He's still looking for his first. However, as we mentioned, his career is still extremely young.
Take a look at Garrett's stats in 2023.
| Myles Garrett | 2023 Stats |
| --- | --- |
| GP | 6 |
| TOT | 22 |
| SOLO | 16 |
| AST | 6 |
| SACK | 7.5 |
| FF | 3 |
| FR | 0 |
| PD | 1 |
| STF | 4 |
Will Myles Garrett Stay In Cleveland For Good?
On August 21, 2023, the Cleveland Browns and Myles Garrett announced that they restructured his rookie deal.
Garrett, who has been to four Pro Bowls, signed a five-year extension worth $125 million. That included a $21 million signing bonus and $100 million guaranteed.
At the time, the move gave the Browns $35 million in salary cap room, which was the most in the league.
In September, another defensive end, Nick Bosa, earned a contract extension worth $170 million over five years. Therefore, Garrett isn't the highest-paid defensive end in the NFL. But he's still one of the best and playing at a high level for the Browns right now.
Garrett has been an x-factor and a difference-maker for the Browns this season. Without a quality defense, the Browns would be struggling. Instead, they're 4-2 at this time.
Defensive Player of the Year Odds
Myles Garrett practically won the game for the Browns last weekend in a 39-38 win over the Colts. Again, he added two sacks, one pass deflection, two forced fumbles, nine tackles, and a blocked field goal.
One of those forced fumbles led to a touchdown. However, Garrett wasn't the one to jump on the ball. He only forced it.
After that game, his NFL betting lines and odds to win Defensive Player of the Year jumped. Garrett is now tied as the front-runner for the award with Micah Parsons at +200 each.
Pittsburgh's T.J. Watt sits at +225, while Aidan Hutchinson is at +1600. Nick Bosa is currently at +2500 and isn't even the highest on the odds board of his own team.
The Browns' offseason deal for Garrett looks much better right now. Garrett's production might be worth closer to $200 million. However, restructuring the deal allowed the Browns to help other areas of the team.
Realistically, as long as Deshaun Watson's banged up and injured, the Browns won't go anywhere near the Super Bowl. But if Watson can get healthy and become the quarterback he used to be, Garrett can help the Browns earn a Super Bowl ring.
For NFL betting news, odds analysis, and more, visit Point Spreads Sports Magazine.
---
Can't get enough? Here's more!