NFL Week 8: Chicago Bears at Los Angeles Chargers
The Bears haven't covered back-to-back games all season, LA has just one cover in 23.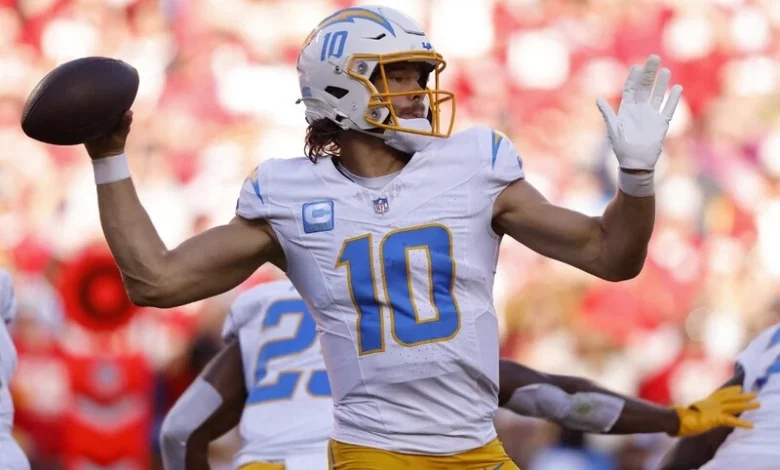 The Chicago Bears (2-5) will take their good feelings on the road after beating the Las Vegas Raiders as a home dog, 30-12. The Los Angeles Chargers (2-4) haven't won since beating the Raiders themselves over three weeks ago; they'll try to keep from falling to the bottom of the AFC West with a winnable home game. Despite their record being similar, oddsmakers have made Los Angeles an 8.5-point home favorite, accompanied by a total of 46.5. Kick-off is scheduled for 8:20 p.m. ET / 5:20 p.m. PT and can be seen on NBC. Let's start our Bears vs Chargers betting odds preview by taking a closer look at Chicago.
Day/Time:
Location: SoFi Stadium
Streaming: NBC
Bagent Back At The Controls
We said last week, after recommending the over against the Raiders, that we should anticipate a surprising effort from Tyson Bagent, and that's precisely what he did. Filling in for Justin Fields, the former Shepherd College standout, yeah, we don't know where that is either, but they produced a quarterback who completed 72% of his passes against Las Vegas in a win as a home dog.
It was more about Chicago's run-blocking, as it will against this week, but if the Bears can continue to get production from D'Onta Foreman, this will take pressure off their quarterback. It's been since 2018 that Chicago has produced a winning NFL season for bettors, but let's just say we were a little shocked to see this number as large as it is.
The Bears are 24-48 ATS in their last 72 decisions and are 12-24 ATS as a road dog. Chicago is 5-13 ATS when receiving a touchdown or more overall and 4-10 ATS at +7 or more on the road. Not a lot to like if you're looking to bet Chicago, or is there? We continue our Bears vs Chargers betting odds preview by putting the spotlight on Los Angeles.
OL, Herbert Underacheiving
You can tell us all you'd like about how great Justin Herbert is and how he's finally going to deliver a ring to the Chargers faithful. That will not happen if the offensive line can't keep Herbert upright. The Chargers allowed five sacks last time out against the Kansas City Chiefs while Herbert "helped out" with two interceptions.
We know Los Angeles is better, but if we're Matt Eberflus, the pressure will come early and often from a defense that has played well over the last two weeks. Last season, the Chargers were a reliable 11-6-1 ATS, but at 2-4 in 2023, it's hard to justify betting on the home team when this NFL betting line requires the NFL player to lay this many points, even against the Bears.
Eberlus knows that in order to be included in this year's NFL playoff bracket, games like this must be won. If the Chargers don't win outright Sunday, you can kiss their playoff hopes goodbye. We conclude our Bears vs Chargers betting odds preview with our official selection.
Betting On Defense
We aren't walking up to the betting window with much confidence, but the numbers say that Chicago is the play. First, we already noted how well the Bears' defense has played; although it wasn't against the caliber of signal caller they'll see Sunday, it is a step in the right direction after DC coordinator Alan Williams resigned earlier in the season.
Historically, NFL teams getting more than nine points are covering 52.4% (+6.23 units) since 2003, while Chicago is 15-13 ATS using the same filter. We think the NFL will update how they feel about the Chicago defense after another terrific performance, take Chicago +9. That does it for our Bears vs Chargers preview, all the best with your wagers this weekend.
For NFL betting news, NFL football standings, and more, visit Point Spreads Sports Magazine.
---
Can't get enough? Here's more!