D-backs Dance to the World Series! Rangers Await in Showdown
Arizona Diamondbacks Score Takes the Cake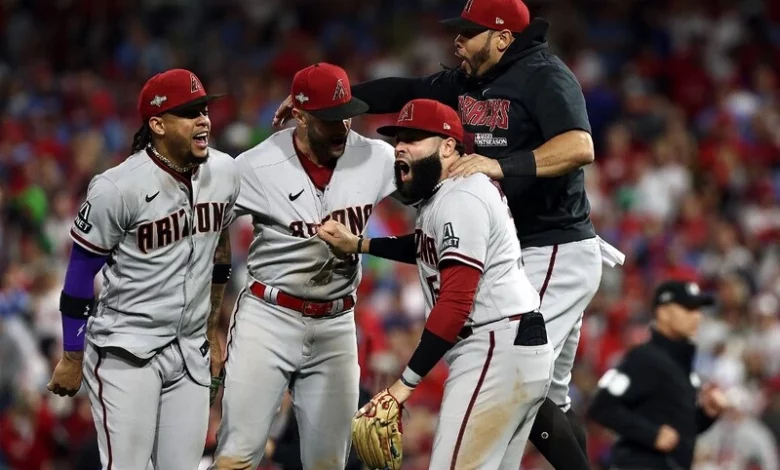 D-backs Show 'Em How It's Done!
Wowza! Talk about a roller-coaster ride! There's been a lot of chatter about the new playoff format with some doubting its value. But let's tip our hats to the Arizona Diamondbacks, who've shown they've got the grit to dance all the way to the big stage and vie to become MLB leaders 2023.
Not only did they upset the apple cart by toppling the mighty 92-win Brewers and giving the Dodgers the cold shoulder with a clean sweep, but they also managed to pull a rabbit out of the hat in the NLCS after being two down! With back-to-back wins and heart-stopping comebacks, it's clear – they've earned their stripes with this Arizona Diamondbacks score.
Carroll's Golden Ticket
Before this season kicked off, many scratched their heads at the D-backs' hefty bet on young gun Corbin Carroll. An eight-year contract for a whopping $111M? For a guy with just 30 big league games under his belt? Well, that gamble's looking like the smartest move in town! Carroll shone like a diamond this year, especially in the playoffs, and on Tuesday, he was firing on all cylinders. With a future so bright, he might need shades – Carroll's got superstar written all over him!
Pfaadt Pitches a Surprise Party
During the regular season, you'd hear about Zac Gallen or Merill Kelly leading the Diamondbacks' charge. But come playoff time, and it's the young gun, Brandon Pfaadt, stealing the spotlight. This rookie took the mound in MLB matchup 7, dished out some sizzling pitches, and delivered a performance worth its weight in gold, for a sturdy Arizona Diamondbacks score. With a shiny 2.70 ERA in the postseason, Pfaadt's proving that while form is temporary, class is permanent.
Next Stop: World Series Showdown
The 2023 World Series is shaping up to be a real barn burner! The Diamondbacks are set to tango with the Texas Rangers in what promises to be a match for the ages. After both teams knocked out big guns to clinch their spots, we're in for a treat.
Batter up with Point Spreads news on all things sports, including MLB lines and MLB National league standings.
---
Want more articles like this? Check these out: