Broncos Beat Chiefs, Shake Off Chiefs' Reign
Trolling the Chiefs With Taylor Swift's "Shake It Off" Is a Whole New Level of Fun!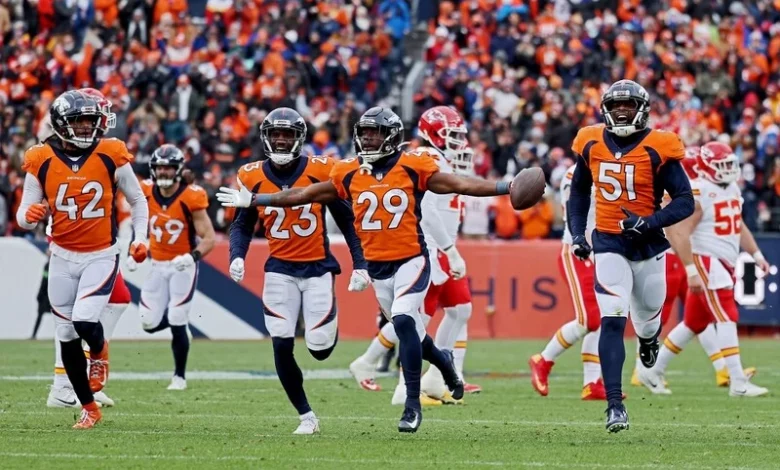 Hats off to the Broncos! They didn't just pull a rabbit out of the hat by beating the Chiefs, they went a step further. Cranking up Taylor Swift's 'Shake It Off', they trolled her boyfriend's Travis Kelce's team and made it crystal clear that winning isn't enough; you gotta have fun doing it! Those Denver Broncos vs Chiefs odds weren't going to win themselves with a sullen face, especially in this Week 8 power game!
Soooo… Travis Kelce might be cozy with Swift, but when it comes to football, Denver showed who's boss. Talk about adding salt to the wound! But hey, all's fair in love and football. And the Broncos? Well, they were on cloud nine, doing the victory dance. It's the Broncos beat Chiefs feat, for crying out loud!
Broncos Melt a Long Streak Against the Chiefs
Remember the date, for the Broncos just melted a long cold streak of not winning against the Chiefs. For the first time since 2015, they gave the Chiefs the cold shoulder with a 24-9 upset, but it wasn't all the Broncos doing, and the Chiefs weren't just up against the Broncos.
The Broncos beat Chiefs result included turnovers, missed touchdowns, and a string of bad luck saw them shooting themselves in the foot. Even star quarterback, Patrick Mahomes, couldn't spin his magic with a rough day on the field. Meanwhile, Ja'Quan McMillian and the Broncos had the wind in their sails, leaving no stone unturned to ensure a memorable Broncos beat Chiefs win.
New Dawn Under Sean Payton?
Not only did the NFL team snap a 16-game losing streak against the Chiefs, but they also showed promise under new coach Sean Payton. With two wins on the trot, could this be the silver lining Broncos fans have been waiting for? From the brink of becoming sellers to possibly eyeing a playoff spot, the Broncos might just be the dark horse to watch out for.
What About the Chiefs? A Slippery Slope?
It really wasn't the Chiefs' day. From errors to missed chances, they seemed out of sorts. It's not every day that the Chiefs find themselves in a pickle, especially against the Broncos. Denver seized the day, capitalizing on every mistake the Chiefs made. It's early days, but the Broncos, climbing to 3-5, might just smell blood in the water. The upcoming week in Denver promises to be buzzing, and for the first time in ages, it's cheers, not tears for the Broncos' faithful.
Keep up with the times with Point Spreads. All news, all odds, all the good stuff you need! The lowdown on NFL scores and NFL lines today!
---
Want more articles like this? Check these out: