New York Giants in a Tailspin – Their Season Is on the Rocks!
New York Giants Schedule 2023 Is Shot!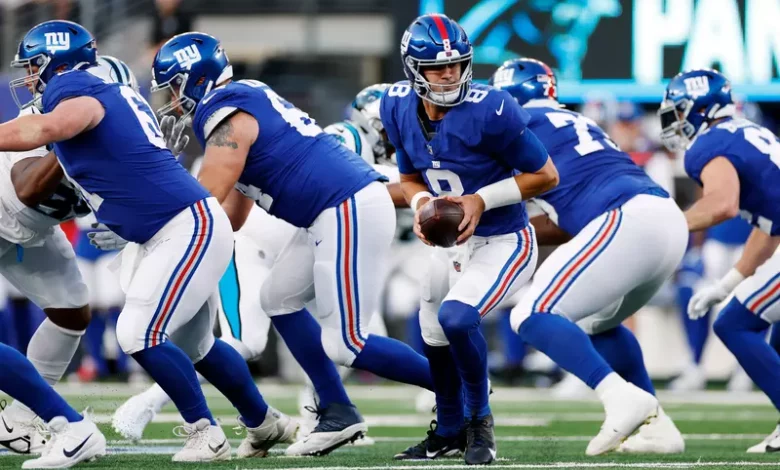 Daniel Jones Under Siege
In a crushing Monday night showdown, the New York Giants faced a tidal wave of trouble. Daniel Jones, their quarterback, found himself sacked so many times it could make your head spin. The scoreboard painted a gloomy picture, with Seattle Seahawks thrashing the Giants 24-3. It wasn't just a defeat; it was a full-on season-sack attack! Which threw down their NFL standings, of course…
Giants Down for the Count: Their Offensive Line – A Laughingstock
With this latest setback, it's high time for the Giants to throw in the towel. Their hopes of going anywhere this season have been shattered. Monday night's fiasco marked their second embarrassing home game failure, following a disastrous Week 1, where the Giants suffered a brutal 40-0 loss to Dallas Cowboys.
In all their New York Giants schedule 2023, they've only managed to scrape up three points in two home games, a performance so dismal it hasn't been seen in the NFL in four decades!
Jones bore the brunt of the onslaught, getting sacked a mind-boggling 10 times. The Giants' flimsy offensive line was ruthlessly exposed, and it seems like it's going to be the butt of jokes for a while. In the first week against Dallas, Jones was under fire on 28 out of his 42 dropbacks. But the line's not the only one deserving of a good ribbing.
Coach Daboll's Frustration Boils Over
During a sideline showdown, Head Coach Brian Daboll appeared to have lost all hope in his beleaguered quarterback, and it ended with Daboll dramatically tossing a tablet and storming away from Jones in sheer disgust. Daboll didn't hold back in his post-game comments, delivering a blunt explanation for what went wrong with Jones's pick-six.
As the Giants languish with a 1-3 record, they're one miracle away from a winless start to the season. Their first-half performances are downright woeful, trailing 77-9 in points scored. This display casts a shadow not just on the team but also on Daboll's coaching strategies.
Their next two NFL matchup challenges are on the road, facing off against the Miami Dolphins (3-1) and the Bills (3-1). To make matters worse, the latter is scheduled for Sunday night on October 15th. After Monday's game, Jones now holds a grim 1-12 record in primetime matches.
As dark as things have been for the Giants this season, it's safe to say the only way is down. It's time to throw in the towel for the New York Giants schedule 2023 and start looking ahead to 2024.
Keep up with the good times… and the rocky times! At Point Spreads, no less!
---
Want more articles like this? Check these out: