College Football Player of the Week: TCU's Jared Wiley
TCU Tight End Jared Wiley's Best Career Game Lifts Horned Frogs Past the Baylor Bears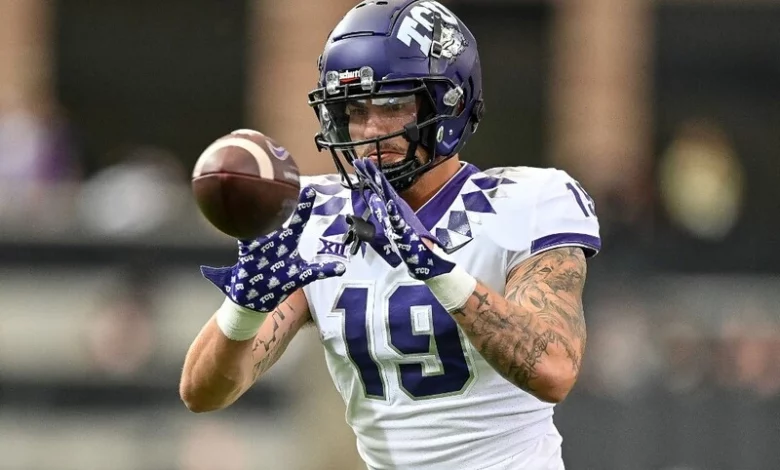 Jared Wiley
Age:
23 years old (11-02-2000)
Positions:
TE – Tight End
Jared Wiley, 2023's top productive tight end, excels nationally at TCU.
It has been a tough encore season for the Texas Christian football team after the surprising run to the 2022 national championship game. Thanks to a performance that earned Jared Wiley the Player of the Week honors, the Horned Frogs have something to play for in the final game of the regular NCAAF season.
Wiley, who never had more than 74 receiving yards in a game heading into a Week 12 matchup with Baylor, erupted for 178 yards on seven catches with a pair of touchdowns as TCU snapped a three-game losing streak with a 42-17 win. According to the NCAA football scores and odds, the Horned Frogs were listed as the 13-point favorite.
TCU can become bowl-eligible with a win at Oklahoma on Friday, Nov. 24. A quick peek at the NCAAF predictions shows that TCU is tied for eighth in the Big 12 with a 5-6 record against the college football betting lines.
When looking at the ncaaf best players, Colorado State's Dallin Holker leads all Football Bowl Subdivision tight ends with 739 yards on 59 catches. Despite missing two games, Georgia's Brock Bowers had 51 catches and 661 yards.
Wiley Is Getting Involved
Wiley finished fifth on the 2022 TCU team with 24 catches and 245 receiving yards.
With Quentin Johnston going in the first round of the 2023 NFL Draft and two other top pass catchers also gone, as is quarterback Max Duggan, putting up points figured to be a little more challenging this season.
That is pretty much what has happened. There hasn't been much change in the total offense numbers, but the Horned Frogs went from averaging 38.8 points per game a season ago to putting up 30.1 points so far this season.
Wiley has four games with at least five catches this season, including the effort that earned Jared Wiley Player of the Week honors.
Wiley Is Putting Up Some Numbers
Wiley never had more than three catches in a game during his three seasons with the Texas Longhorns.
In his first season at TCU, he saved his best for the Kansas State Wildcats with nine catches for 102 yards in two games during the 2022 season. He had a pair of receptions in the national championship game loss to Georgia.
He has taken it up a notch this season with career-highs of 39 catches and 481 yards. Now Jared Wiley has a Player of the Week honor as well during his breakout season.
Wiley is three catches shy of JP Richardson's team-high total and 44 yards behind Savion Williams' team-leading mark.
From 2009-2021, no TCU tight end had more catches and receiving yards in a season than Wiley's totals of 24 receptions and 245 receiving yards that he posted last year. It took him nine games this season to top those numbers.
Wiley is tied with Kansas State's Ben Sinnott for the Big 12 lead with 39 catches, and his receiving yardage total is third among Big 12 tight ends.
Wiley had an 81-yard touchdown catch in the second quarter against Baylor and added a 28-yard TD reception in the third quarter. That gives him six catches of at least 20 yards this season.
What's Next?
Wiley could have been a part of the 2023 NFL, but he opted to return for one more season. It seems like a wise decision.
He is being touted as one of the better tight end prospects in the 2024 NFL Draft with the belief that he could go early on the third day of the draft. That would put him in the fourth or fifth-round range.
He'll have a chance to raise his stock once the season is over with workouts and showing what he can do at pro days. At 6-foot-7 and 255 pounds, he certainly has the size that NFL teams are looking for at the position.
How He Got Here
Wiley was rated as the 39th-best tight end in his recruiting class coming out Temple (Texas) High School. He committed to Texas in May 2018, and he entered the transfer portal not long after the 2021 season came to an end.
About three weeks later, he committed to TCU.
The move has been good for his pro prospects.
After having 19 catches for 248 yards in three seasons at Texas,
Wiley has 63 catches, 726 receiving yards, and 10 touchdowns in his two years with the Horned Frogs. Now, he gets a chance to face an Oklahoma team that is eighth in the Big 12 in passing defense.
TCU is currently a 10-point underdog against an Oklahoma team that still has a chance to earn a spot in the Big 12 title game. If the Horned Frogs win to move to 6-6, Wiley will have a decision to make. Will he play in whatever bowl game that TCU gets to be a part of, or will he opt out to avoid the risk of injury and to begin his NFL Draft preparations?
For NCAAF news, college football lines today, and more, visit Point Spreads Sports Magazine.
---
Want more articles like this? Check these out: