CeeDee Lamb Stats: The Best Cowboy Has His Way with the Rams
Lamb On Pace for Career Year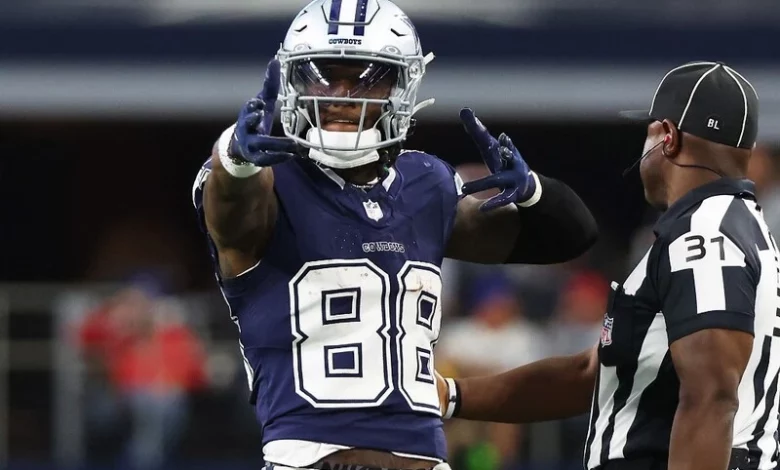 Ceedee Lamb
Current Team:
Dallas Cowboys
Age:
24 years old (04-08-1999)
Height:
6 ft 2 in / 1.88m
Nationality:
Opelousas, Louisiana, USA
---
One lamb is better than a herd of Rams. One look at CeeDee Lamb's stats and it was evident what kind of game the receiver and the Dallas Cowboys had against Los Angeles. Lamb caught 12 of the 14 passes Dak Prescott threw toward him as he tallied 158 receiving yards and a pair of scores. In total, he had a season-high 170 yards from scrimmage. He is our Player of the Week.
CeeDee Lamb in 2023 and Beyond
Dallas's True MVP?
Wide receivers have never won the NFL's regular-season MVP award. Even when players like Cooper Kupp and Justin Jefferson tear up the league, it tends to go to someone else. We're not intimating Lamb deserves to be voted as the MVP. But he has arguably been Dallas's most important player.
Among CeeDee Lamb's stats, Prescott has a whopping passer rating of 131.6 when targeting Lamb this NFL season. He's never dropped a pass and has over 20% of Dallas's first downs. Lamb receives between six to seven passes a game.
Prescott's next best targets are running back Tony Pollard and tight end Jake Ferguson. The rest of the receivers combined to receive 7.5 passes a game. Should Dallas lose Lamb, the offense could just take a nosedive.
"We're not surprised," Lamb said after his career-best performance against the Rams. "That's what we're looking for week in and week out. This was more of a stepping stone to what's to come."
CeeDee Lamb's Player Profile & Stats
The Cowboys drafted Lamb in the first round of the 2017 NFL Draft. He became so good so quickly and helped Dallas rise in the NFL standings. Prescott would be lower on the NFL QB rankings without his trusty receiver. And to think that Lamb is only 24. His best seasons could still be ahead of him.
Lamb's 2023 Stats
CeeDee Lamb's stats this season put him on pace to finish with career-bests in receiving yards (1,537) and receptions (112). His touchdowns could see an uptick and he's typically finished with seven or eight for every 17 NFL games. These are All-Pro-worthy numbers.
CeeDee Lamb Stats

| RECEIVING | STATS |
| --- | --- |
| GP | 7 |
| GS | 7 |
| TGT | 56 |
| REC | 46 |
| YDS | 633 |
| Y/R | 13.8 |
| TD | 13 |
| Y/G | 90.4 |
| CTCH% | 82.1% |
How Much Can One Receiver Do?
As great as Lamb has been, receivers don't win MVP for one main reason: they are more limited in what they can do compared to quarterbacks or running backs. Lamb caught 10 of Prescott's 13 passes for 117 yards in last postseasons' loss to the 49ers. But he couldn't come away with a touchdown as his quarterback threw two picks and Dallas came up short yet again.
Still, Dallas has the fourth-best record as an NFL pick against the spread (ATS) (34-26-0) since Lamb joined this NFL team in 2020. Regardless of this team's playoff shortcomings, Lamb and the Cowboys have been worth betting on, online.
For NFL betting news, NFL spreads, and more, visit Point Spreads Sports Magazine.
---
Can't get enough? Here's more!