Phillies vs Braves Preview: Can Spencer Strider Help His NL Cy Young Case?
Oddsmakers Have Strider Earning Third Place in NL Cy Young Voting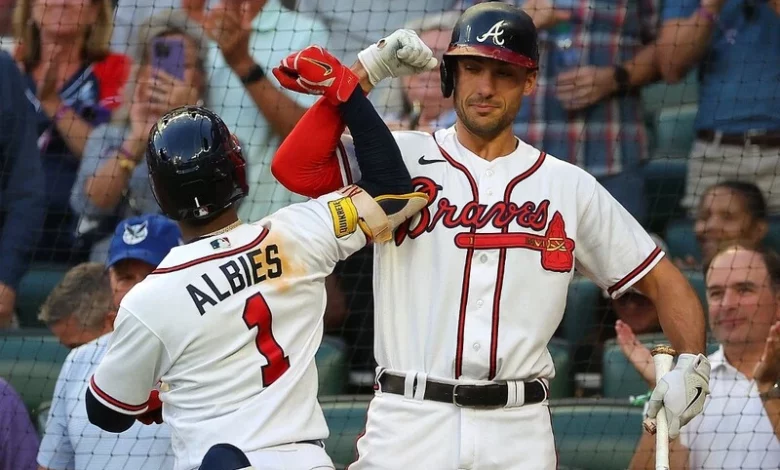 The Philadelphia Phillies will take on the Atlanta Braves for the second game of a three-game series. Atlanta has already clinched the NL East, and the Phillies are nearly clinching the top spot in the NL Wild Card.
However, the Braves are still competing at a high level to earn first place in the entire National League, especially with the Dodgers creeping up on them.
On the other hand, the Phillies are looking to get the first NL Wild Card spot in front of the Diamondbacks, Cubs, Marlins, Reds, and Giants.
Can the Phillies earn a win in the second game of the series against the Braves?
Look at the Phillies vs Braves preview for Game 2 of this NL East rivalry weeknight series.
Day/Time:
Location: Truist Park
Braves Have Decisions To Make
The Atlanta Braves previously lost their weekend series against the Marlins. They were swept, playing without Ronald Acuna in the outfield.
Acuna has a calf injury, and because the Braves have already clinched the NL East, they're being safe and allowing Acuna some time to recover.
However, there are some Braves players playing themselves off the playoff roster right now.
Right-handed relief pitcher Michael Tonkin has allowed a .316 ISO and wOBA of .478 to his last 21 lefties .His previous 49 batters faced have also hit a .227 ISO and wOBA. Tonkin has earned many ground balls but has allowed 36% of fly balls in the last 30 days.
He might be playing himself out of the bullpen for the playoffs.
Meanwhile, Nicky Lopez was a stud for the Braves when Ozzie Albies and Orlando Arcia were down and injured in the second half. But he's cooled off since. He's hit a .042 ISO and wOBA of .230 against his last 27 righties. He also rarely faces lefties as a left-handed batter. But he's got a .000 ISO and woBa of .267 against his last ten lefties.
The only reason why Lopez could stay on the roster is due to his defense.
Finally, Kyle Wright might not be the answer for the Braves in the starting rotation. He just came back from injury but looks lost on the mound. He's given up a .312 ISO and wOBA of .459 to lefties throughout the season.
He was injured from May to early September, and the Braves likely won't want to push him past a specific pitch count. He'll probably be off the rotation when the playoffs come around.
Phillies Former Manager Doing Better After Stroke
The Phillies' social media team announced that Charlie Manuel suffered a stroke last week. However, the Phillies have received positive updates from his wife, Missy, that he's progressed well since being in the hospital.
Manuel had a 1,000-826 managerial record, which is a 54.8% winning percentage.
He coached in Cleveland to begin his tenure as coach and took the Guardians as far as the ALDS. However, he took the Phillies to back-to-back World Series when he came to Philadelphia. The Phillies won the World Series in 2008 but lost in 2009.
Manuel and the Phillies earned playoff berths from 2007-2011 and made it into the NLCS three of those five years. They also finished first in the NL East in those five MLB seasons.
Two years later, after a 53-67 start in 2013, he was fired and never coached again.
The Phillies haven't finished first in the NL East MLB standings since Manuel left. However, they still made the World Series last season.
Early Odds: RL Atlanta -1.5 (+155), ML Atlanta -125, O/U 9 -120/+100
⚾ Game 2 ⚾

Cristopher Sanchez vs Spencer Strider
Phillies to Rely on Christopher Sanchez
Christopher Sanchez will get the start for the Phillies. The left-hander has struck out 25% of batters but only 18.8% of right-handed batters in the last 30 days. Sanchez has limited walks very well and has earned over 54% of ground balls in the previous month.
However, he has still allowed a .217 ISO and wOBA of .374 to his last 96 righties.
Sanchez has kept fly balls down, but his line drive to righties has been high over the last month, reaching over 26%.
The left-hander has also allowed a 51.3% hard contact rate over the last month against righties.
Sanchez, as a lefty, typically faces a heavy dosage of righties. He'll likely see seven righties in the lineup for this game.
Austin Riley is one righty who has smacked lefties around in the last month. Riley has hit a .312 ISO and wOBA of .466 against his last 36 lefties. Meanwhile, Marcell Ozuna has been on a tear against lefties, hitting a .654 ISO and wOBA of .582 against his last 29 lefties. Ozuna has also limited strikeouts to 13.8% in the previous 30 days against lefties.
Finally, Orlando Arcia has hit lefties well, with a .364 ISO and wOBA of .413. He's batting near the bottom of the order but gives the lineup an outstanding balance.
Matt Olson and Michael Harris II will likely be the two lefties in the lineup. Both have hit an above-average ISO against lefties in the last 30 days.
Braves Go With Spencer Strider for Game 2
On the other hand, Spencer Strider will get the call for the Braves. He's currently competing for the NL Wild Card with Blake Snell. However, Blake Snell is in the lead at this very moment, according to oddsmakers. But if our MLB predictions come true, Spencer Strider should enhance his chances of winning the award with a dominant performance in this game.
Strider has struck out over 34% of batters in the last month. He has also allowed a .118 ISO and wOBA of .264 to his previous 93 batters.
The right-hander has given up more fly balls than ground balls induced last month. But that doesn't matter nearly as much due to his high strikeout rate.
He'll face a Phillies lineup that has hit a .255 ISO and wOBA of .389 over the last month against righties. But it's still top-heavy. Kyle Schwarber, Trea Turner, and Bryce Harper have hit at a ridiculous pace against righties. However, the bottom portion of the lineup has struck out at a very high rate.
J.T. Realmuto and Nick Castellanos are the two batters in the lineup struggling. Strider doesn't have many batters that strike out at a high rate. Therefore, if he can earn a high strikeout rate in this game, it would be even more impressive and give him a higher chance of winning the NL Cy Young.
There are still a few starts left for Strider. This game wouldn't be the defining moment. But hell, you need multiple quality starts with high strikeouts with six or more innings per start to catch Snell.
MLB scores are typically low when Strider is on the mound. But the Braves still have an edge offensively with their right-handed bats against Sanchez.
The Braves are currently -215, with the Phillies at +180. The total for this game is currently at 9, with the Under juiced to -120. We like the Braves in this MLB matchup. Strider should outduel Sanchez in Game 2 of the Phillies vs Braves preview.
For MLB betting news, odds analysis, and more, visit Point Spreads Sports Magazine.
---
Can't get enough? Here's more!