UFC Fight Night Betting Pick: Almeida Will Make Quick Work of Lewis
Here's Your "Get out of Jail Free" Card: Jailton Almeida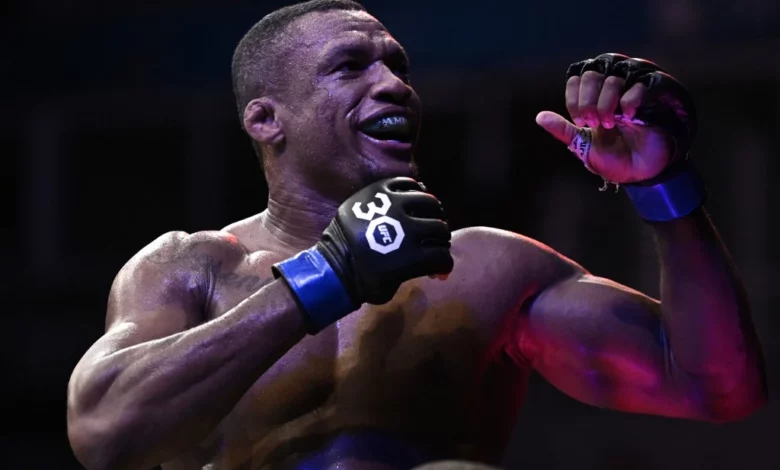 Heavy Favorite is a Solid Bet Against Fading Dog
The UFC is unleashing its not-so-secret Brazilian super soldier the joy of the Brazilian locals this Saturday. Jailton Almeida is a powerful UFC prospect on the verge of becoming a contender. As such, he's our UFC Fight Night betting pick to get it done against the former title challenger, Derrick Lewis. Despite his hefty betting odds, Almeida is a solid bet and there are many ways to get a good return here.
Day/Time: Location:Ibirapuera, São Paulo, Brazil
Streaming: ESPN+

Action Has Gone Back-and-Forth
Almeida opened as a -500 favorite on the UFC betting odds and after being bet down to -550, it's sharply risen to -450. The comeback on Lewis has seen his line drop from +375 to +325. The public can't help but put a bit on Lewis as he's been a lucrative underdog. The "Black Beast" is 8-6 as a dog in his UFC career.
As for Almeida, he's always been a wide favorite. In his last three fights, he was -500, -1100, and -700, respectively. The only time he's been an underdog was during his fight in the Contender Series where he was a +165 underdog. Since then, both oddsmakers and bettors have been well-educated on his talents as a fighter.
Play Lewis by Knockout or Pass
Lewis either wins this fight by early knockout or it's a wash. The underdog can be had at +400 to win by KO. His UFC fights tend to end with one – 21 of the 27 fights. He's had a fair share of both and has both a 78% knockout-to-win ratio and a knockout-to-loss ratio. That means Lewis has that "kill or be killed" mentality.
The heavyweight's last eight fights have all been finished and seven went under the 1.5-round mark. That's why the total is juiced to go under 1.5 here at -350. Lewis will either knock Almeida out early or he'll get finished.
On the rare occurrence that it goes past two rounds, there is a good chance he slows considerably along with Almeida. They don't have gas tanks built for a drawn-out fight. None of Lewis's five-round fights have gone to a decision. As far as an easy UFC Fight Night betting pick, this one won't either. But at that is -3000 and not worth whaling on.
Almeida is a Grappling Monster
Not many UFC fighters look and fight like a literal monster. Almeida fits that bill. He is over 240 pounds of muscle and has the strength to ragdoll even a massive man like Lewis. Most notably, he has the Brazilian Jiu-Jitsu skills to overcome any size or strength disparity. And there is not a lot even if he's the "smaller" man here.
Most UFC expert picks for this Saturday's fight will have Almeida win by submission at -110 or by knockout at +160. These are sound touts as he has a 100% finishing rate. None of his opponents have made it past the second round and all but one got finished under the 1.5-round mark.
Of course, Lewis is a sizable step up (literally, as well). The Black Beast challenged for the UFC title and holds wins over many top-five competitors. We've seen "hype trains" get derailed by stepping up against a top-five caliber opponent. So we'd advise cautiously bet Almeida at his lines even if we believe he's a future title challenger.
And the Pick is…
There are wide lines here for Almeida (-450) and the under 1.5 rounds (-350). Either would be good parlay pieces with other bets on the card. But as far as a single UFC Fight Night betting pick, wager on Almeida to finish Lewis within the first round (Ev) or second round (+325). You may even bet both if you're feeling temerarious. Just watch out for Lewis's "puncher's chance" because he's won numerous fights with one swipe.
Bet: Jailton Almeida in Round 1 (Ev).
For UFC betting news, odds analysis, and more, visit Point Spreads Sports Magazine.
---
Can't get enough? Here's more!