2023-24 Premier League Season Predictions
Man City's Title to Lose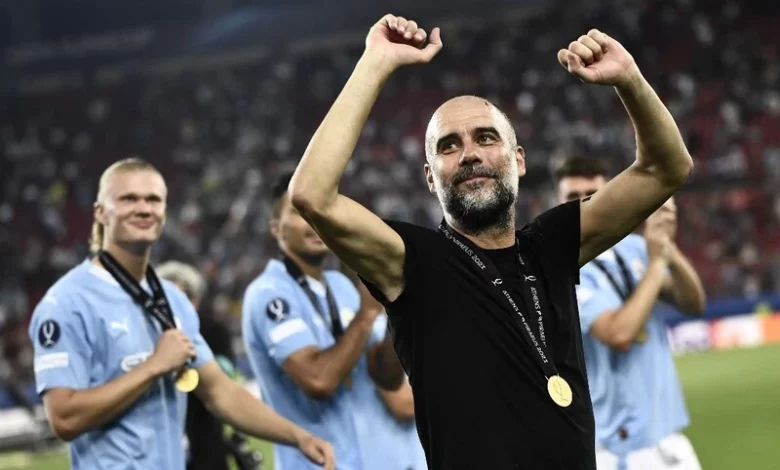 Interesting Top Four Race in 2023-23
We're already four games into the 2023-24 Premier League season. So far, Manchester City is the only perfect team remaining, but four teams are within two points of the three-time defending champions. While the title is City's to lose, the top four and relegation races figure to be compelling. With the first international break of the season here, we'll make some 2023-24 Premier League season predictions.
Champions
Manchester City are already first in the Premier League standings, and no one would be surprised if things stay that way. They currently stand at -250 odds to win a fourth straight title, even though talisman Kevin de Bruyne is out for the next few months. City are managing just fine without him, as Phil Foden and Bernardo Silva can pick up the creative slack. Erling Haaland scored six goals in four matches and is a -400 favorite to win another Golden Boot.
For bettors looking for alternatives to Manchester City, Arsenal and Liverpool seem to be the two most likely teams to challenge City. In fact, Liverpool are the only team other than Man City to win the Premier League title in the last six years. Jurgen Klopp was adamant that the Reds keep Mo Salah amid interest from Saudi club Al-Ittihad.
Salah stayed through the English transfer deadline, but as the Saudi deadline closes on Thursday, Liverpool could still accept a reported £215 million bid for the winger. Bettors should probably hold off on taking Liverpool to win the title (+800) until it's clear whether Salah will stay.
Meanwhile, Arsenal were incredibly close to winning the EPL title last season but imploded towards the end of the season. They have more depth this season, but they have the Champions League to contend with for the first time in seven years.
The Gunners haven't hit their stride yet, but Declan Rice already looks like an excellent signing. The midfielder scored the winning goal vs. Manchester United last weekend, and with Thomas Partey out for the time being, Arsenal needs him to stay healthy. At +700, Arsenal could be a decent value bet to win the title.
Our Pick: Manchester City
Top Four
Last season's top four was Manchester City, Arsenal, Manchester United and Newcastle United. It would be shocking if Pep Guardiola's City don't finish in the top four places in the EPL standings, and they sit at -6600 top four odds. With deep squads, Arsenal and Liverpool also look strong enough to seal top four places.
Liverpool have completely revamped their midfield, as Alexis Mac Allister, Dominik Szoboszlai Wataru Endo and Ryan Gravenberch all signed over the Summer. Most top-four 2023-24 Premier League season predictions have both Arsenal and Liverpool qualifying for the UCL. Arsenal are priced at -275 odds to make the top four, while Liverpool aren't far behind, at +250.
The fourth team to make the top four is anyone's guess, with Manchester United, Newcastle and Tottenham at +175 top four odds. Despite losing Harry Kane to Bayern Munich, Tottenham have gotten off to a great start under Ange Postecoglou. We wouldn't recommend taking Chelsea to make the top four, especially given all the turnover on their squad.
They still display +225 odds to qualify for the Champions League in Mauricio Pochettino's first season. Meanwhile, Brighton are an interesting proposition, at +250 odds, and have started the season off with three wins and one loss. The Seagulls just sealed a transfer for Barcelona's Ansu Fati on loan and have some of the best young talents in Europe.
Our Picks: Manchester City, Liverpool, Arsenal, Tottenham
Relegation
No newly promoted team has won a game yet, but it's exceedingly rare that all three teams who went up go back down. It certainly appears that Luton Town and Sheffield United have weak squads, and the odds back that up. Luton, who are currently 0-3, stand at -400 odds to return to the Championship.
At the same time, Sheffield United are -250 favorites to go back down as well. Burnley, the third newly promoted team, are 0-3 but they do have a more talented roster than Luton and Sheffield United. Vincent Kompany also did a brilliant job to lead Burnley to the EFL Championship title last season. Burnley's early season EPL schedule has been brutal but their fixtures start getting easier around November and it will be a crucial period for Kompany's side.
The oddsmakers currently price Burnley at +250 odds to go down, which are the same as Wolverhampton's and longer than Everton's at +150. Everton have narrowly escaped relegation in each of the last two seasons and many think this could be the year they actually face the drop. Meanwhile, Wolves coach Julen Lopetegui left just before the start of the season due to frustration over a lack of transfers.
On deadline day, Wolves sold key midfielder Matheus Nunes to Manchester City and it could be a long season for them. Bournemouth display +275 odds to go down under new coach Andoni Iraola, but they also defied expectations last season.
Our Picks: Luton Town, Sheffield United, Wolves
PFA Player of the Year
Erling Haaland just won the 2023 edition of this award, and there's no reason he can't win it again. The towering Norwegian striker has already scored six goals in four matches and doesn't have Harry Kane to compete with him in the Golden Boot race anymore. With Kevin de Bruyne out for a while, Haaland will get more of the credit if Man City win the title again this season.
He currently shows +110 odds to be the 2023-24 PFA Player of the Year. Meanwhile, one of the Arsenal players could be a good bet if they're able to pip Man City to the title. Declan Rice is the most likely of the bunch, at +1200 odds while Bukayo Saka and Martin Odegaard come in at +1400 and +2500, respectively. All of the top seven candidates play for Man City, Liverpool and Arsenal.
The oddsmakers price Mohamed Salah at +1200 odds again but it's unclear whether he'll even be on Liverpool by the end of this week. Manchester City's Phil Foden displays +1600 odds. This may finally be the season he establishes himself as a key starter for Pep Guardiola with Riyad Mahrez and Cole Palmer gone and De Bruyne injured. Other intriguing picks include Manchester United's Marcus Rashford, at +2500, and Man City's Rodri, at +4000.
Our Pick: Erling Haaland
For EPL betting news, odds, and analysis follow Point Spreads Sports Magazine.
---
Can't get enough? Here's more!