Crown LSU's Jayden Daniels With The Heisman Award
Jayden Daniels Stats Blow Away All Other Quarterbacks In 2023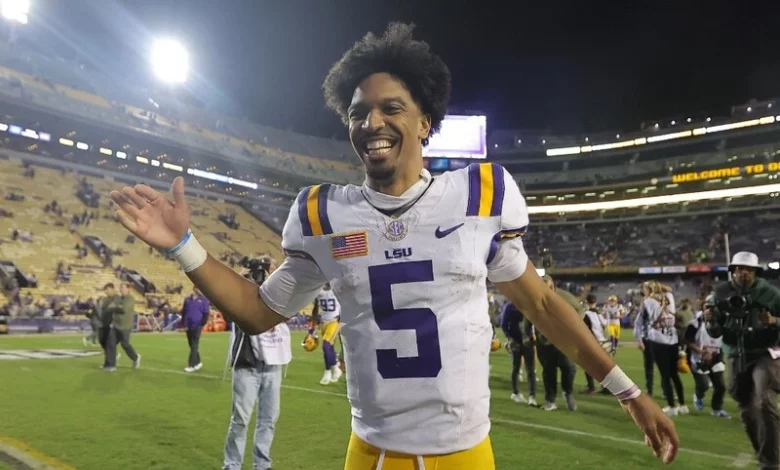 Jayden Daniels
Full Name:
Jayden Daniels
Age:
22 years old (18-12-2000)
---
Jayden Daniels: A Heisman Dark Horse Emerging from the Shadows
No single player is playing at a higher level than Jayden Daniels.
But the LSU quarterback has gone a bit under the radar due to his team's record that has three losses. But those losses weren't really his fault.
The Tigers' defense allowed college football scores of 45, 55, and 42 points in this season's three losses.
He currently leads the nation in total offense by 57 yards per game, earning 408.2 yards between passing and rushing.
After 372 yards passing, 234 yards rushing, and five total touchdowns against Florida last weekend, Jayden Daniels is finally the clear-cut favorite for the Heisman Award.
But oddsmakers see it differently. Instead, oddsmakers have Oregon's Bo Nix with the highest probability of winning the award. Behind Nix is Michael Penix Jr., who has balled out at Washington.
While those two have been spectacular this season, we need to shine a light on Jayden Daniels stats this season.
Daniels' Long College Career
Jayden Daniels has been in college football since 2019. He's been through the COVID year and has played at multiple schools. But all of that has led to his best season this year.
Daniels began his career at Arizona State. As a freshman, Daniels recorded nearly 3,000 yards passing with 17 touchdowns and two interceptions. He even completed over 60% of his passes as a freshman.
He was starting to burst onto the scene early. However, there was a shortened season in 2020. Daniels played well and completed 49 passes on 84 attempts, but he had to wait until 2021 to get significant snaps again.
In 2021, he was left with weak talent on the roster. Therefore, although he completed 65.4% of passes that year, he threw for 2,380 yards with ten touchdowns and ten interceptions. That was ultimately his worst year, which is why Daniels decided to transfer to somewhere that could help him grow.
He chose to be one of the LSU tigers football players and won the starting job by the start of the 2022 season. Daniels struggled to throw the ball early that season but still finished with 2,913 yards passing. He added 17 passing touchdowns and another 11 rushing touchdowns, with only three interceptions.
It was clear that Daniels was an exceptional talent. He returned for his final season this year and instantly became the best player in college football.
This year, he's completed 71.4% of passes. 76 of his 195 completions have gone for 20 or more yards. Michael Penix has just 57 completions of 20+ yards, while last year's Heisman, Caleb Williams, has 55 passes of 20 or more yards.
If he plays in a bowl game, Daniels will likely finish the season with 4,000 passing yards. He'll also add 1,000 yards on the ground if he concludes the year.
The Heisman is waiting for Daniels.
Jayden Daniels Stats & Player Profile
Daniels is averaging 11.6 yards per pass this season.
Last year, he struggled to get the ball out of his hands early. However, this year, he's minimized the sacks a great deal. In 2022, Daniels was sacked 43 times. So far in 2023, Daniels has only been sacked 20 times.
The protection has been good, but Daniels' ability to escape the pocket and read defenses has also greatly improved at LSU.
Let's take a look at the Jayden Daniels Stats for his career.
| Jayden Daniels | CAREER Stats |
| --- | --- |
| COMP | 912 |
| ATT | 1384 |
| COMP % | 65.9% |
| PASS YDS | 12,101 |
| PASS TDS | 79 |
| INT | 20 |
| CAR | 596 |
| RUSH YDS | 918 |
| RUSH TDS | 32 |
Daniels will be one of the best quarterbacks in the last decade. Unfortunately, the defense didn't step up for Daniels at LSU this year. But Daniels has compared stats to Joe Burrow from his Championship run with LSU.
| Jayden Daniels | 2023 Stats |
| --- | --- |
| COMP | 195 |
| ATT | 273 |
| COMP % | 71.4% |
| PASS YDS | 3,164 |
| PASS TDS | 30 |
| INT | 4 |
| CAR | 114 |
| RUSH YDS | 918 |
| RUSH TDS | 8 |
Jayden Daniels Heisman Odds
The LSU Tigers have played the fourth-hardest schedule in college football this season. So far this year, LSU has a strength of schedule of four.
Meanwhile, other teams with Heisman contenders have the strength of schedules at 39 or below. That includes Bo Nix's Oregon, Michael Penix Jr.'s Washington, Ohio State's Marvin Harrison, Michigan's J.J. McCarthy, and Florida State's Jordan Travis.
But despite that, Daniels is listed at +400 to win the Heisman, behind Nix and Penix Jr with the current NCAAF odds.
Daniels has a college football-best 94.2 QBR. He's had more major plays down the field and has played more challenging competition.
Although LSU's record is 7-3 on the season, Daniels' play isn't why. The defense has notably let down the LSU offense throughout the season. We can't penalize Daniels for poor defensive play.
Other quarterbacks with three or more losses have also won the Heisman. That list includes Robert Griffin III and Lamar Jackson. Daniels' play has reminded many of Lamar Jackson's time with Louisville.
With two weeks left in the college football regular season and no conference championship game for LSU, Daniels will need to put together strong performances against Georgia State and Texas A&M to win the Heisman.
Penix Jr. has a tough Oregon State team this weekend, while Bo Nix will have an easy matchup against Arizona State. We'll see if oddsmakers change their mind next week.
For NCAAF betting news and odds analysis on NCAAF, visit Point Spreads Sports Magazine.
---
Can't get enough? Here's more!