Joe Burrow Player Stats: The Bengals QB Finally Looks Healthy
Burrow has Thrown 8 Touchdowns in Cincinnati's Three-Game Winning Streak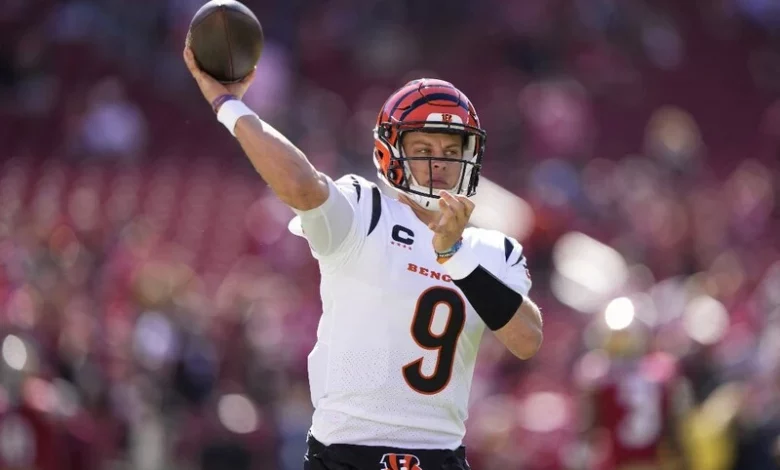 Joe Burrow
Age:
26 years old (12-10-1996)
---
The expectations were high for the Cincinnati Bengals heading into the regular season. During training camp, Bengals' quarterback Joe Burrow went down with a calf injury after getting paid a massive contract extension.
He vowed to return to the field by Week 1 of the NFL season. While he met the deadline, something wasn't right to start the year.
Burrow struggled in the first four games, and the Bengals began the season 1-3 because of his struggles.
However, it seems like Burrow is entirely back now. The Bengals have earned three straight wins, and Burrow has thrown for at least two touchdowns in the last three games.
In last week's game against the 49ers, Burrow completed 87.5% of his passes, going 28-for-32 for 283 yards and three touchdowns. He also rushed the ball six times for 43 yards. Before Sunday's game against the Niners, Burrow hadn't earned more than ten yards rushing due to his injury.
Optimism is back with the Cincinnati fanbase, with the Bengals over .500 and Joe Burrow playing lights out. Will it stay that way?
Let's talk about the Joe Burrow player stats below.
Burrow's Trials and Tribulations
Joe Burrow wasn't always the most highly regarded player in football. While he was sought after in college, he never got an opportunity to play at Ohio State. When he transferred to LSU, nobody thought anything of it.
A couple of years later, Burrow and the LSU Tigers won the National Championship against Clemson. With that, Burrow and many of his teammates went into the NFL and signed life-changing contracts.
Burrow was drafted first overall by the Cincinnati Bengals in the 2020 NFL Draft.
In that 2020 season, Burrow played ten games but eventually tore his ACL due to playing behind a dreadful offensive line. He pledged to come back better than ever in 2021.
That's when he took the league by storm. Burrow threw for 4,611 yards in 16 games. He also added 34 touchdowns in the air and another two touchdowns on the ground in his second season but first entire season as an NFL quarterback.
In 2022, it was more of the same. Burrow added 4,475 yards passing with 40 total touchdowns between passing and rushing.
So, while he started slow this season, it looks like Burrow is fully back from his second significant injury in the NFL. He overcame the first one well.
Now it looks like he overcame this second injury just as easily.
2023 Joe Burrow Player Stats & Profile
Burrow's stats aren't on par with his last couple of seasons this year. But he's still got time to shape those stats up in the second half of the year.
Burrow has thrown for a career-low 5.4 yards per throw. He's also completed just 66.3% of passes this season, which is lower than his first two full seasons in the league.
Still, his 87.5% completion percentage against the Niners helped his percentage. If he has more of those games, that would help his completion percentage this season.
Burrow has also been sacked 17 times this year and has thrown four interceptions. That's pretty on par with what he's done throughout his career. Burrow has never played behind a very competent offensive line.
Joe Burrow Player Stats In His Career
Burrow is only 26 years old and has plenty of football left in his career. On Sunday, he'll appear in his 50th game as the quarterback for the Cincinnati Bengals. So far, it's been a fantastic ride that led him to a Super Bowl appearance in just his second season in the NFL.
Check out Burrow's Joe Burrow player stats below.
| Joe Burrow | CAREER Stats |
| --- | --- |
| COMP | 1219 |
| ATT | 1794 |
| COMP % | 67.9 |
| PASS YDS | 13,287 |
| PASS TDS | 92 |
| INT | 35 |
| CAR | 172 |
| RUSH YDS | 574 |
| RUSH TDS | 10 |
With these stats, Burrow has become one of the best quarterbacks in the NFL over the last few seasons.
Compare those stats with his 2023 stats.
| Joe Burrow | 2023 Stats |
| --- | --- |
| COMP | 175 |
| ATT | 264 |
| COMP % | 66.3 |
| PASS YDS | 1,513 |
| PASS TDS | 10 |
| INT | 4 |
| CAR | 20 |
| RUSH YDS | 57 |
| RUSH TDS | 10 |
Joe Burrow Player of the Week
Burrow didn't hold back after Sunday's win against the Niners. He helped the Bengals to a 31-17 win after completing 28-of-32 passes with three touchdowns.
That wasn't even the most shocking part. The most shocking part was Burrow rushing the football. He took off no more than four times in any game. On Sunday, he ran for 43 yards on six carries and even earned a long rush of 20 yards.
His calf injury was keeping him from being mobile. But he's fully healed, seeing how confident he was running again.
During the offseason, Burrow told the media that he worked on his athleticism, acceleration, and explosiveness. While he made improvements, his calf injury prevented him from showing off his improvements on the big stage.
He also explained to the media that he expects himself to be as accurate as he was on Sunday. Burrow's footwork and mechanics were impressive on Sunday. He believes that he's cleaned up some of his mistakes while also feeling better as a whole.
Now he's the Joe Burrow we've all been waiting for.
Is The MVP Still In Play?
After a slow start, Joe Burrow likely won't win the MVP award. However, he's still listed at +2000 odds, which is sixth in the NFL.
He's behind Tua Tagovailoa, Jalen Hurts, Patrick Mahomes, Lamar Jackson, and Josh Allen. Four of those five quarterbacks are in the AFC. Burrow is even playing Josh Allen this coming weekend.
Burrow can move up the NFL QB Rankings with a win against Josh Allen's Bills. He'd also jump Allen in the NFL MVP odds with a win.
If you have NFL picks against the spread backing the Bengals, a flier on +2000 for Burrow to win the MVP wouldn't be so bad. The Bengals are moving up in the NFL standings week-by-wee with Burrow being healthy.
Burrow can still win the MVP.
For NFL betting news, odds analysis, and more, visit Point Spreads Sports Magazine.
---
Can't get enough? Here's more!