2023 NFL Quarterback MVP Odds: The Best and Worst One-Third Into the 2023 Season
Where Does Your Quarterback Stand?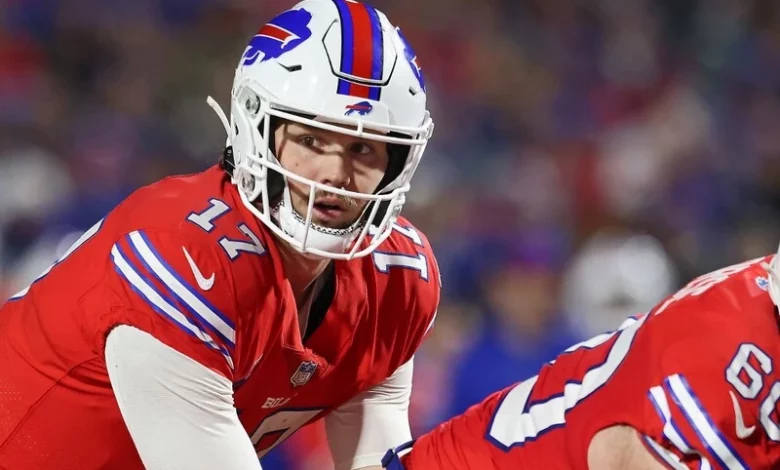 And just like that, one-third of the 2023 NFL regular season is finished: six of the 18 weeks is in the books and we have enough data to make a stable quarterback ratings index. We ranked all 32 active starting quarterbacks based on what they have done, statistically, and relative to how successful their team is. Of course, we have our special formula to explain our NFL QB Rankings below.
Pointspreads.com's 2023 NFL QB Rankings Formula
Here at Point Spreads, we pride ourselves on being systematic and objective (for the most part). So in sorting out this NFL QB Rankings, we had to place the quarterbacks using two main stats:
1) QBR (ESPN's Total Quarterback Rating): to get a gist on how well the QB is playing statistically, and:
2) NFL MVP odds: to get an idea of how a) valuable these players are to their team; and b) how good (or bad) their team is – an MVP won't come from a losing team (though they could get votes like Justin Fields for the last-placed Bears in 2022).
We weigh the first part significantly more than the second since their teammates – e.g. the defense – factor a lot more when it comes to MVP odds. QBR judges how efficiently a quarterback is playing and his team's odds for success: from a scale of 0 to 100 with 50 roughly estimated as the "average" and 70+ being where the "elite" reside.
There are also a few nuances we consider such as the strength of these quarterbacks' NFL game schedules thus far, and injuries (or lack thereof) to the offense. But we won't discredit someone for putting up lofty stats against bum teams nor will we give leniency to quarterbacks playing on undermanned squads.
So with all that said, here are the 2023 NFL Quarterback MVP Odds grouped into tiers.
The Struggling Six: Jonesing To Replace These Guys?
The bottom of the barrel includes five quarterbacks who should have the shortest NFL odds to either be traded or benched. These QBs have been the worst and their teams would significantly improve if they were replaced by someone from a higher tier. And unlike the tier above them, they have few excuses.
32. Desmond Ridder
QBR: 40.0 (25th)
MVP Odds: +20000
Ridder is not the worst starting quarterback as a whole. His team, the Falcons, could still make the NFL playoffs. But unlike the guys ahead of him, Ridder has next-to-no excuses for his subpar play. He's not a rookie, has one of the best running backs, and has played a manageable schedule. To his credit, all three of the Falcons' wins counted as game-winning drives for him.
31. Daniel Jones
QBR: 39.8 (28th)
MVP Odds: +25000
We were this close to putting Jones at 32. After all, the Giants have the NFL's worst offense, and Jones's stats rank in the bottom five in nearly every category. His superstar running mate got hurt and the Giants have played the toughest schedule in the NFC so far. But we bet the Giants could take back that 160 million-dollar deal right now.
30. Mac Jones
QBR: 36.8 (30th)
MVP Odds: +25000
As poor as Mac Jones has been playing behind what could be the worst offense as a unit, he hasn't done much to prove he's just a victim of circumstance. He's been put through the wringer against opponents like the Bills, Jets, and Eagles. But at best, he's a "mid" quarterback playing with subpar receivers and a degenerating offensive line. Bailey Zappe is breathing down his neck.
29. Ryan Tannehill
QBR: 34.3 (31st)
MVP Odds: +20000
Tannehill is in a similar situation as Jones, ironically if you consider his coach. The only difference here is that he's 10 years older and has Derrick Henry to give the ball to. But with how bad Tennessee has been on offense, coupled with his paltry stats, it's tough to rank him any higher even if he has played some tough opponents.
28. Russell Wilson
QBR: 39.8 (27th)
MVP Odds: +20000
No, we did not typo this Wilson. Russell Wilson is worse than Zach Wilson. He's an example of the passer rating stat being flawed because he'd rank 10-15 spots higher if we based our NFL QB Rankings on that. But he's this low because he's putting up empty stats. The Broncos are -3.4 on the offensive simple rating system (OSRS) while playing against mostly bad defenses.
27. Zach Wilson
QBR: 37.4 (29th)
MVP Odds: +20000
Here is the Wilson we expect to be in this tier. But to his credit, Wilson is slightly getting better. But his improvements are not enough to push him higher. He's still in the bottom four in major passing stats including being last in passing success rate (35.8%). That leads to the Jets' defense being on the field a lot and getting exhausted.
The Frustrated Four: Stuck in a Bad Spot But Fighting Through
There is not much separating the quarterbacks in this tier from the bottom tier. We'll consider the QBs here to have done more given the crappy situation they've gone through. But things could get worse and any if not all of these players could be at the bottom with the next update.
26. Bryce Young
QBR: 33.1 (33rd)
MVP Odds: +20000
Get Young some help before he gets killed out there. Seriously. The first-overall pick has some of the worst quarterbacking stats this season as you can see with his QBR. And it's not his fault. He has no time to throw, no one to throw to, and no defense. Young has already been injured and the winless Panthers have no clue on how to proceed.
25. Kenny Pickett
QBR: 33.5 (32nd)
MVP Odds: +15000
This is why nuance is vital. If we went off of just stats, Pickett would be in the 30s in these rankings. But most quarterbacks here would look bad going against what Pittsburgh went through. Four of their five opponents have top-10 defenses (three are in the top five). And despite Pickett's sorry stats, the Steelers' offense is just a bit under average (-1.3).
24. Jordan Love
QBR: 44.3 (23rd)
MVP Odds: +15000
Love gets no clemency for being a first-year starter. He's sat behind a Hall of Fame quarterback and a talented head coach for two seasons. The stats don't lie. He's last in completion percentage (55.6%) and is below average in most stats against beatable opponents. Green Bay is still fighting for a playoff spot so all Love has to do is not get any worse.
23. Justin Fields
QBR: 40.4 (24th)
MVP Odds: +25000
It bears repeating (no pun intended) that this man received an MVP vote last season. And he's doing the same thing this season: putting up spectacular stats while his team continues to lose. Fields has a 2-1 touchdown-to-interception ratio and the third-most rushing yards among QBs. And yet Chicago has a -3.0 OSRS whilst playing an easy schedule outside Kansas City.
Debate These Eight: How Good or Bad are These Guys?
Approaching the middle portions of the NFL QB Rankings is where it gets tricky. This tier is a mishmash of big-name quarterbacks and former Pro Bowlers who are underperforming plus a handful of overachievers. We've had to debate amongst ourselves about the placements of these QBs. And we're still at it.
22. Deshaun Watson
QBR: 46.7 (21st)
MVP Odds: +15000
If the Giants are regretting that $160-million deal on Jones, how about the Browns and the $230 million they gave Watson? The much-maligned quarterback may be staying out of trouble, but he's still had a hard time staying on the field. He's played just three of the Browns' five NFL games and is posting "mid" stats when he's on.
21. Derek Carr
QBR: 51.3 (17th)
MVP Odds: +15000
Placing Carr on this list is irksome. Statistically, he's underwhelmed as has his team's overall offense. Sure, the Saints are coached by a defensive guru and New Orleans has been stuck in the mud on offense ever since Drew Brees left. But Carr, a multiple-time Pro Bowler, was supposed to solve that. He hasn't and this team is still as ugly as last season.
20. Sam Howell
QBR: 46.8 (20th)
MVP Odds: +25000
If you like your quarterbacks exciting, just look at Howell. Despite his messy stats, he's led his team to a 3-3 record. He's sort of like Jimmy Garoppolo but younger and less popular. The Commanders have a negative OSRS (-3.2) despite playing one of the easier schedules. And another noteworthy stat: 34. Howell's league-leading sacks absorbed. Oof.
19. Jimmy Garoppolo
QBR: 48.4 (19th)
MVP Odds: +20000
You've got to hand it to "Jimmy G". This man makes mediocre look magnificent thanks to the charisma he exudes. But he's led the Raiders to a 3-2 record when he starts. He's thrown the most interceptions (eight) but is also in the top five in passing success rate (51.9%). Las Vegas's schedule is not as difficult, to his advantage.
18. Joshua Dobbs
QBR: 48.8 (18th)
MVP Odds: OTB
Joshua who? The man who balled out and led Arizona to an epic upset over the Cowboys in Week 3. Unfortunately, that's about the highlight of his and the team's season. Arizona is 1-5 and has not covered NFL spreads since. It's played a rough schedule since Week 3 and the fact that both the team and Dobbs are just below average are already overachievements.
17. Joe Burrow
QBR: 39.9 (26th)
MVP Odds: +3000
Placing Burrow on this QB list is tricky. On one hand, he's put up some of the worst stats thanks to his calf injury. On the other, he's also still got somewhat short NFL MVP odds given how poorly he's played. Still, his last few games are pointing in the right direction as he's completed 74% of his passes for five touchdowns and two picks.
16. Gardner Minshew II
QBR: 54.2 (16th)
MVP Odds: +15000
With Anthony Richardson ruled out for the year, Minshew is now the man under center for Indianapolis. He's been solid. He's just a bit under-average in many QB stats and his QBR is dead in the middle. Indianapolis has also played a tough schedule while posting an OSRS that is above average. Minshew is responsible for a good chunk of that. But we can't give him full credit.
15. Baker Mayfield
QBR: 62.9 (8th)
MVP Odds: +20000
Mayfield just misses the cut on the upper echelon as his better-than-expected season is still not quite that excellent. On one hand, Mayfield's QB stats are mostly above average. Heck, he's in the top 10 in QBR and adjusted net yards per pass attempt. But a lot of that is due to playing behind an elite offensive line, a formidable defense, and a convenient schedule.
The Borderline Five: Potential Pro Bowlers
And now we're into the upper tiers where the quarterbacks start to make a case for postseason awards. This worst-of-the-best tier features signal callers who are having mid-to-good seasons. Some are worthy of being a Pro Bowler though, unless they improve significantly, that's the best they'll get.
14. Geno Smith
QBR: 59.2 (11th)
MVP Odds: +12500
Smith was expected to regress this season following his pleasantly surprising 2022. Still, the 10-year pro has played well enough to get Seattle to a 3-2 record. He's still accurate and efficient though that's the least he should do given the tools he's working with. Seattle fans may feel concerned given that he's on pace for only 17 touchdowns.
13. Jalen Hurts
QBR: 59.9 (T-10th)
MVP Odds: +750
Speaking of regression, Hurts has fallen off following his MVP-worthy campaign last season. He's still got the accuracy (66.2%) but every other one of his stats has declined. The most notable would be his touchdown-to-interception ratio where he's thrown seven each. Despite this, Philadelphia is 5-1 and Hurts is still a top contender to win MVP per the odds.
12. Matthew Stafford
QBR: 59.9 (T-10th)
MVP Odds: +5000
Tying Hurts in QBR is a player who is trending: Stafford. Following his injury last season, Stafford has put up prolific stats again. He's third in passing yards (1,677) and fourth in yards gained per completion (12.1). And he's doing all this while playing without superstar receiver Cooper Kupp for four games and against heavy competition.
11. Dak Prescott
QBR: 63.3 (7th)
MVP Odds: +2800
Prescott just misses the top 10 since he's still putting up numbers but struggling to do so. His 3.2 touchdown percentage is a career low and he's only on pace for 17. The Cowboys have one of the worst red zone conversion percentages (39.1%) after leading the NFL last season. And even at 4-2, the losses to San Francisco and Arizona have exposed them.
10. Kirk Cousins
QBR: 56.8 (12th)
MVP Odds: +15000
The Vikings are 2-4 despite Cousins throwing the heck out of that football. "Captain Kirk" leads the NFL in attempts (235), completions (158), and passing touchdowns (14). And yet, these are mostly pointless stats as Minnesota's OSRS is below average despite playing some bad defenses. But rumors persist that a contender might just make a move for him.
The Next Six: Dark Horse MVP Contenders
Most NFL QB Rankings lists have Top 10s. Well, we have the top 9 quarterbacks who deserve some love in the MVP race. The latter six could win it though as the odds list, is unlikely to. Still, we have 12 weeks left in the regular season. If any of these six can get their teams on winning streaks, expect their lines to shorten considerably.
9. Trevor Lawrence
QBR: 54.4 (15th)
MVP Odds: +2000
While Lawrence's stats average to being top-15, his best case is the fact that he's been doing it against elite competition. He led the Jaguars to an upset over Buffalo and the offense, as a whole, is above average with a strong strength of schedule. Lawrence is in the top 10 in passing success rate (50%) and rarely makes negative plays. Not sexy. But solid.
8. C.J. Stroud
QBR: 55.5 (14th)
MVP Odds: +15000
Stroud is making a strong case to be an MVP candidate. For one, he's in the upper half of nearly every QB stat. He's fourth in adjusted net yards per attempt (7.43) while leading the NFL in interception percentage (0.5%). And it's not like he's playing with an All-Star cast. He also has rookie coaches while playing some tough defenses. The rook is legit.
7. Justin Herbert
QBR: 67.8 (6th)
MVP Odds: +2500
Those expecting this to be "Herbert's year" will keep waiting. The fourth-year pro has not exactly blown up the NFL scores though he has increased his stats incrementally. The Chargers do have a stacked team on offense though injuries, as is the case with this franchise, have slowed them down. And with a porous defense, bank on Herbert to keep piling up stats albeit with mixed results.
6. Lamar Jackson
QBR: 56.3 (13th)
MVP Odds: +1600
Unlike other exorbitantly-paid quarterbacks, Jackson has proven to be worth every penny. Baltimore may be winning games in cringe-worthy ways, but Jackson has been at the tip of their offense's spear. He leads quarterbacks in rushing yards (327) and has improved as a passer with percentages at a rate near his 2019 MVP level. If he can boost his touchdown rate, he might just be an MVP finalist.
5. Patrick Mahomes
QBR: 72.6 (5th)
MVP Odds: +400
Is it blasphemous to put the two-time MVP outside of the top three? Maybe. But Mahomes' stats are not as prolific as the players ahead of him and his team's overall offense is mediocre relative to the opponents it's faced. Sure, Mahomes has had less to work with but he's still coached by a genius and has the greatest tight end by his side. No excuses!
4. Brock Purdy
QBR: 76.9 (1st)
MVP Odds: +900
Purdy threw a rare bad game in the loss against Cleveland. Still, "Mr. Irrelevant" has been the NFL's most bulletproof QB. It's hard to argue against his stats: a 10-1 TD-to-interception ratio, an 8.57 adjusted net yards per pass attempt, and a 53.4% passing success rate, both of which rank second. Still, the ones ahead of him make stronger cases to be MVP.
The Triumvirate: The MVP Finalists
Over 2,800 words later we're finally down to our top three quarterbacks of the 2023 NFL season. These three should be the finalists for the coveted NFL MVP award if we went off purely production and team success. But as the betting odds suggest, some may just miss out due to the popularity contest in the voters' circle.
3. Jared Goff
QBR: 73.3 (4th)
MVP Odds: +2000
Goff just misses the MVP finalists list though this could change if he keeps it up. Detroit is 5-1 and arguably the best team in the NFL. The Lions have the third-best OSRS behind only San Francisco and Miami. They beat Kansas City while the rest of their wins have come by at least two touchdowns. And Goff is in the top five in every major QB stat.
2. Tua Tagovailoa
QBR: 73.3 (3rd)
MVP Odds: +400
We can't underrate Tagovailoa anymore. He plays for an offensive mastermind of a coach, has Tyreek Hill, who is on pace for 2,300+ receiving yards, and has played NFL teams who are a combined 5-24 outside of Buffalo. But you can't deny his stats. He leads the NFL in passing touchdowns (14), adjusted net yards per passing attempt (9.31), and passer rating (114.1). And he's in the top three in many others.
1. Josh Allen
QBR: 75.1 (2nd)
MVP Odds: +700
It has to be Allen's time. When you combine statistics, team records, and overall brilliance, he is the NFL's best quarterback. Allen leads the NFL in completion percentage (71.7%) while also ranking in the top four in passing success rate (52.8%) and touchdowns (13). More notably, the Bills have a top-five OSRS and destroyed Tagovailoa's Dolphins 48-20. Allen should be the favorite to win.
For NFL betting news, odds analysis, and more, visit Point Spreads Sports Magazine.
---
Can't get enough? Here's more!