Josh Allen Player Stats: That's My MVP!
Bills Quarterback Erupts and Shoots up MVP Rankings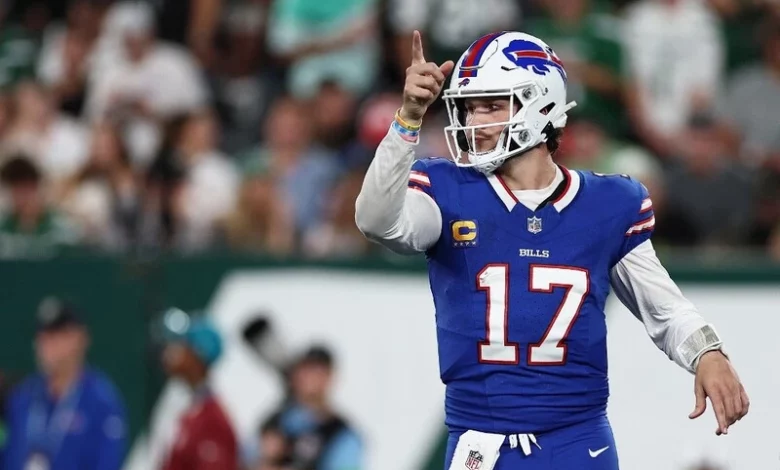 Where Is Josh Allen Now?
The Buffalo Bills' season is looking shaky, and fingers are pointing in all directions. It's not just about Josh Allen, the team's quarterback, nor the Josh Allen player stats. Yes, he's had some slip-ups, but the big bosses haven't really built a strong team around him. They're in hot water after a recent loss, and it seems like they're scrambling to find someone to blame.
After a tough loss, the team's offensive coordinator, Ken Dorsey, got the boot. But is he really the one to blame? The defense also dropped the ball, literally, with costly mistakes. Yet, the offense has been doing okay overall. It's like they're throwing darts to find someone to blame, and this time, it landed on Dorsey.
Now, all eyes are on Josh Allen. People are starting to wonder if he's really cut out for the big leagues. He's got some impressive Josh Allen player stats, but that doesn't always win games. Allen's been dropping the ball too often, leading the league in turnovers. But it's not all black and white – there's some bad luck involved, and he's actually been more careful this season.
Allen's doing his best, but when the team's not clicking, it all falls apart. They've still got a fighting chance, but the clock's ticking, and they need to sort out their issues fast.
In short, it's a bumpy ride for the Bills. Allen's facing the music, but the team's struggles are bigger than just one player. They need to get their act together.
Earlier in the Year
And just like that, the Bills' superstar quarterback is at the top of the NFL's MVP rankings. Josh Allen's player stats have been blowing up these last few games. The sixth-year pro has overcome a rough start of the NFL season and is now among the league leaders in completion percentage and passer rating. Most notably, the Bills look unstoppable following a Week 4 blowout over the Dolphins.
Josh Allen's Stats for 2023
Can Allen Stay Hot?
We'd hate to rain on this parade. But with Allen at +400 to win the NFL MVP award, we need to put some context. History says that Josh Allen's player stats are due to regress a bit here. The two-time Pro Bowler averaged a completion rate of 65.2% with a 98.4 passer rating in his past three seasons. As such, his current NFL stats of 74.8% and 106.7 will come down.
But that's not a guarantee either. Allen could finally be mastering offensive coordinator Ken Dorsey's schemes. The next few games will be a test to see if Allen can keep his hands and feet on fire.
The Bills have an unenviable schedule ahead. Teams like Jacksonville, New England, and Cincinnati may seem unthreatening, given their so-so NFL records. But these teams still have top-10 caliber defenses. If Allen can do to them what he did to Miami – go 21-of-25 for 320 yards, score five total touchdowns, and earn a 158.3 passer rating – then his MVP odds will continue to shorten significantly.
If he's still the MVP favorite up until Week 12, things get spicier. This is when Buffalo faces Philadelphia and then Kansas City (following its bye week).
Allen entered this 2023 season with a lot to prove. Last season ended on a miserable note for him and the Bills. And his star receiver, Stefon Diggs, has started to act out in discontent. So his statement game against the Dolphins (where Diggs also caught three touchdowns) may have just rejuvenated the team.
Allen's Current Stats
If Allen keeps it up, he is in line to produce numbers similar to his past three years. Josh Allen's player stats are on pace for 4,192 passing yards, 36 touchdowns, and 16 interceptions. This includes the poor showing against the Jets where he threw three interceptions.
PASSING

| JOSH ALLEN | STATS |
| --- | --- |
| GP | 4 |
| GS | 4 |
| ATT | 135 |
| CMP | 101 |
| CMP% | 74.8* |
| YDS | 1,048 |
| Y/A | 7.8 |
| TD | 9 |
| INT | 4 |
| Y/G | 262 |
| LNG | 55 |
| RATE | 106.7 |
---
RUSHING

| JOSH ALLEN | STATS |
| --- | --- |
| ATT | 16 |
| YDS | 106 |
| TD | 2 |
| Y/A | 6.6 |
| Y/G | 26.5 |
| LNG | 23 |
* – leads NFL
Allen and Buffalo are Still Elite
Entering the season, the Bills were all but forgotten. The team's poor showing against Cincinnati in the Divisional Round had many writing them off. And the upset loss to the Aaron Rodgers-less Jets compounded matters. But after three hot games, Buffalo has reminded everyone it is here to stay. And Allen is leading the charge.
The star has consistently been in the top three among MVP and Offensive Player of the Year odds. With the Bills continuing to rock NFL scores, this could finally be his year. But as impressive as these awards are, Allen's goal is just one trophy: the Vince Lombardi Trophy.
For NFL betting news, odds analysis, and more, visit Point Spreads Sports Magazine.
---
Can't get enough? Here's more!