Vikings vs Falcons Over Under Analysis: Can You Trust New Faces At Quarterback?
Jaren Hall & Taylor Heinicke Are Set To Make 2023 Starting Debuts This Weekend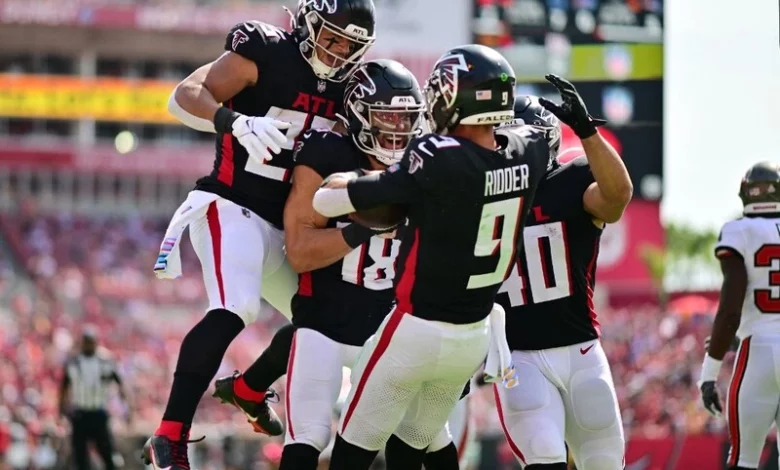 The Minnesota Vikings had a busy week heading into Week 9.
Minnesota lost their starting quarterback, Kirk Cousins, to an Achilles tear. But at 4-4, the Vikings are still looking to be competitive throughout the rest of the season.
Therefore, the Vikings traded for Joshua Dobbs at the trade deadline and have decided to start backup quarterback Jaren Hall for this week's matchup against the Atlanta Falcons.
Meanwhile, the Falcons have also made a quarterback change. Desmond Ridder was swapped out of the Falcons' starting lineup in favor of veteran quarterback Taylor Heinicke.
Although there are two new faces at quarterback on Sunday, one team will get over .500 by the end of Week 9.
Oddsmakers believe it'll be the Falcons. Atlanta is a 4.5-point favorite, with the total sitting at 37.5. The Under is juiced to -115, with lower-tier quarterbacks ready to battle it out on Sunday.
What can we expect in this matchup on Sunday?
We've got a Vikings vs Falcons Over Under pick for this NFC game on FOX.
Day/Time:
Location: Mercedes-Benz Stadium
Streaming: FOX

Vikings vs Falcons Odds Review
The Minnesota Vikings are 4-4 on the season but have gone 4-3-1 against the spread this year. The Vikings began the season slowly but have added three straight covers against the Bears, 49ers, and Packers.
That was with Kirk Cousins. With Jaren Hall, things will likely be different.
The Vikings have also hit the Under in seven of eight games. Again, adding Hall to the equation likely won't help the Over. He'll be making his first NFL start on Sunday.
On the other hand, the Falcons have gone 2-6 against the spread and have also hit the Under in six of eight games. Atlanta will likely get more production out of Heinicke in comparison to Ridder, as we'll discuss with our Vikings vs Falcons Over Under analysis below.
It's Jaren Hall Time!
Although the Vikings traded the Cardinals for Joshua Dobbs, Minnesota will let Dobbs ease into his new situation. They'll start Jaren Hall at quarterback, who is a rookie from BYU.
Hall was drafted in the fifth round by the Vikings and had the support of the entire front office.
Hall added 52 touchdowns in 31 games for BYU in his college career. He also added over 6,000 yards passing and finished with a quarterback rating of at least 156 in his last two seasons.
Taylor Heinicke's Second Chance
Heinicke didn't make a name for himself until 2020, three years into the league. He went to Washington for the 2020 season and was the backup that year.
In 2021, he got his first real opportunity. He earned 16 starts and threw for 3,419 yards on 494 attempts. He also completed a career-best 65% of passes and added 20 touchdowns, with 15 interceptions. He also rushed for 313 yards and averaged 5.2 yards per carry.
However, his 2022 season wasn't good enough, so he moved on to Atlanta for a potential starting job with the Falcons.
He didn't win the job out of training camp. But after a 4-4 start and a poor showing from Ridder, Heinicke will get his first start for the Falcons. He's a 30-year-old veteran with a fun demeanor about him. Atlanta's offense needs a shot in the arm, and Heinicke is that guy.
Don't Trust The Rookie
Jaren Hall came in for Kirk Cousins in last week's win against the Packers. The Vikings already had a double-digit lead, so all Hall had to do was snap the ball and hand it off.
The Vikings just let the clock tick away to earn the win. But this week will be different. Hall will actually have to throw the football and look to make plays.
With the Falcons allowing only 309.5 yards per game, Hall could struggle to find momentum. The Vikings still don't have Justin Jefferson in the lineup. He's still on the NFL injury list. Therefore, Hall will try and find Jordan Addison, T.J. Hockenson, and K.J. Osborn as his three big targets.
While Patrick Mahomes dominates with a top tight end and mediocre wide receivers, Jaren Hall probably won't.
Could Heinicke Help Atlanta's Talent Break Out?
The Falcons have some of the most talented offensive players in the NFL. However, Desmond Ridder could never get the best players on the ball consistently. That's part of why Ridder will ride the bench this weekend.
The offense is filled with first-round picks. Drake London was a first-round pick out of USC, while Kyle Pitts was added in the first round from Florida. Atlanta even added Bijan Robinson in the first round from the most recent draft.
But while Heinicke is a better fit, he's still an unreliable quarterback facing a Vikings secondary that is underrated.
The current NFL odds have the total sitting at 37.5. That seems like a low Vikings vs Falcons Over Under number. However, both teams are lucky to be 4-4 in the NFL standings and haven't had the most consistent NFL game scores. We'd back the Under 37.5 in this matchup.

For NFL betting news, odds analysis, and more, visit Point Spreads Sports Magazine.
---
Looking for more information about the NFL season? Here's more!