Jack Della Maddalena: Australia's Finest
UFC Welterweight Contender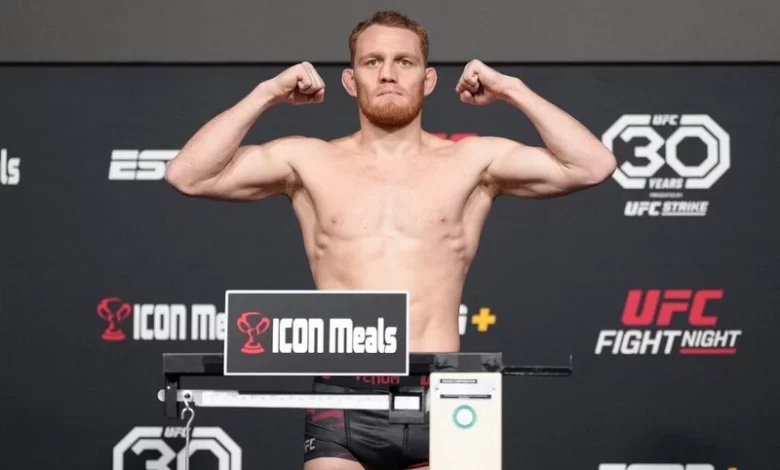 Jack Della Maddalena is one the best Australian UFC fighters in the game, and he often goes under the radar.
He's currently ranked outside the top 10 in the welterweight division, despite having a 15-2 record.
However, he's rising up the ranks and is a prominent figure with our UFC best bets.
15 Straight and Counting
The career of the 26-year-old from Perth couldn't have started any worse, so he has done amazingly to recover and make a name for himself.
His early UFC results included a debut KO loss to Aldin Bates before being submitted in his second fight. Starting 0-2 isn't ideal, but he kept at it, and now he's riding a 15-win streak, which has been mightily impressive.
He quickly moved to 9-2 after winning in Eternal MMA, before getting the chance on Dana White's Contender Series.
A fighter rarely wins by decision and gets a contract, but he was awarded a spot at UFC 270, which was a huge risk from Dana White and the UFC organization<.
Jack Della Maddalena hadn't been exposed to the bright lights of a pay-per-view card, but he didn't let anyone down with a TKO victory against Pete Rodriguez.
His next two wins came by TKO against Ramazan Emeev and Danny Roberts, before beating Randy Brown and Bassil Hafez.
What's Next for Della Maddalena?
He has yet to fight anyone with a high ranking, but that's about to change when he fights Kevin Holland.
If the Australian can be competitive against the likes of Holland, he has a big future in the UFC and could fight for the belt one day.
He wanted to fight at UFC 293 in front of his home fans, but he couldn't find an opponent, so he'll face Holland at the inaugural UFC Noche according to the latest UFC news.
"Per sources Jack Della Maddalena is having trouble finding an opponent for UFC 293 high likelihood he could be pulled from the Sydney card and fight on a future Vegas card instead," the report stated.
"Apparently every offered opponent was demanding way higher pay to fight in Australia and the UFC weren't having it hopefully that changes but it is not looking good so far."
It's a shame he won't fight in Australia, but bettors should look forward to seeing him fight no matter where it is.
Jack Della Maddalena is one of the more promising fighters in the UFC, and he comes with aggression. His fights are exciting, and with any fighter riding a lengthy winning streak, bettors are cashing in.
Bettors Cashing In
Bookmakers typically offer short odds for Jack Della Maddalena, but he paid +130 when beating Emeev at UFC 275.
He is the underdog against Holland, having paid -770 to beat Hafez at UFC Fight Night. He faced a fill-in fighter so that betting line wasn't surprising.
Despite seeing the Octagon for the first time, he paid -300 to beat Rodriguez, and he even paid a short -350 to beat Brown.
If bettors parlayed his wins, it would result in a big payout. He's one of the most consistent fighters on the UFC roster, and there will always be good wagering opportunities.
Given that he's only 26 years old, he has many more fights to come. Should he beat Holland, bettors could expect a top-five fighter on the horizon.
The sportsbook would likely offer around +150 if he gets a premium opponent, and given the way he has been winning, we wouldn't put it past him to improve his already impressive winning run.
For UFC betting news, odds analysis, and more, visit Point Spreads Sports Magazine.
---
We also thought you might like to check these out: