MLB Beginning Season odds: January Outlook One Month Until Pitchers, Catchers
Somehow, The MLB Offseason is Almost Over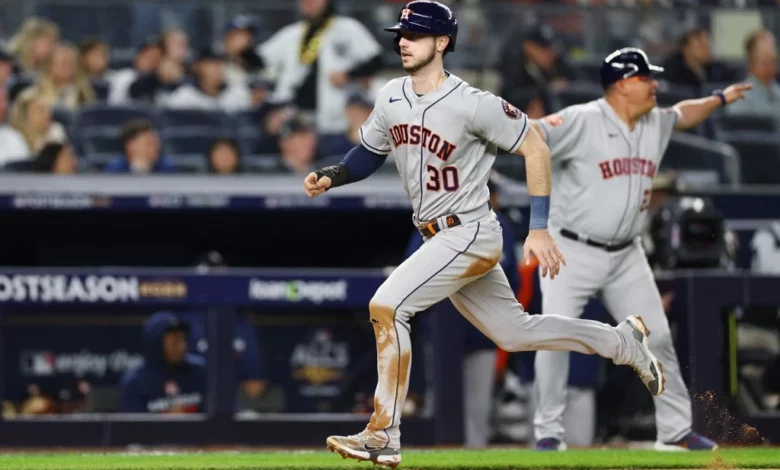 With the NFL playoffs in full swing and the NHL and NBA seasons quickly approaching their respective All-Star breaks, the 2023 MLB season is not too far away. Pitchers and catchers will begin to report to their Spring Training facilities in less than a month — beginning on February 13 — with the regular season opening up on March 30th. So, considering that basically all of the top free agents are signed and most offseason roster activity has already been done, now is a great time to check out the MLB beginning season odds.
The top of the World Series odds picture doesn't look too different from our last update a few weeks ago, but there have been some major developments since that. The biggest one, of course, is Carlos Correa's return to the Minnesota Twins after it seemed like he was headed to New York to team up with Francisco Lindor on the Mets. Since then, the defending champion Houston Astros have taken over as the title favorites, as Vegas loves their MLB pitching matchups and odds against the rest of the league. The Yankees, Mets and Dodgers are right behind Houston with the Atlanta Braves and San Diego Padres close by.
Let's take another look at baseball's top contenders with an eye toward some teams on the outside looking in who could be good value picks:
Houston Astros (+600)
Until a team is able to dethrone the stacked Astros, they are (and should continue to be) the presumptive favorites. Even with Justin Verlander going to the Mets, Houston has unparalleled rotation depth and has tons of offensive starpower. The Astros didn't have the most active offseason but their early signing of multi-time All-Star José Abreu was a coup and he'll be a great addition to the middle of the lineup.
They should be atop the MLB standings once again even with the AL West being markedly improved — particularly the Texas Rangers — in large part due to Houston's ability to generate production from depth pieces, like Chas McCormick. The Astros also have some major prospects who are close to MLB ready that can help supplement the lineup, rotation and strong bullpen as well. They're a juggernaut for a reason.
New York Mets (+700)
The Mets' MLB beginning season odds have improved a little even with their reversal on Correa. If anything, the superstar infielder — who would have been New York's everyday third baseman — was a luxury for the Mets so not having him around isn't a crushing blow, even if it's a frustrating development. New York still has Eduardo Escobar and Brett Baty to man the hot corner, and they'll likely form a sort-of-platoon. Neither is nearly as dynamic as Correa but, combined, they should be able to produce at an above-average clip at the plate.
Along with the rest of New York's offensive and pitching moves, the Mets are a deeper team than they were a year ago even with having to replace 3/5 of their starting rotation and a decent chunk of their bullpen. But with Max Scherzer and Justin Verlander headlining the rotation and the likes of Lindor, Pete Alonso, Jeff McNeil, Brandon Nimmo, Starling Marte and others in the lineup, New York will be just fine.
New York Yankees (+700)
New York's MLB beginning season odds have jumped significantly over the past few weeks as it's even more clear that the Yankees are the team to beat in the AL East. While the Boston Red Sox extended Rafael Devers, they have tons of lineup and rotation holes while the Toronto Blue Jays haven't really done anything to address their troublesome bullpen.
The Yankees losing Jameson Taillon and Andrew Benintendi hurts but, by keeping Aaron Judge and Anthony Rizzo while adding Carlos Rodón; New York has definitely done enough to warrant being a high-level contender. They could have done more on the infield — shortstop and third base are still major question marks for them — yet the Yankees' pitching is good enough to win 95+ games, especially with Judge still primed to feast on opposing staffs.
Los Angeles Dodgers (+750)
The Dodgers haven't been too active either, as they've lost a ton of free agents. They "responded" to Trea Turner signing with the Phillies by trading for veteran Miguel Rojas and filled the back-of-the-rotation holes left by Tyler Anderson and Andrew Heaney by adding Noah Syndergaard. The outfield and the bench aren't very promising right now but the signing of J.D. Martinez should help the middle of the order.
Still, it's tough to criticize anything the Dodgers do because of their significant track record of success. However, the gap between them and the Padres is closing, even if the rest of the division is far behind.
Atlanta Braves (+1000)
San Diego Padres (+1000)
Philadelphia Phillies (+1400)
Toronto Blue Jays (+1400)
Each of these teams, despite all being very talented and star-laden, have a similar issue: They aren't the best teams in their respective divisions, at least on paper.
The Braves have had more playoff success than the Mets recently and have a cost-controlled young core that should be formidable for years to come, but they'll have to make up for the loss of Dansby Swanson and Kenley Jansen. They did bring in Sean Murphy, but catcher was already a position of strength for them – so the Braves might not improve a ton behind the plate; it might be wishful thinking to expect career years from so many of their offensive weapons yet again.
'San Diego should also get Fernando Tatis Jr. back at some point this season which should make up for some of the production the Padres lost in free agency, as a lot of San Diego's offensive depth is now elsewhere.'
The Padres' huge splash this offseason was Xander Bogaerts, who is a great player but is on the wrong side of 30 and has some serious power questions. San Diego should also get Fernando Tatis Jr. back at some point this season which should make up for some of the production the Padres lost in free agency, as a lot of San Diego's offensive depth is now elsewhere. This is a boom-or-bust roster and it's one that doesn't look as good as that of the Dodgers.
The Phillies have had a very busy couple of months, bringing former Dodgers Turner and Craig Kimbrel into the mix while also picking up former Mets Taijuan Walker for the rotation and Padre Matt Strahm for the bullpen. It's hard to say how much better they'll be, though, with Bryce Harper out until the All-Star break due to Tommy John surgery. The defense and rotation (after Zack Wheeler and Aaron Nola) still leave a lot to be desired.
As mentioned above, the Blue Jays haven't had a great offseason even though the pickups of Daulton Varsho and Chris Bassitt were much-needed. Barring some unexpected pitching breakouts, Toronto still doesn't have enough to match the Yankees but they should be in the playoff mix after a disappointing postseason exit a year ago.
Follow us on Twitter
---
Can't get enough? Here's more!